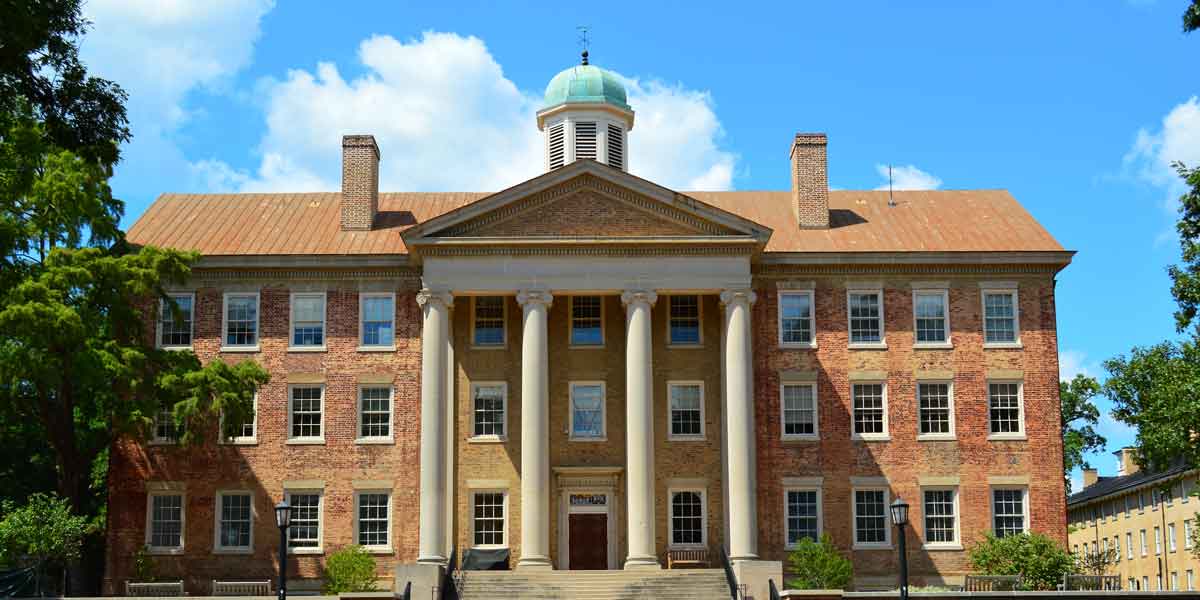 University of North Carolina at Chapel Hill
North Carolina, United States
| Public
Public University
About
The University of North Carolina at Chapel Hill (also known as UNC, UNC-Chapel Hill, Chapel Hill or North Carolina') is a public research university located in Chapel Hill, North Carolina, United States. First enrolling students in 1795, it is one of the multiple schools to claim the title of the oldest public university in the United States.
Cost
$16,078
Average Living Expenses (Bachelors)
$16,078
Average Living Expenses (Masters)
Rankings
#36
#95
#56
Admissions
23%
Avg acceptance rate (Bachelors)
$85 - $150
Application Fee
Scholarships
Johnston Scholars Program Scholarship
View Details
No courses found! Try other school
Campus
Location
Chapel Hill is widely regarded as one of the best college towns in the world, and for good reason - it's a fantastic place to be in, if you're a student. A pretty small town, it has everything a student can ask for – bars, cafes, brilliant malls, open spaces, theatres, you-name-it! There are a number of colleges nearby too, with Duke being the most well-known. And if you plan to get out of Chapel Hill for the weekend (which is unlikely, but anyway), the cities of Durham and Raleigh are almost next door.
Campus
Like you would expect at any of the good universities in the States, UNC Chapel Hill has pretty good infrastructure. Although UNC is one of the oldest universities in America, constant renovation and reconstruction has ensured that it looks 'as good as new' all the time. The college has excellent facilities for students, with some huge libraries, state of the art computer labs, beautiful lecture halls, and a fantastic Student Recreation Centre (SRC). There are also facilities for all kinds of sports and athletics.
Residing Options
Although not all grad students live off-campus, most do. This is probably because it affords them more freedom and privacy. Searching for an apartment or house shouldn't be such an issue – there are loads of them available, and most are quite reasonable as well. The entire Chapel Hill – Durham belt is ideal to live in; peaceful, safe and convenient. You'll end up shelling out anything between $300 and $800, depending on where you live, and with how many roommates.
Faculty
The one thing that cannot be questioned is the quality of professors at UNC Chapel Hill. Some of the most qualified and respected professors in the region teach here, and the students have absolutely no complaints. The best part – almost all faculty members are extremely approachable, and sometimes even arrange for students to come over to their houses to solve doubts, if students' schedules clash with their office timings. All in all, it's quite a fantastic learning experience here.
More Universities