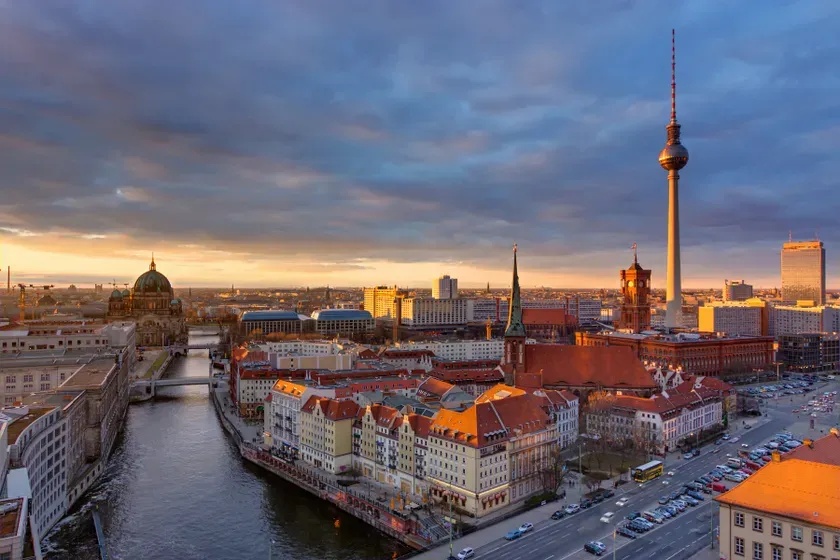 Overview
Germany has successfully captured the attention of thousands of international students over the years. This is because of its exceptional education system, multiple job opportunities and most importantly, extremely affordable cost of studying.
If you are looking for a cost effective study abroad experience, then Germany is your cue. Most public universities in Germany are highly ranked and do not charge any tuition fees from even international students.
Apart from this, higher studies in Germany are globally valued. The decision to study in Germany for Indian students means having access to world class teaching facilities, choice between innumerable courses and a promise of high employability.
Education System
The higher education system in Germany is well renowned and enjoys a high reputation around the globe. There are numerous top ranked universities in Germany that offer degrees which are highly valued. The three types of degrees offered in Germany are:
Bachelor's Degree:

Bachelor's degree is pursued after finishing high school and the title is normally awarded after six to eight semesters (3-4 years).

Masters Degree:

The master's title is generally awarded after studying for two to four semesters (one to two years).

PhD:

A doctoral degree proves a student's ability to carry out extensive academic research. It includes a written dissertation and an oral exam. There is generally no set time-frame for a doctoral degree. However, most students complete their dissertations within two to five years.
Under the German university system there are 3 types of higher education institutions. Let us take a look at all these types below:
| | |
| --- | --- |
| Type Of Institutions | Key Points |
| Academic Universities | Research driven institutions that focus on theoretical approach rather than practical. Students can pursue all types of degrees at these institutions. |
| Universities of Applied Sciences | These universities focus on application of research results. The curriculum includes projects with companies, mandatory internships, classes taught by professionals from various industries etc. |
| Universities of Art/Music | Universities focus on artistic training and are open to students with artistic talents for example: design, architecture, photography etc. |
Credit System in Germany
German universities use the ECTS (European Credit Transfer System) credit system. All course modules, dissertation preparation and work placements are taken into consideration when calculating ECTS credits.
Students can usually earn 30 ECTS credits per semester and 60 in total for an academic year.

As one ECTS credit in Germany generally represents 25-30 hours, 180 ECTS credits equal around 3 years worth of study, which is usually the duration of a bachelor's degree.

The amount of credits needed for a Master's can vary, depending on the university and subject, but is usually in the region of 180-240.

The German grading system is based on the GPA system. Germany uses a 1 to 6 (or 5) point grading system to assess the academic performance of students. 1 being very good performance and 6 being unsatisfactory performance.
Popular Universities
Germany is the home to some of the top ranked universities in the world. Students who graduate from these universities can definitely enjoy an upper hand in the job market. Take a look at some of the top universities in Germany:
| | | |
| --- | --- | --- |
| University | QS World Ranking 2022 | Average Tuition Fee/ semester |
| | 50 | No Tuition Fee |
| | 63 | 1,500 EUR |
| | 64 | No Tuition Fee |
| | 127 | No Tuition Fee |
| | 128 | No Tuition Fee |
| | 136 | 1,500 EUR |
| | 159 | No Tuition Fee |
| | 165 | No Tuition Fee |
| | 172 | 1,500 EUR |
| | 177 | 1,500 EUR |

Note: It is important to remember that most public universities in Germany do not charge any tuition fee from international students for standard programs. However, for professional courses like MBA they may charge tuition fees.
Top Courses
No matter what you are passionate about, you can hope to find the best courses in Germany related to your area of interest taught by professionals providing the best training possible. The top courses in Germany which can open up plenty of opportunities for international students and elevate their careers are mentioned below.
Engineering

Business Management

Maths & Computer Science

Fine & Applied Arts

Medicine

Natural Sciences

Life Sciences

Humanities
The most popular programs that students opt to study in Germany :
| | | |
| --- | --- | --- |
| Program | Duration | Average Tuition Fees |
| BBA | 3 - 3.5 years | 6,000 EUR / year |
| Bachelor of Medicine | 5 + 1 year of internship | 3,000 EUR / year |
| BSc Mechanical Engineering | 3 years | 10,000 EUR/ year |
| MSc Computer Science | 2 years | 12,000 EUR/ year |
| MBA | 1 year | 35,000 EUR / year |
| M.Eng | 1-2 years | 12,500 EUR / year |
| MSc Economics | 2 years | 5,000 EUR / year |
| MSc Data Analytics | 1 - 1.5 years | 1,500 EUR / year |
Admission Process
The Germany application process can be quite confusing for international students because of multiple steps involved. But you do not have to worry as we have broken down the application process in 8 simple steps:
Find a course that you want to study and then find the best university for that course.

Meet all the requirements and eligibility criteria that have been laid down by the universities.

Learn German language.

Apply to your desired university through Uni Assist Portal or directly via the University website.

Pay the application fee.

Arrange finances for your studies in Germany.

Apply for a

student visa to Germany

after receiving your acceptance letter from your desired university.

Look for accommodation in Germany and plan your travel.
The application process can turn out to be a long and complicated task. Hence you may want to get in touch with our career counsellors at Yocket to simplify this journey for you.
Cost of Attendance
One of the plus points of studying in Germany, especially for international students, is that Germany has an extremely affordable cost of living and cost of studying. The breakdown of total cost of studying in Germany is given below.
Tuition Fees
Most public universities in Germany except those in the state of Baden-Württemberg charge no tuition fees from international students for most standard courses. Students only have to pay a semester fee which is charged for administrative services, student support etc that is offered to students. However for a few professional courses they do charge a fee.
Private universities on the other hand do charge tuition fees to students. The fees for students are summarised in the table below:
| | |
| --- | --- |
| Degree Type | Average Tuition Fee / Semester |
| Bachelors | 14,000 - 26,000 EUR |
| Masters | 20,000 - 40,000 EUR |
| PhD | 800 - 900 EUR |
Cost of Living
The cost of living in Germany will depend on the kind of lifestyle you have. Most of your expenses will go on accommodation and other expenses like food, shopping, transport etc. On average, you will need around EUR 861 per month to cover your cost of living. Take a look at an expense chart of an international student in Germany.
| | |
| --- | --- |
| Factors | Average Cost Per Month |
| Rent | 200 - 1100 EUR |
| Food, restaurant charges and more | 50 - 150 EUR |
| Transportation | 30 - 90 EUR |
| Shopping | 50 EUR and upwards |
| Medical Expenses | 70 EUR and upwards |
Best student cities
Germany has many beautiful cities offering amazing landscapes, best universities and a highly developed economy. The quality of life in Germany is brilliant and there is a great work-life balance. Here are the 5 best cities to study in Germany for Indian and international students.
Berlin
Average Cost Of Living:

854 EUR/month
Top Universities:

Humboldt University of Berlin, Free university of Berlin, Technical University of Berlin
Munich
Average Cost Of Living:

900 EUR/month
Top Universities:

Technical University of Munich, Ludwig Maximilian, University of Munich, University of Mannheim
Frankfurt
Average Cost Of Living:

950 EUR/ month
Top Universities:

Goethe University Frankfurt, Frankfurt University of Applied Sciences, Frankfurt School of Finance & Management
Hamburg
Average Cost Of Living:

850 EUR/ month
Top Universities:

University of Hamburg, Hamburg University of Technology, Hamburg School of Business Administration
Aachen
Average Cost Of Living:

1,100 EUR/ month
Top Universities:

RWTH Aachen University, FH Aachen University
Stuttgart
Average Cost Of Living:

1,600 EUR/ month

Top Universities:

University of Stuttgart, University of Hohenheim, Stuttgart Technology University of Applied Sciences
Visa
You will need a German student visa if you are not a citizen of countries like - EEA/EU countries, Australia, Andorra, Brazil, Canada, El Salvador, Honduras, Israel, Japan, Monaco, New Zealand, San Marino, Switzerland, United States and South Korea.
You can apply for a German student visa at a German embassy in your country. The step by step process for applying to student visa is given below:
Get an acceptance letter from your desired German university.

Open your blocked account. When applying for a visa, you can provide evidence that you are able to meet your living costs by opening a blocked bank account.

Prepare the necessary documents for your student visa application as soon as you receive your acceptance letter.

Procure photos which meet biometric photo requirements.

Fill the application form, print it, sign it and submit it along with the other documents.

Schedule an appointment for your visa interview.

Pay the visa fees in the form of a demand draft.
Necessary Documents To Apply For A Student Visa in Germany:
Completed application form

Valid passport

Two photographs

Acceptance letter by a German University

Language proficiency test results (English or German, depending on the language of your course)

Proof of funds (EUR 8,700 per year )

Health insurance

Declaration of authenticity of documents submitted
Top Scholarships
The average cost of studying can be a little hard to manage for some international students. This is why the German government, German universities and various other institutions give out various scholarships for international students in Germany. The scholarships cover the cost of living for international students and are an amazing way to fund studies. Take a look at some of the most popular scholarships in Germany:
Awarded To:

International students pursuing masters or PhD in German Universities

Amount/ Benefit:

Monthly stipend to cover living expenses, health insurance, travel expenses, etc.
German University Scholarships
Awarded To:

International students pursuing bachelors/masters/PhD.

Amount/ Benefit:

Varies with the nature of scholarship and the granting university
Heinrich Boll Foundation
Awarded To:

Mainly international students pursuing bachelors/ masters/ PhD in STEM fields.

Amount/ Benefit:

Up to 1,350 EUR per month
Bayer Foundation
Awarded To:

International students planning to carry out research studies in Germany.

Amount/ Benefit:

Up to 10,000 EUR
Konrad-Adenauer-Stiftung (KAS) Scholarships
Awarded To:

International students wanting to study masters or PhD in Germany.

Amount/ Benefit:

Up to 1,200 EUR per month
The Friedrich Ebert Stiftung
Awarded To:

International students studying social or political subjects.

Amount/ Benefit:

Funding of EUR 1,000 per month
Mawista Scholarship
Awarded To:

International applicants planning to choose Germany study abroad to pursue Diplomas and Bachelors, Masters and PhD degrees.

Amount/ Benefit:

Funding of EUR 500 per month
Work Opportunities
Finding a suitable and stable job in a new country is the ultimate aim for most international students. You would be glad to know that there are plenty of jobs for international students in Germany, thanks to the highly developed German economy.
Job Outlook for International Students after Studies
Here's a quick look at top in demand sectors to look for job opportunities in Germany after masters:
| | |
| --- | --- |
| Area of Specialisation | Average Annual Salary |
| Healthcare | 80,000 EUR |
| Data Science & IT | 60,000 EUR |
| Engineering | 46,000 EUR |
| Finance | 61,000 EUR |
| Research | 56,000 EUR |
Work Visa & PR in Germany
Students from non-EU countries who wish to work in Germany after graduating can extend their residence permit for up to 18 months to find work relating to their studies. To apply for the extended residence permit, you'll need:
Passport

University degree certificate or official document from your university confirming that you successfully completed your studies

Document proving you have health insurance

Proof that you have means of supporting yourself financially
The 18 months begin as soon as you receive your final exam results, so you should start looking for employment during your final semester. In these 18 months, you can take up any kind of employment to support yourself. As soon as you've found a job role you'd like to accept, you should apply for a German residence permit or EU Blue Card (similar to the US Green Card). You can reside in Germany while your application is pending.
If you'd like to stay in Germany and become a permanent resident, you can apply for a 'settlement permit' as early as two years after receiving your permanent residence permit or EU Blue Card.
Germany is an ideal destination for all the students looking to study in a European country. Its excellent education system, great quality of life and a highly developed economy provide students the right platform to explore their passions and good exposure to pursue their dreams. So what are you waiting for? Go apply for German university now! In case you need assistance, Yocket Counsellors are just a click away.
FAQs
Ques: What are the minimum IELTS score to study in Germnay?
Ans: The minimum requirement is 6.5 for most of the technical courses. A student can send their IELTS score to 5 Universities within a month of getting your exams.
Ques: Can a student take their family with them on a student visa?
Ans: It is possible for an international student studying in Germany to bring their parents to stay with them during their study period, subject to certain requirements.
Ques: Is it hard to learn German, considering its the local and commonly conversed language there?
Ans: Students normally live in the misconception that German is a difficult language to learn, when in reality, it's not nearly as hard to learn as many think.