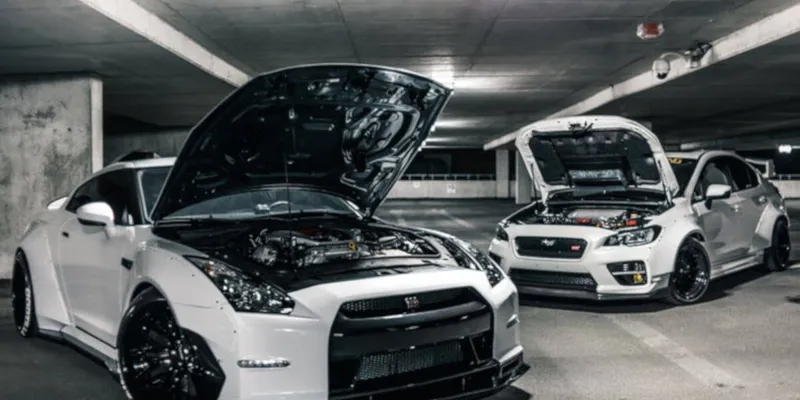 Bachelors in Automobile Engineering Abroad
Overview
B tech automotive engineering is a vast area, which includes the study of vehicle operation and mechanism, as well as their production, assembly, and maintenance. Since the automotive sector is expanding, there is a growing demand for pursuing bachelor's of automotive engineering among international students. Students after pursuing bachelor of automobile engineering will gain knowledge about managing the complete production and manufacturing of different vehicles.
If you are among those students who carry a good interest in automobiles, starting your career with a bachelor of automotive engineering abroad is the best you can do. Experienced automotive engineers have the chance to lead a sector that is rapidly evolving as a result of efforts to make vehicles safer, and more environmentally friendly.

Why Study B.Tech Automobile Engineering Abroad?
Studying a bachelor of automotive engineering abroad will offer you the access to the best resources and programs. Additionally, the course acts as the gateway to a variety of professional options that allow you to gain practical experience at some of the top automotive companies in the world. Some of the reasons to study bachelor of automotive engineering abroad are-
Different Disciplines to Choose
Bachelor of automotive engineering abroad involves various disciplines, and the goal is to help students gaining skills they need to manage next-generation technology. Furthermore, they are well-prepared to use modern methodologies in vehicles, and use their imagination and creativity to overcome the never-ending difficulties of competitiveness and innovation.
Reputed Profession
Automobile engineering is one of the most reputed professions. Graduates can easily find different job opportunities across the automobile industry. There are some top car manufacturing brands including Volkswagen, BMW, Audi, and others which look for fresh graduates having skills.
Top Ranking Universities
There are top universities for B.Tech in automotive engineering abroad offering the course through practical and theoretical processes. Students get quality education through the course.
Good Payscale
Once you complete your program you will be able to get a top paying job in the automotive making company. One can join any of the highest posts with a good pay scale.
Suggested: Benefits of Studying Abroad
Course Structure
The automotive engineering bachelor's degree has the duration of 3-4 years. Depending on the university you apply to, the actual structure and content of the length may vary.
Duration: The automotive engineering bachelor's degree has the duration of 3-4 years which also includes practical projects and industry visits.
Core Courses: Bachelor of Science in automotive engineering is a highly technical course providing industry insight to students. The syllabus included in the program is:
Engineering Design

Engineering Maths

Engineering Science

Managing a Professional Engineering Project

Mechanical Principles

Fundamentals of Thermodynamics and Heat Engines

Mechatronics
Course Subjects
Colleges and universities have different course subjects for their bachelor of automotive engineering abroad programs. Some of these course subjects include:
Manufacturing Methods

Engineering Thermodynamics

Heat Transfer and Combustion

Automotive Petrol Engines

Engineering Analysis and Numerical Methods

Automotive Design Engines
Suggested: Popular Courses for International Students Abroad
Top Specializations
Colleges and universities offering bachelor of automotive engineering abroad offer a wide range of specialisations. Some of these are mentioned below.
Automotive Mechatronics and Intelligent Vehicles

Transportation and Automobile Design

Automotive Engineering

Advanced Automotive Electronic Engineering
Core Skills
Besides the usual academic documents, students also have to acquire important skills to successfully to get into b tech automobile engineering colleges. Some of them are:

Technical Skills
Automobile Engineering involves technical jobs and its subjects comprise different concepts related to physics and mathematics. Hence, it is important for students to have a proper understanding of physical concepts as well as some engineering and technical skills.

Interest in Motor Vehicle Engineering
Having interest in vehicle engineering is an important skill to carry upon. It is important to have a good interest in vehicle engineering and different aspects of the industry. It will help in learning in a better way.

Excellent Communication Skills
Good communication skills are a vital skill to carry that will help in learning more about the industry. It helps you to make your plans and strategies known to the clients if you have good communication skills.

Critical Thinking
Students need to have quick decision-making and critical thinking skills, which are highly valued in the automotive engineering industry. Students can develop these skills during academic years by undergoing practical learning experience.
Suggested: Latest Study Abroad Updates
Requirements
If you are seeking admission to at best colleges for automotive engineering bachelor's degree abroad, it is important to know certain requirements. Mentioned below are some requirements that students have to fulfil to get admission in b tech automobile engineering colleges:
High School Certificate

English Language Requirements

Passport and Visa
Let's know these requirements in detail:

High School Certificate
For undergraduate courses in automotive engineering, students need to provide a 10+2 passing certificate from the top engineering college with relevant courses. Physics, biology, IT and maths should be the part of your course. The average score must be 70-80%.

English Language Requirements
International students need to submit their TOEFL or IELTS test scores to prove their proficiency in English. However, the score may vary according to the country and the university.
Cambridge Certificate in Advanced English (CAE) or Proficiency (CPE)- 200-210 (grade A)

IELTS

- 6.5-7.5

TOEFL

- 90-110

Passport and Visa
Students will also have to submit a valid student visa and passport to study any particular course in universities abroad. Keep in mind that you will have to apply for the visa at least 3 months in advance from your date of travel.
Suggested: International Student Visa Details

Documents Required to Apply for B.Tech in Automotive Engineering Abroad
In order to get admission to the top B.Tech in automotive engineering abroad, students have to submit the following documents:
Transcripts of previously attended institutions

English Language Test Scores

Copy of Passport and Visa

Funding Proof

Study Permit

Updated CV or Resume

Admission Process for B.Tech in Automotive Engineering Abroad


Students applying to the top colleges and universities for a B.Tech in automotive engineering abroad need to follow these important steps:

Check the best universities that are offering the courses and programs. Make sure to look at the eligibility criteria of these institutions to find out the one that you like.

Now browse the official website of the university or college and gather all information about the course curriculum and documents required for admission.

Submit all the important documents such as English language scores, previous certificates, resume, passport, etc.

Fill up the application form and pay the application fees demanded by the University of your Choice.

If your application is accepted, you will be asked for an interview with the university board that you must attend.

After clearing the interview, you will be offered the admission letter and you can book your seat for the program.

Pay your term fees and start your course.
Suggested: Entrance Exam for Abroad Studies
Top Scholarships
Since the B.Tech automobile engineering abroad fees are different as per universities and colleges, not every student is capable of paying the same. So to pay for the course, scholarships are best. There are various scholarships available for overseas students that provide respectable perks to assist their travel and academic endeavours abroad. Here is well-known B.Tech automobile engineering available abroad:

New Zealand Aid Programme 2023 Scholarships for International Students
Offered by multiple universities, the scholarship covers the entire fees of students pursuing undergraduate courses. Students who fulfil the eligibility criteria will get the grant
Amount- Students pursuing any course will receive a grant of USD 1828.11 (INR 14,55,18.10) that covers tuition fees.

Government of Ireland - International Education Scholarships 2022
There are around 60 scholarships for undergraduate, masters and PhD students to successful candidates, both domestic and international, admitting an eligible Irish higher education institution.
Amount: USD 10,000 (INR 7,98,325)

QS Undergraduate Scholarship
The scholarship is offered to students pursuing undergraduate courses in QS Ranked University. Candidates are required to submit a brief essay outlining how an inspirational figure has influenced their goals and way of life.
Amount- USD 10,000 (INR 798325

Friedrich Ebert Stiftung Scholarships
International students are eligible for this scholarship. Students with limited financial options can opt for this scholarship opportunity. Students must provide a certificate of enrolment at a state-recognized German University.
Amount- Varies
Suggested: Top Scholarships to Study Abroad

Cost of Studying Bachelor of Automotive Engineering Abroad
If you are planning to study bachelor of automotive engineering abroad, it is important that you gather all information about the cost of studying there. The overall cost of studying is divided into Tuition Fees and Living Cost-

Tuition Fees
The b tech automobile engineering fees abroad ranges from USD 36,376.29 - 43,902.42 (INR 29, 00,000- 35, 00,000) per year. Some countries have minimal program fees for students and several scholarships as well. However, overall program fees that you have will depend on the institution and the country where you choose to study.

Living Expenses
Students will need to bear the cost of living in the country when they are pursuing a course from their choice of university. On average, students need to spend around USD 1,000- 2000 (INR 79712- 159424) monthly on living expenses. These expenses include housing, food, transportation, course materials, entertainment, and others.
Work Opportunities
The B.Tech automobile engineering scope for international students is promising. There are good b tech automobile engineering jobs available in roles like- performance engineer, vehicle dynamics controller, production controller, manufacturing engineering, and others. Some of the jobs after b tech automobile engineering are-
| | |
| --- | --- |
| Job Title | Average Salary Annually |
| Automotive engineer | USD 35,000 |
| Senior Automation QA Engineer | USD 25,000 - USD 30,000 |
| Automotive Design Engineer | USD 80,000 |
| Research engineer | USD 85,000 |
| Product designer | USD 46,000 |
Suggested: How to Work While Studying Abroad?
Students working towards building their career after bachelor of science in automotive engineering abroad will have a multitude of options. Most recruiters from the top companies hire talented professionals pay handsome b tech automobile engineering salary. To learn more about the career options and scope after this course, consult our Yocket Professionals today.
FAQs
Ques. Which are the best countries to pursue bachelor of science in automotive engineering?
Ans. There are many countries that offer this course. However, some of the top countries are
USA

Germany

Canada

Australia
Ques. What is the course duration of bachelor of science in automotive engineering?
Ans. The course duration for bachelor of science in automotive engineering is about 3-4 years.
Ques. Are there any scholarships offered to the students?
Ans. Yes, there are universities in different countries offering scholarships for students who have exceptional merit and outstanding academic credentials.
Ques. What documents should I submit with my application for bachelor of science in automotive engineering?
Ans. For the admission purpose in any of the top colleges and universities abroad, students have to submit their:
Education certificates

English language test scores

Letter of Recommendation

Statement of Purpose

CV or Resume

Passport and VISA
Ques. Are there free bachelor of science in automotive engineering courses offered?
Ans. Countries such as Sweden, Iceland, and Denmark offer free bachelor of science in automotive engineering for its national students.