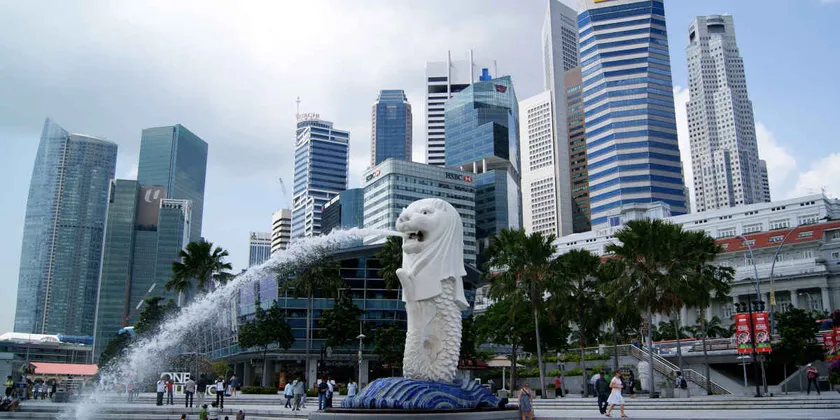 Overview
The city-state Singapore is an ideal destination to pursue higher education. The state-of-the-art standards of education, a solid focus on the research base, and an exceptionally high standard of living attracts students from around the world.
Studying in Singapore for Indian students is convenient as there are no language barriers. Most Singaporeans are bilingual, English and Mandarin are spoken across the country.
Your decision to study in Singapore can also prove to be rewarding in terms of career growth. Since more than 7,000 companies operate from here, it is much more feasible to find a job after completing your education from any of the top universities in Singapore.

Singapore as a Study Destination: Highlights
Here's an overview of all the factors that an international student must know about while planning to study abroad in Singapore:
| | |
| --- | --- |
| Language of Instruction | English |
| Average Cost of Study | SD$ 17,000 - SD$ 90,000/ year |
| Average Cost of Living | SD$ 1,000- SD$ 1,500/ month (excluding rent) |
| Sources of Funding | Loans, Scholarships, Aids and Part-time jobs |
| Exams Required | |
| Intakes | August and February |
| Type of Visa | Student Pass |
| Top Courses | Marine Biology, Business Studies, Banking and Financing, Tourism and Hospitality, Architecture, Medicine, etc. |
| Types of Degrees | Diploma, Undergraduate Degree, Graduate Degree, Doctorate Degree |

Why Study in Singapore?
Choosing to study abroad in Singapore can lead to a promising future for more than one reason. Here are the top reasons why study abroad in Singapore:
The strict laws in Singapore ensure a safe environment for international students. The low crime rate enables students to explore the state without having to worry about their safety.
Singapore is more convenient than many other countries as a study abroad destination as English is one of the main spoken languages.
Universities in Singapore

are known for their academic excellence providing a diverse range of programs. Business courses are a popular choice among students for their higher studies in Singapore.
Be it a student, resident or a local, each one gets to taste Singapore's high standard of living. Be it the efficient bus services, the well-connected metro service or the sumptuous street food, these are equally available to all.
Singapore offers a great cultural mix for everyone planning to study abroad in Singapore. Students from all around the world travel to Singapore to learn. Therefore, studying in Singapore can be a fruitful networking opportunity.
Education System
The education system in Singapore is a well planned structured system. After completing 12 years of school education, students can go on for higher studies in Singapore. Higher education in Singapore is managed by the Ministry of Education (MoE) and is provided through a number of educational institutions.
Here's a quick look at the programs offered in Singapore:
Diploma, Advanced Diploma and Specialized Diplomas:

These give you an overall idea of a particular subject and you can specialise the same with an advanced or specialized diploma. They take about two-three years to complete.

Undergraduate Degree:

The undergraduate program is a full-time Bachelors in any course. It will take about 3-4 years

to complete. Some colleges offer honours programs as well.

Masters Degree:

Depending upon the subject of your specialization, a Masters in Singapore can be completed in a year or two

.

Doctoral Degree

: Although the stipulated time is two-five years, most students take about five years to graduate with a Doctorate degree from Singapore.
As a foreigner, you're free to pursue your overseas education in Singapore in any type of Singaporean institute you resonate with. The types of higher education institutes in Singapore are:
| | |
| --- | --- |
| Type of Institution | Key Points |
| Public Universities | Government-owned universities; Subsidised mostly for the residents of Singapore |
| Private Universities | Run by private institutes, offer a variety of courses but are slightly more expensive than the public universities |
| Polytechnics | Offers various diplomas |
| Foreign Universities & Institutes | Branches of various foreign institutes and private academies offering programs and degrees |
| Art Schools | Private art institutes offering art specialised courses |

Credit System in Singapore
Most Singaporean universities incline towards the GPA credit system. These credit scores are reflected with a qualifying alphabet. Students at the most top universities of Singapore require a minimum of 3.2 GPA to clear their course.
Most universities in Singapore such as the National University of Singapore, Nanyang Technological University, Singapore University of Technology and Design follow the 5.0 grading scale.

Singapore Management University follows a 4.0 grading system.

Scoring a 3.5 GPA is considered to be a fairly decent score in Singapore. While a score of 4 and above is well appreciated.
Popular Universities
There are three top universities in Singapore that excel in all sections and contribute to the overall development of students. Let us have a look at the best universities in Singapore:
| | | |
| --- | --- | --- |
| University | QS World Ranking 2022 | Tuition Fees/ Year |
| | 11 | SD$15,000 - SD$58,000 |
| | 12 | SD$14,000 - SD$34,000 |
| | 511-520 | SD$24,000 - SD$47,000 |
| | - | SD$14,350 - SD$60,000 |
| PSB Academy | - | SD$20,000 onwards |
| | - | SD$12,000 - SD$60,000 |
| | - | SD$20,000 - SD$50,000 |
| London School of Business and Finance | - | SD$13,000 - SD$43,000 |
Top Courses
There are a number of courses in Singapore you can excel in. Given below are some of the best courses in Singapore for Indian and International students:
Marine Biology

Business and Management

Banking and finance

IT and Computing

Engineering

Tourism and Hospitality

Architecture

Medicine

Law
The most popular degree courses in Singapore that students opt to study are:
| | | |
| --- | --- | --- |
| Program | Duration | Average Tuition Fees/ year |
| MBA | 12 - 17 months | SD$ 40,000 - SD$65,000 |
| MSc Maritime Technology and Management | 1 year | SD$ 25,000 - SD$35,000 |
| MSc Computer Science | 1-2 years | SD$ 20,000 - SD$40,000 |
| LLB | 3-4 years | SD$ 25,000 - SD$ 50,000 |
| BBA | 3-4 years | SD$26,000 - SD$28,000 |
| MBBS | 5 years | SD$28,000 - SD$42,000 |
| MSc International Tourism Management | 1-2 years | SD$20,000 - SD$35,000 |
| MSc in Electrical Engineering | 2 years | SD$25,000 - SD$45,000 |
Admission Process
The Singapore admission process for Indian students and other international students can be completed online. Here's how you can do it:
Decide the course you want to pursue and lookout for the best Singapore universities available for you.

After shortlisting the universities, check out their official university admission websites to gather more information about the university requirements and its eligibility criteria.

To begin with your application process, fill the application form available on the university official website along with all required documents and certificates. Some universities (mostly private) may also have an offline application system.

Complete the process by paying the required application fees.

Wait for the universities to revert. Once selected, you will have to apply for a Singapore student visa.
The application process can turn out to be a long and complicated task. Hence, get in touch with our career counsellors at Yocket to simplify the process for you.

Singapore University Requirements for International Students
Learn about the admission requirements for different courses in Singapore. Here are some essentials you will need to check on before applying:
Degree

Requirements

Diploma

Completed 10th

Relevant work experience

Interview may be required

Bachelor's Degree

10th and 12th scores

IELTS with a minimum score of 6.5-7 or a TOEFL score of 90 to 100

SOP

Master's Degree

Bachelor's degree with minimum CGPA 2.8

IELTS/TOEFL

GMAT/GRE

LORs, CVs and SOPs

Doctorate Degree

Strong research background

Work experience

Masters in a relevant subject

High GRE score

LORs and CV
Cost of Attendance
Singapore is an expensive study abroad destination for sure. The cost of studying in Singapore depends upon the course and university you choose, and also your lifestyle. The overall cost of studying can be divided into two categories – Tuition Fees and Cost of Living.

Tuition Fees
The tuition fee in Singapore is lower for its citizens and costlier for international students. Other than the tuition fee, International students in Singapore also need to pay additional student services charges etc:
| | |
| --- | --- |
| Degree Type | Average Annual Tuition Fee |
| Bachelors | SD$ 17,000 - SD$64,000 |
| Masters | SD$ 35,000 - SD$90,000 |

Cost of Living
The cost of living for international students in Singapore is on the higher side. This is why if you choose to study in Singapore, you must budget your expenses and plan your expenditure beforehand. In total, you will need about SD$ 1,000 - SD$ 1,400 every month without rent in Singapore. On average, the main components of the cost of living in Singapore for international students are as follows:
| | |
| --- | --- |
| Particular | Average Cost Per Month |
| Apartment housing including utilities | SD$ 2,000 - SD$ 5,000 |
| Food | SD$ 350 and upward |
| On-campus housing | SD$ 250 - SD$ 600 |
| Books and supplies | SD$ 150 |
| Miscellaneous | SD$ 500 |
Best student cities
Some of the best cities to study in Singapore are:
Kampong Glam
Jurong East
Bukit Batok
Pasir Ris
Some of the attractions in Singapore include various outdoor activities, nature and parks, cultural attractions, etc. Some famous places you might visit are Gardens by the Bay, Singapore Botanic Gardens, Cloud Forest, Marina Bay, Chinatown, Clarke Quay, Universal Studios, etc.
Visa
Singaporean Universities are referred to as Institutes of Higher learning or IHLs. To study in any of these institutions, international students require a student pass. A student pass is issued to international students aspiring to study in Singapore for more than 30 days.
Singapore's Student Pass Online Application and Registration system or SOLAR system approves student's passes to international students. To apply for a student pass:
Confirm that your respective IHL is a part of the SOLAR system. Secure an admission letter from your accepted IHL. Your Institute of Higher Learning will notify and register your basic details to the SOLAR system.

You will also receive a reference number from your IHL to access your SOLAR student pass account.

Log in and submit a completely filled F-16 Form and Form V36.

You will need to fill in all the required details and submit the necessary documents such as your passport copy, your statement of funds, your acceptance letters etc.

Pay the application fee of SD$ 30.

An additional charge of SD$ 60 and SD$ 30 might have to be paid for insurance and multi-visit purposes.

Complete the process and wait for your student pass to board your flight.
Singapore student visas are usually approved within 15-30 days. However, to be on the safer side you should apply two months before the commencement of your course. In rare cases, you might have to attend a visa interview, this might extend your wait for your visa.
Singapore Study Visa Requirements:
Current and legible passport, valid for a minimum of three months.

Original receipt of visa application fee payment

Invitation letter issued by the IHL in Singapore

Bank statements for proof of funds

Bank loan sanction letter (if applying for a student loan), along with proof of investments, if requested by the ICA

Transcripts of degrees

Test scores - GMAT, TOEFL, GRE, PTE etc.
Top Scholarships
Bagging a scholarship in Singapore is a great way to ease your expenses. This will help you a great deal to reduce your overall cost. Many Government, Non-profit and private organisations sponsor scholarships to study in Singapore. Some of the top scholarships are:

SINGA - Singapore International Graduate Award


International students interested in pursuing a PhD and research in Biomedical sciences, physical sciences or Engineering.

Amount/ Benefit:

Monthly stipend of SG$ 2,000-SGD 2,500. One-time airfare grant and a settling-in allowance (once).

ADB - Japan Scholarship Program


Students from the ADB borrowing nations pursuing masters in economics, management, science and technology, and other development-related fields.

Amount/ Benefit:

Benefit: Tuition fees, monthly living allowance, study material, medical insurance, travel expenses. Additionally, a special allowance is given for research and thesis preparation.

Commonwealth Scholarship for Integrated Science


Students from the CommonWealth nations pursuing PhD degrees.

Amount/ Benefit:

Covers travel expenses, tuition fees and other allowances. Also offers a monthly stipend.

Lee Kong Chian Graduate Scholarships


Students from any country who aspire to pursue a PhD at the National University of Singapore.

Amount/ Benefit:

Monthly stipend of SG $ 3,300, tuition fees, examination fees and other approved NUS fees, a one-off travel allowance and a one-off laptop allowance.

ASEAN Foundation Scholarships


Applicants applying for masters degree and having a Bachelors in Pharmacy, Medical Sciences or Sciences.

Amount/ Benefit:

Tuition fees and any other academic fees to study at the Chulabhorn Graduate Institute (CGI), air-fare, VISA fees, relocation allowance, monthly allowance, study material allowance and health insurance.

Singapore Millennium Foundation Scholarships


International students interested in studying Engineering or conducting research at Masters and Doctoral levels.

Amount/ Benefit:

Includes monthly stipend and travel allowance.

SIA Youth Scholarship


Students of India, China, and ASEAN nations.based on their academics, entrance tests and an interview to complete Pre -University studies.

Amount/ Benefit:

Covers tuition fees, exam fees, living expenses, medical benefits and accident insurance.
Work Opportunities
Unlike many western countries, seeking a part-time gig in Singapore isn't as smooth as you think. According to law, part time jobs in Singapore for international students are allowed provided:
You hold a valid student pass approved by the Immigration and Checkpoints Authority (ICA).

The university you have been accepted to must allow you to work part-time along with your studies.

International students with a valid student pass can work up to 16 hours per week in an accepted field of work.
'Accepted field of work in Singapore', means that students are allowed to take up jobs on campus or among the selected few roles that add value to their learning experience. Some of the popular roles students can take up are -
| | |
| --- | --- |
| Part-Time Jobs | Average Salary Per Hour |
| Retail Staff | SD$ 8 |
| Library Assistant | SD$ 14 |
| Sales Associate | SD$ 10 |
| Data Entry Staff | SD$ 10 |
| Business Operations | SD$ 11 |
| Waiting Staff | SD$ 8 |
| Receptionist | SD$ 10 |
| F&B Staff | SD$ 8 |

Post Study Work Options For International Students In Singapore
The Asian job market is rapidly growing. Singapore has a high demand for IT professionals, foreign language teachers, engineers and others.
After you complete your education you cannot stay in Singapore with your student pass. However, if you seek a future in Singapore, you can apply for a long term social visit pass during your last semester. By doing so, you will be able to stay and find desired job opportunities in Singapore.
Working as a professional in Singapore, a salary of SD$ 5,000+ per month is tagged to be a good salary. However, your salary depends upon a number of realistic job factors. Let's look at some of the top professions and their salaries in Singapore:
| | |
| --- | --- |
| Area of Specialisation | Average Annual Salary |
| Software Engineering & IT | SD$ 66,800 |
| Finance | SD$ 87,500 |
| Teaching | SD$ 91,000 |
| Hospitality and Tourism | SD$ 56,000 |
| Data Science | SD$ 92,000 |

Work Visa & PR in Singapore
As discussed above, you need a long term social visit visa to stay back in Singapore after your education to find an appropriate job. In case you have a job or you find one, the process to apply for a work visa in Singapore is as follows:
Employment Pass: This is the most commonly used pathway by international students. This post study work visa in Singapore should be sponsored by your employer. These are job roles of specialised professionals of any field or managers of a respected field. The professional needs to have a reputed qualification and a minimum salary of SD$ 4,500 per month to get this post study work visa.

S pass: Foreigners who are mid-skilled qualified professionals apply for this type of work visa. It is sponsored by the employer and the minimum salary for this type of visa is about SD$ 2,500 per month.

Entrepass: This is an entrepreneurial pass for professionals seeking to open their own business in Singapore. Proper company documentation and registration are some of the key requirements for an Entrepass.
Foreign students wanting to apply for PR, must apply to the Immigration and Checkpoints Authority (ICA). They must have resided in Singapore for at least 2 years at the time of application, have passed a minimum of 1 national exam or are in the integrated program.
The above details cover every aspect of Singapore you need to closely examine before finalizing the country of your choice for further studies. If you are still facing difficulties, get in touch with a Yocket Professional to further gain clarity. As for studying in Singapore for Indian students, the verdict is quite straightforward, the best way to pursue your education in Singapore is to bag a scholarship, opt for a high-in-demand course and enjoy the ride!
FAQs

Is TOEFL required for Singapore?
Ans: Singapore Universities accept the Test of English as a Foreign Language (TOEFL), also (IELTS) is a commonly accepted.

Is Singapore safe for students?
Ans: Singapore is a safe country. Though even with a low crime rate, great universities & spotless pavements, students will find it difficult to adjust to their culture.

Do universities in Singapore accept year gaps?
Ans: Yes some Universities do accept year gaps, however a student with a year gap and relevant work experience is given more priority as compared to a years gap with no experience.