The gorgeous views, the friendly population and the conveniently available student visas have made New Zealand a coveted destination for study abroad aspirants. Besides enjoying an adventurous student life, you can also be assured about your safety in New Zealand - the country bags second position as the most peaceful country in the World. Thus, ensuring a safe and fruitful time for you as a student.
New Zealand's World-class education system, widely accepted degrees and more are a pile of reassuring perks for any international student. However, to understand New Zealand's admission process and requirements read on ahead.
SUGGESTED READ: 4 Important Reasons to Study in New Zealand
What is the Admission Process for Studying in New Zealand?
The New Zealand admissions intake for international students is very simple. To begin with, obviously, you need to first make your mind up on the college and the type of course you want to pursue.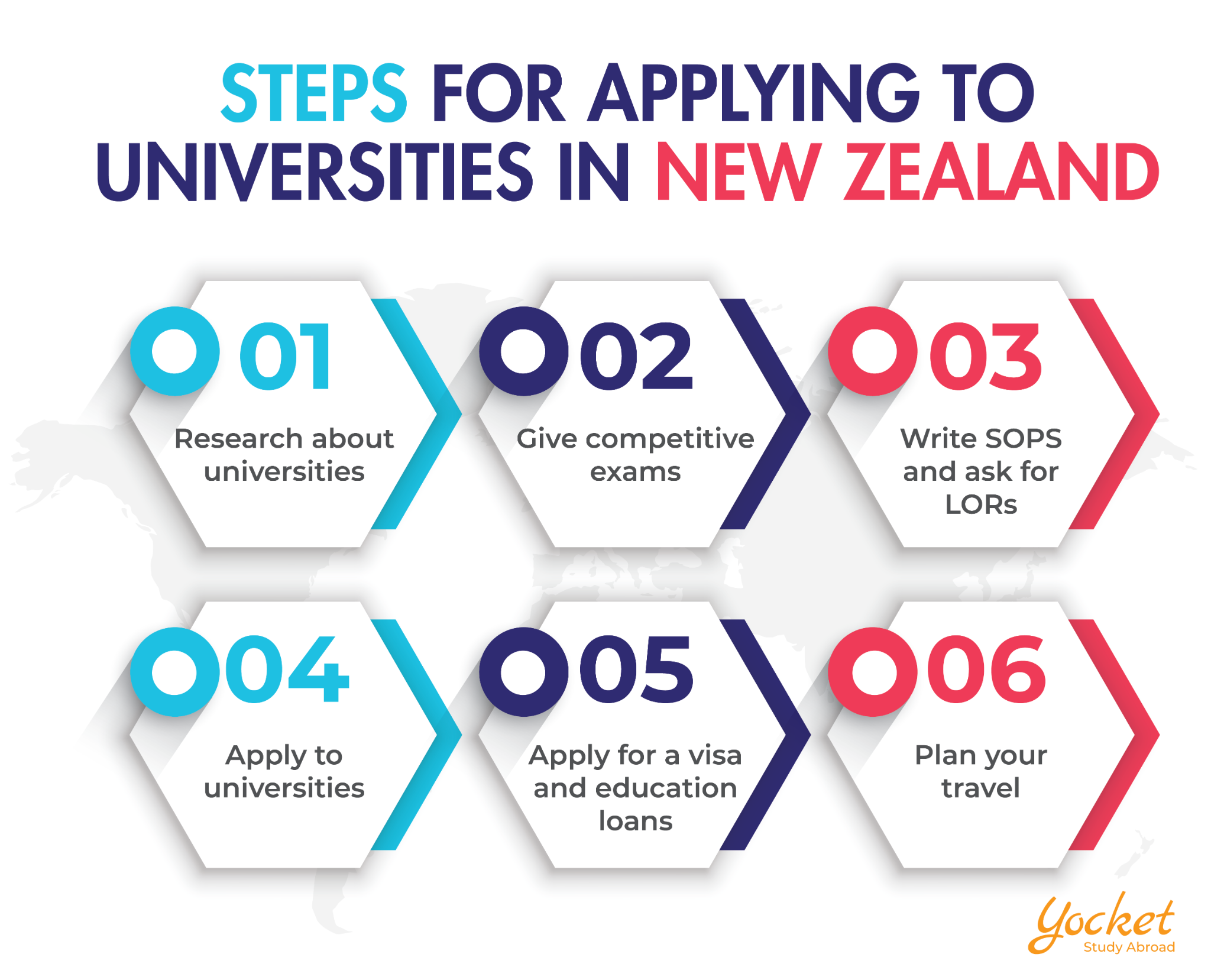 Once you've made your decision, the admission process can simply be done online. Here's how New Zealand university intake works:
SELECTION: Research about the universities and courses that fit your interests.

MAKE YOUR CHECKLIST: After you've chosen your preferred college and course type, visit the universities' official website. Make a checklist of the tests you need to take, New Zealand university application deadlines, document requirements etc.

TAKE THE ENTRANCE TEST: Take the required New Zealand university necessary exams like IELTS, TOEFL, GRE or GMAT etc.

WRITE AN IMPRESSIVE SOP: Compose SOPs that reflect your interests. Your SOPs are the way you interact with respective universities.

GET YOUR LORs: In addition to your SOPs, gather valuable LORs from your previous employees, faculty and mentors. Your LORs will further emphasize your keen interest in a particular field.

UNIVERSITY APPLICATION: Apply to your desired NZ universities and appear for interviews once selected.

APPLY FOR STUDENT VISA: If you're accepted by your desired NZ university, apply for a New Zealand student visa and plan your travel.
SUGGESTED READ: How much does it cost to study in New Zealand?
When do New Zealand Universities intake begin for international students?
New Zealand universities intake are conducted in the months of February and July. Some universities also offer intakes in September and November, based on the course type. July intake is the most popular intake among international students. However, it takes about 6 to 7 months to complete your New Zealand admission process.
After you decide which university in New Zealand you wish to enroll in, plan your application. Have a look at the university requirements, competitive exams you will need to attend etc. Assess the time you will require to give the various entrance exams, receive their scores and set your academic records. Therefore, keep a buffer time of 6 months before you start applying to various universities.
EXAMPLE: New Zealand Admission Plan For July Intake
If you are aiming for July 2022 intake, you can follow the timeline below and successfully complete your New Zealand admission process.
| | |
| --- | --- |
| Timeline | Activity |
| August 2021 - December 2021 | Research and shortlist universities of your choice. Check the eligibility criteria and New Zealand universities' application deadlines. |
| December 2021- February 2022 | Prepare and appear for the required aptitude exams. (GRE, GMAT, IELTS etc) |
| February 2022 - March 2022 | Apply to your desired universities and upload documents. |
| March 2022- April 2022 | Confirm your admission by accepting the 'university acceptance letter'. |
| April 2022 - July 2022 | Apply for Student Visa, education loans (if needed). Book your tickets and travel! |
EXPLORE: Schedule a FREE consultation call with a Yocket professional to ease your study abroad journey to New Zealand!
What are the University Entrance Requirements for New Zealand?
University requirements vary based on your course type and field of interest. Therefore, the best way to gain clarity on admission requirements is by checking up on the university's official website or by emailing them.
New Zealand University Requirements for an Indian student:
As an Indian, holding a valid passport, required degree, a bank account and a portfolio are some requirements. In addition to these documents, it is mandatory for Indian students to take the English language test such as IELTS, PTE, Duolingo or TOEFL exam.
University Entrance Requirement list for New Zealand:
Resume

Photocopied score reports of tests like GMAT/IELTS/TOEFL (As per your university requirement)

Portfolio (If required)

Other (Certificates, extra-curricular activities etc)
Statement of Purpose (SOP) written in first person, your SOP must state your purpose of wanting to pursue the particular course. Your reason for choosing that particular college and location to pursue the same. Remember to highlight your personality traits in your SOP too.
Letter of Recommendation (LOR) can be written by someone who has worked with you like your manager, team lead etc or someone who has guided you such as your teacher, mentor etc. This letter is written in third person describing your qualities, strengths, your ability to perform a particular task etc. The LOR assures the university that you're capable of doing tasks and deserve to be admitted.
Intakes in New Zealand are facilitated with an overall focus. Thus, every document you submit holds value. Make sure you're giving your educators the right impression!
Once you're admitted to a university, the next step is to apply for a student visa to New Zealand. You can check out their official website to apply or schedule a call with a Yocket professional to do it for you.
Related Discussion: How much study gap is acceptable in New Zealand?
What are the Student Visa types you can apply for to study in New Zealand?
If you are an Indian planning to study in NZ, your visa type differs based on your intakes in New Zealand. Have a look at the types of student visas for NZ:
| | |
| --- | --- |
| TYPE OF VISA | DESCRIPTION |
| Fee Paying Student Visa | Eligibility to study full time upto 4 years and work part time. |
| Exchange Student Visa | Eligibility to study full time upto 4 years for an approved student exchange program. |
| Foreign Government supported Student Visa | Eligibility to study full time upto 4 years under foreign government loan or a scholarship. |
| Pathway Student Visa | Eligibility to study up to five years for 3 consecutive courses on a single student visa and be able to work part-time |
Students with an adventurous rush enjoy studying in New Zealand. Some of the famous courses to pursue in New Zealand are Computer Science, Hotel Management, Agriculture studies, Architecture and a few more. If you still are tied up in a dilemma about New Zealand you should explore a few reasons to study in New Zealand or get in touch with a professional to help you.
Also, check out the cost of living in New Zealand.
You might just enjoy 100% New Zealand!
FAQ's
Which intake is best for New Zealand?
Ans. New Zealand has two intakes - February and July. However, most international students prefer the July Intake.
What language do they speak in New Zealand?
Ans. The Kiwis speak in Maori and English.
Is New Zealand safe for International Students?
Ans. Yes! New Zealand is one of the safest counties for students. They also have ranked second in the World as the most peaceful country.
Can International Students work in New Zealand?
Ans. Yes they can! International students can work upto 20 hours every week during their study. They also can work full time during vacations. Students can also apply for post study work visas to work full-time in New Zealand.
What is the cost of studying in New Zealand?
Ans. If you're an international student, your annual fees will range anywhere between NZ$26,000 to NZ$37,000 depending on the course you opt for. Check out the cost of studying in New Zealand for more details.