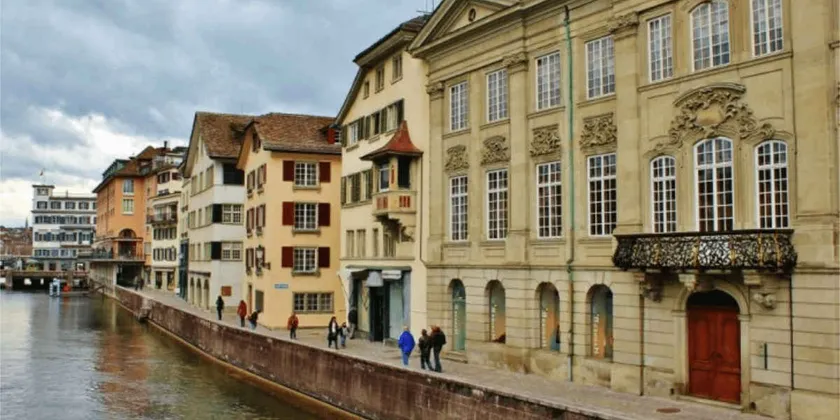 Overview
Other than being one of the most beautiful countries in Europe, Switzerland is also a well known study abroad destination. This is because of its highly ranked universities, excellent research facilities, optimum student/faculty ratio and low tuition fees.
Studying in Switzerland for international students has always been an affirmative choice which is why the immigrant population in this country is 25.1%.
International students wanting to study abroad in Switzerland can be assured of high standards of education. Other than these, a growing economy, with the presence of well-established companies increases the job prospects for students.

Switzerland As a Study Destination: Highlights
Here's an overview of all the factors that an international student must know about when pursuing higher studies in Switzerland:
| | |
| --- | --- |
| Language of Instruction | |
| Average Cost of Study | 200 - 850 CHF / semester |
| Average Cost of Living | 2,000 CHF/month |
| Sources of Funding | Scholarships, Part-time job opportunities and Internships |
| Exam Required | Language Proficiency exams (English, German or French) GMAT, GRE, etc. |
| Intakes | |
| Type of Visa | C-VISA (stay less than 3 months), D-VISA (stay more than 3 months) |
| Top Courses | Business Management, Hotel and Hospitality Management, Applied Mathematics, Banking and Finance |
| Types of Degrees | Bachelor's Degree, Master's Degree, Master of Advanced Studies, Doctorate Degree |
| Best Student Cities | Zurich, Lausanne, Geneva, Bern, Basel |

Why Study in Switzerland?
With excellent universities, ground-breaking research facilities, higher education in Switzerland is considered to be amongst the best in the world. However, these are not the only benefits of choosing Switzerland for higher studies. Here are the top reasons to study in Switzerland for Indian students and other international students:
Switzerland is home to highly ranked universities with the teaching style being interactive.

Switzerland is a safe and friendly country which is open to welcoming new cultures.

The main reason to study in Switzerland for Indian students is the multilingual advantage. Learning French, German and Italian can help students converse better with the locals and add to the resume.

The great social life is another major reason to study abroad in Switzerland. There are multiple festivals, places to visit, and travel opportunities for students.

The decision to study abroad in Switzerland can lead to high-paying job offers. The residents in Switzerland are known for their high standards of living which is proof of their income.
Education System
Switzerland's education system is the biggest reason why international students are drawn towards applying to this country. There are multiple institutes in Switzerland that offer higher education. These universities provide different types of degrees such as:
Bachelor's Degree: It is a full-time undergraduate degree which generally has a 3 years duration.


Masters Degree: A graduate mostly comprises 1.5-2 years of full-time study.


Master of Advanced Studies (MAS): It is a postgraduate degree that generally lasts for 1-2 years and usually consists of course work, independent study and a masters thesis.


Doctorate Degree:

A doctorate degree takes a total of 3 to 5 years to complete.
The detailed view of different types of universities in Switzerland is discussed below:
| | |
| --- | --- |
| Type of Institution | Key Points |
| Universities | Research institutions that offer bachelors, masters and doctorate degrees |
| Universities of Applied Sciences and Arts | Offer practice-based Bachelors, Masters degree programs |
| Universities of Teacher Education | Offer programs in teaching for pre-primary level, primary level, secondary level I, secondary level II and special needs education |
Apart from the universities, there are other higher educational institutions in Switzerland such as Business Schools, Medical Schools, Music Schools and Hospitality Schools.

Credit System in Switzerland
All universities in Switzerland follow the Bologna process based on the European Credit Transfer and Accumulation System (ECTS credits) same credit system. The credits that a student earns during the course are taken into consideration to calculate the final result.
For Bachelor's programs in Switzerland lasting 3 years, students have to complete a total of 180 ECTS credits.

To complete a Master's level degree around

90-120

credit hours are required. For a MAS degree, 60-120 ECTS are required.

Doctorate degrees require students to be able to complete 240 ECTS credits.
Popular Universities
Switzerland has well-established and highly recognized universities across the globe. Some of the best Swiss Universities according to QS World Ranking 2022 are:
| | | |
| --- | --- | --- |
| University | QS World Ranking 2022 | Average Tuition Fees/ semester |
| | 8 | 730 CHF |
| | 14 | 780 CHF |
| | 70 | 1,220 CHF |
| | 105 | 500 CHF |
| | 119 | 950 CHF |
| | 138 | 850 CHF |
| | 176 | 580 CHF |
| USI - Università della Svizzera italiana | 240 | 4,000 CHF |
| | 459 | 3,000 CHF |
| | 561-470 | 2,000 CHF |
Top Courses
There are multiple courses in Switzerland that will confidently cater to the needs of international students.
The best courses in Switzerland for international students are:
Business Management

Hotel & Hospitality Management

Artificial Intelligence

Banking & Finance

Quantitative & Systems Biology

International Law

Applied Mathematics

Interdisciplinary Sciences
| | | |
| --- | --- | --- |
| Program | Duration | Average Tuition Fees |
| BA Hons (International Hospitality Management) | 2-3 years | 12,000 CHF/ semester |
| Bachelor of Business Administration | 3 years | 13,500 CHF/ semester |
| MA Banking and Finance | 1 -2 years | 3,000 CHF/ semester |
| MSc Mechanical Engineering | 2 years | 1,200 CHF/ semester |
| Master in Interactive Design | 3 semesters | 1,600 CHF/semester |
| Masters of International Business | 18 months | 36,400 CHF/ year |
| MBA (Global Banking & Finance) | 3 terms | 12,600 CHF/ term |
| MSc Artificial Intelligence | 4 terms | 4,000 CHF/ semester |
Admission Process
The process of admission in Switzerland differs from university to university. However, there is a common process that is followed by all. A step-by-step process of how to study in Switzerland is discussed below:
Research and understand the education system and the type of universities in Switzerland.

Find the universities offering programs related to your interest and field of study. Shortlist universities based on the programs and curriculum.

Compare fee structures and evaluate scholarship options in each of the universities you have shortlisted.

Check eligibility criteria for individual programs and make a list of documents required for the application process.

Fill the application form and upload all required documents and certificates. Pay the required application fees.

Wait for the universities to revert. Once accepted, you can

apply for a student visa.
The application process can turn out to be a long and complicated task. Hence you may want to get in touch with our career counsellors at Yocket to simplify the process for you.

Admission Requirements
Based on the degree type, the requirements are listed. Ensure all of them are checked when applying for further studies in Switzerland:
Degree Type

Requirements

Bachelor's Degrees

High school academic transcripts

Language proficiency in English, German or French

Bachelor's degree

SOP

Resume

Language Proficiency test in German, French, or English

GRE/ GMAT

Master of Advanced Studies

Bachelor's degree

Work Experience

Language Proficiency test in German, French, or English

GRE/ GMAT

Master's degree and all other academic transcripts

Work experience

References

SOP stating your academics and the program details you're applying for
Cost of Attendance
The cost of studying in Switzerland is quite nominal when compared to popular study abroad destinations such as the US and the UK. The overall cost of studying can be divided into two categories – Tuition Fees and Cost of Living.

Tuition Fees
The tuition fee depends upon the program you choose to pursue. The programs related to areas such as engineering, management and medicine are generally more expensive. Here's a quick look at the tuition fee for public universities:
| | |
| --- | --- |
| Degree Type | Average Tuition Fee per Semester |
| Bachelors | 700-3,500 CHF |
| Masters | 700-2,000 CHF |

Cost of Living
The average cost of living in Switzerland is 2,250 CHF/month. The costs vary on different factors, one being the type of area you choose for universities. Here is an estimate based on the top three student-friendly areas in Switzerland.
| | |
| --- | --- |
| Factor | Average Cost per month |
| Fees | 900 CHF |
| Travel | 100 CHF |
| Accommodation | 1,000 CHF |
| Food | 500 CHF |
| Healthcare | 400 CHF |
Best student cities
Considering the high student population in Switzerland, these are the top cities international students should consider.
| | |
| --- | --- |
| City | Average Cost of Living per month |
| Zurich | 2,,300 CHF |
| Lausanne | 2,000 CHF |
| Geneva | 2,000 CHF |
| Bern | 1,500 CHF |
| Basel | 2,000 CHF |
Visa
You require a student visa to study in Switzerland. Here's a step by step process for student visa application in Switzerland:
On receiving a letter of acceptance from the Swiss University, reach out to the Swiss Consulate in your country.

Fill a Visa Application Form and schedule an appointment at the Swiss Visa Application Center.

Visit the embassy or consulate at the scheduled date and time. Carry the completed application form along with all relevant documents.

Submit the documents and pay the Swiss student visa fees. For Indian students it is 160 CHF.

Collect the acknowledgement receipt and wait for approval. If you're applying for a short visa which is less than three months, it takes up to 10-15 days. However, for a long term visa which is for more than three months, the time process for student visa can go up to 10 weeks.
Necessary documents and personal details needed to apply for Switzerland Student visa:
Swiss Visa application form

Two passport-sized photos

National Passport copy (valid for 3 months before the exit date)

Any other copies of previous passports/visas

Medical travel insurance copy

Proof of funds to stay in Switzerland

A detailed letter stating why you want to study in Switzerland, when are you arriving and how long will you stay

Proof of university enrollment

No objection certificate from university
Top Scholarships
To help international students fund their studies, there are multiple scholarships in Switzerland, both governmental or non-governmental. Given below are the details of some of the top scholarships:

Swiss Excellence Scholarships for Foreign Students
Post-graduate researchers or Ph.D./doctorate students in any subject.
Amount/ Benefit: Covers cost of living, tuition fees, insurance, travel costs, and more.

ETH Zurich Excellence Master's Scholarship
International students pursuing masters at ETH Zurich.
Amount/ Benefit: A grant of up to 60.000 CHF

Geneva Academy of International Humanitarian Law and Human Rights Scholarships
International students pursuing LLM in International Humanitarian Law and Human Rights and Master of Advanced Studies in Transitional Justice, Human Rights and the Rule of Law
Amount/ Benefit: Full scholarships cover tuition fees and living expenses in Geneva for 10 months. Partial scholarships cover tuition fees.

Nestle MBA Scholarships for Women from Developing Countries
Female students from developing countries pursuing MBA Degree.
Amount/ Benefit: 25,000 CHF

UNIL Master's Grants in Switzerland for Foreign Students
International students pursuing a masters degree at University of Lausanne.
Amount/ Benefit: 1,600 CHF per month

EPFL Excellence Fellowships
Students enrolled for Postgraduate Programs at EPFL.
Amount/ Benefit: 10,000 CHF per semester

University of Geneva Excellence Masters Fellowships
Students enrolled for Master of Science degree at University of Geneva.
Amount/ Benefit: 10,000-15,000 CHF per year
Work Opportunities
There are multiple part-time jobs in Switzerland for international students.
As per the rules, international students can work part-time 15 hours/week and full-time on semester breaks. You require a work permit which your employer will provide.
There are multiple options for Switzerland part time jobs for students. Here are the popular ones with their average salary.
| | |
| --- | --- |
| Part-Time Jobs | Average Salary Per Hour |
| Research Assistant | 28 CHF |
| Sales Advisor | 23 CHF |
| Store Assistant | 25 CHF |
| Sales Assistant | 24 CHF |
| Travel Assistant/ Tourist Guide | 20 CHF |

Post Study Work Options For International Students in Switzerland
Studying in Switzerland for international students comes with another set of advantages. Switzerland allows international students to work and stay back in the country after completion of their degree. However, they do have to fulfill certain conditions to be able to do so.

Job Outlook for International Students after Studies
Switzerland is known for having one of the highest average salaries in Europe. The unemployment rate is around 3 percent and there are a number of job opportunities available across industries. Let us take a look at the top fields offering job opportunities in switzerland after MS:
| | |
| --- | --- |
| Area of Specialisation | Average Annual Salary |
| Engineering | 99,000 CHF |
| Pharmaceuticals | 93,000 CHF |
| Computer Science & IT | 88,000 CHF |
| Banking & Insurance | 1,00,000 CHF |
| Hospitality | 58,253 CHF |

Post Study Work Visa & PR In Switzerland
International Students in Switzerland are allowed to remain in the country for six months after completion of their degree. A Switzerland Work visa is granted to those who are able to find a job. Visa for a work permit is given to successful job applicants. The Work Permit will be valid as long as you are employed with a Swiss Employer.
Students who want to stay for a longer period and obtain Permanent Residence (PR), need to reside in Switzerland for 10 years. PR can be availed in five years if the below criterias are met:
No crime records

A2 level language skills in the area your living (oral)

A1 in written language (Should take Language proficiency test if no skills are shown)
International students choosing to study in Switzerland can benefit immensely from the access to high educational standards and promising career opportunities. Apart from this, students also get to experience multiculturalism, quality life, innovative technology and picturesque scenery in the country. Switzerland has always opened doors to new cultures living amongst them, thus making your journey easier in Switzerland. In case you're looking for any assistance during your admissions process, Yocket is here to help.
FAQs

Can international students apply for both semesters?
Ans: International students (including Indian students) can apply only for the autumn semester.

Are students allowed to work in Switzerland?
Ans: EU students are permitted to work 15 hours a week, without a work permit. After completion of their degrees, students are allowed to stay back for 6 months and search for a job and on securing one get a work visa.

What is the minimum wage students can earn in Switzerland?
Ans: There is no minimum wage limit. Normally as per voluntary collective bargaining agreements, unskilled workers earn upto 2,200 to 4,200 francs per month and skilled workers earn upto 2,800 to 5,300 francs per month