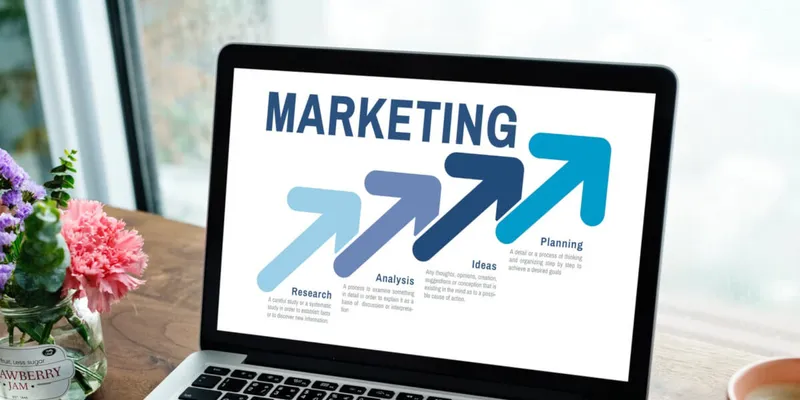 Masters in Marketing Abroad
Overview
Marketing is the most crucial component of any company enterprise that aids in extending one's brand's influence in society. Marketing is described as "the activity, collection of institutions, and procedures for generating, communicating, providing, and exchanging services that are valuable for buyers, clientele, partnerships, and society as a whole" by the American Marketing Association.
Masters in marketing is one of the most sought-after courses by students across the globe. After all, marketing is an essential part of any business or organization. Hence, marketing master programs abroad groom you for a number of reputed career opportunities.
In this guide, we will discuss the benefits of studying masters in marketing abroad, the eligibility, top marketing masters programs, and also marketing masters scholarships available to lessen your expense load.

Why Study Masters in Marketing Abroad?
Several prestigious universities abroad offer marketing programs. The instruction for this program overseas equips students with the essential knowledge that has the power to assist them to comprehend international and national levels of marketing.
Competitive Edge: You can gain a competitive edge in marketing by learning about the culture and conducting business abroad.
World-Class Career Opportunities: Students who pursue an MS in Marketing abroad can develop all the abilities required for employment on a global level. You might be given options that a domestic student pursuing a master's in marketing would not.
Diversified Options: Every company needs to market its product and services in this competitive landscape to survive, therefore, numerous businesses provide excellent career opportunities.
Students seeking an MS in marketing will be entirely prepared with the necessary abilities before starting to work as professionals in the area.
Suggested:10 Reasons to Study Abroad
Course Structure
A marketing master's degree could be a step toward the success of your professional marketing career. In the first part of their degree, students take fundamental courses on subjects like marketing theory and practice, consumer behavior, communications, marketing finance, and competitive intelligence.
As they continue through the curriculum, students have the opportunity to select advanced marketing topics that fit their interests, skills, and professional goals. Brand management, business sustainability, consumer behavior, contemporary marketing practice, customer insight, digital landscape, digital marketing, and social media, entrepreneurship, innovation and new product development, marketing analysis, marketing consultancy, marketing strategy, online technology in marketing, and relationship marketing are typical specializations you can pick from, though the modules offered will vary depending on the institution.
Let's look at the curriculum for the Master's in Marketing Abroad program quick:

Duration
A master's in marketing normally takes either one or two years to complete full-time; online and part-time options are also available. Both full-time and part-time options are offered for this program. If you decide to enroll in this program part-time, you may work 20 hours per week on a student visa.
Course Subjects
Students pursuing a master's degree in marketing learn about the fundamental concepts related to the discipline and how they are used in practice.
Several of the masters in marketing subjects include the following:
Business to Business Marketing

Global Marketing Techniques

Marketing Research

Marketing Strategy and Management

Product Management

Retail and Sales Management

Logistical Strategies

Corporations and Financing
Students acquire the knowledge and abilities needed to thrive in marketing.
Top Specializations
The master's marketing programs offered by universities abroad provide a range of specializations. You can decide which choice most closely resembles your professional objectives. The marketing master has several areas of expertise, such as:
Digital Marketing

Public Relations

Marketing Research and Analytics

Marketing Management

Social Media Marketing

Integrated Marketing Communications
Suggested:Know About Top Courses to Study Abroad
Core Skills
In addition to academic success and other prerequisites, the institutions instruct students on certain important personal preparations that are absolutely essential for pursuing an MS in marketing abroad and making a career out of it. Here are several to consider:

Taking Initiative


The capacity to analyze and assess changes in consumer behavior and the market on a local and global scale.

Advanced understanding of marketing tactics, including how to use and modify them in a variety of marketplaces.

The capacity to conduct consumer research.

Ability to Make Absolute Decisions


Overview of the general management difficulties, worries, and ideals.

Ability to objectively evaluate important performance metrics after conducting research.

The capacity to spot fresh marketing prospects.

The capacity to creatively identify issues and solve them.

Be a Leader


Excellent comprehension of challenges and concerns in both traditional and modern marketing.

A seamless ability to lead and operate in a team.

Ability to critically and strategically think.

Effective communication abilities, strong presentation skills, and the capacity to influence and bargain.

Outstanding math abilities and general knowledge of politics, cultures, and commerce.

Excellent organizational and time management abilities.

The capacity for self-awareness and self-criticism.
Suggested:5 Mistakes to Avoid While Planning to Study Abroad
Requirements
In order to be accepted into institutions for a master's in Marketing degree, international students must fulfill the fundamental masters in marketing prerequisites and provide any additional paperwork that may be requested. Every country has specific criteria, and this includes every university there. The absolute minimum requirements for admission to any university around the globe have been discussed.
Understanding the requirements for an international Master's program in marketing is essential for eligibility reasons. By supplying the following documentation, you can improve your chances of getting accepted into marketing master's programs at universities all over the world:
Bachelor's Degree

Work Experience

Score for English Language Proficiency

Admission Tests/Standardized Tests

Student Visa
Let's examine these specifications in more detail:


Students who have earned a bachelor's degree in any field of study and have excellent scores are eligible to enroll in the 4-semester MS in marketing program offered abroad.


For a marketing master's degree, two to three years of professional experience are further required. However, it might not always be necessary or sometimes universities might ask for more than 3 years of experience.


Score for English Language Proficiency
The IELTS or TOEFL is necessary for obtaining admission and also a student visa at the desired university. The following minimal score is necessary for admission to prestigious international universities:
The GMAT is the most crucial component of your application for a master's in marketing from a business school. Some universities also accept GRE results in place of GMAT scores. The average scores required for admission are:
A student visa is only available to those who have agreed to enroll in an accredited university for a particular period of time. The name and type of the study visa will vary depending on the nation.
Suggested:International Student Visa Details

Documents Required for Masters in Marketing
Students should keep all of these required documents on hand when submitting an application for admission to an MS in Marketing program so they may show them to be accepted. Below is a brief overview of the documents that colleges in other countries require for admission:
Academic Credentials (High school, and Bachelor's degree)

Work Experience Documents

Proof of date of birth

Entrance exam score card

Standardized test results: GMAT/GRE

Updated resume

Passport-size photographs

Valid passport & student visa

Admission Process for Masters in Marketing Abroad
We have simplified the application procedure into simple steps for masters in marketing abroad below:
Finalize the masters course that you want to pursue and check for the best university offering that course.

Visit the official university website and collect all data relating to eligibility and the admission process.

Upload scanned copies of all the required documents (transcripts, CV, IELTS/TOEFL, GMAT/GRE scorecards)

Fill the desired application form and pay the fee.

Go through an interview with the respective university directors. This is a great opportunity to display your soft skills and presence of mind.

Once you receive the conditional offer letter after clearing your interview, you may book your seat at the particular university.

Pay your deposit by agreeing to the terms and conditions of the university. The deposit here is non-refundable.
Suggested:Entrance Exam for Abroad Studies
Top Scholarships
One of the greatest options for paying for your study abroad adventure is through a scholarship. There are numerous scholarships available for overseas students that provide fair benefits to assist their travel and academic endeavors abroad. Let's look at a few well-known international scholarships for marketing master's programs:

Fulbright Foreign Student Scholarship Program in the USA
Students from 155 different nations are eligible to apply for the Fulbright Foreign Student Scholarship Program in the US. At the master's and doctoral levels, any subject area offered by US universities may be studied. The scholarship application deadline falls between February and October.
Benefits: They provide some money as a stipend in addition to paying for education, air travel, and health insurance.

Friedrich Ebert Stiftung Scholarships
Financial help is given to German and international students by the political organization known as the Friedrich Ebert Stiftung who achieve academically and demonstrate civic duty, primarily through social or political involvement.
Benefits: Monthly stipend of 850 USD. The entire amount is used to pay for the course's tuition, health insurance, textbooks, and other supplies.

Global Korea Scholarship - Funded by the Korean Government
International students are eligible for the Global Korea Scholarship, which is funded by the Korean government. Recipients may enroll in any undergraduate, graduate, or postgraduate program offered by South Korean universities.
Benefits: A scholarship with full funding is a benefit.
Suggested:Top Scholarships to Study Abroad

Cost of Studying Masters in Marketing Abroad
The following expenses are related to earning an economics master's degree:

Tuition Fees
Each country has a different cost for the MS in Marketing program. Tuition for a Master's in Marketing might cost anywhere from 59,000 USD to 130,000 USD per year.

Cost of Living
The cost of living may vary depending on your accommodations, the amenities provided, your transportation, and any scholarships provided. International students must carefully manage their resources to maintain a comfortable lifestyle. The average cost of living abroad is between 15,000 USD and 30,000 USD.
Work Opportunities
You will have adequate experience after earning your degree in this field to get employment. Salary ranges for masters in marketing professionals vary depending on an individual's region, position, and other factors. In general, this training focuses mostly on honing marketing skills.
Let us take a look at the top 5 titles after completing Masters in Marketing:
| | |
| --- | --- |
| Job Title | Average Salary |
| Marketing Research Analyst | 52,600 USD to 167,000 USD |
| Marketing Director | 68,000 USD to 193,000 USD |
| Fundraising Professional | 51,727 USD |
| Sales Professional | 51,424 USD to 74,825 USD |
| Writer | 30,700 USD to 100,000 USD |
Suggested:How to Work While Studying Abroad?
For individuals seeking to get a comprehensive understanding of this industry, a master's in marketing program is an ideal option. The field of marketing has developed into a complex one with numerous categories with each having its core abilities. Studying abroad is also a fantastic method to get into this field of work or academics. For any further questions, subscribe to Yocket Premium and have a chat with our seasoned team of counselors today!
FAQs
Ques. Why study masters in marketing abroad?
Ans. The field of marketing offers rewarding career options. Students that study economics have a great chance of developing professionally.
Ques. Is GMAT required for masters in marketing abroad?
Ans. The most popular management exam in the world is the GMAT. The great majority of colleges will therefore require you to take the GMAT or GRE. Any colleges that don't require further test results can be found on the official websites of those colleges.
Ques. Is English proficiency mandatory for marketing master programs?
Ans. Yes, you must prove your English proficiency or pass the necessary test if you want to enroll in an international university. The English language test only serves as an example of your language comprehension abilities; it does not predict whether you will be able to understand the course material.
Ques. Is prior work experience required for masters in marketing abroad?
Ans. Many institutions could assume you have professional experience and problem-solving abilities. On others, though, it is not necessary; to learn which, visit the universities' official websites and submit an application.
Ques. What is the duration of an MS in marketing degree?
Ans. It is 1-2 years long like any other master degree program.