When you consider Canada as your destination to pursue overseas education, the first thought that pops up in your mind is what are the top 10 universities in Canada? You might luckily get the list which you can rely on, but does it state what distinguishes them amongst the others to be considered among the Top 10 universities?? Well, stay tuned because the article below will help clear that doubt and provide you with a detailed explanation as to why they are considered among the Top 10::
Now let's just dive into the rankings,
1. The University of Toronto, Toronto
According to almost all official ranking platforms like Times Higher Education, QS top universities rankings, US News rankings, etc; The University of Toronto is considered to be the best university in Canada. UofT was founded in 1827, it ranks 18th in the whole world. UofT has built a reputation for innovation and research. It's not just that, 5 out of all 23 Prime Ministers of Canada have graduated from UofT! Toronto is known for its vibrant atmosphere and a major emphasis on arts and culture. UofT has consistently maintained its standard of holding the top position in Canada for streams like Engineering, Business, Medicine, etc.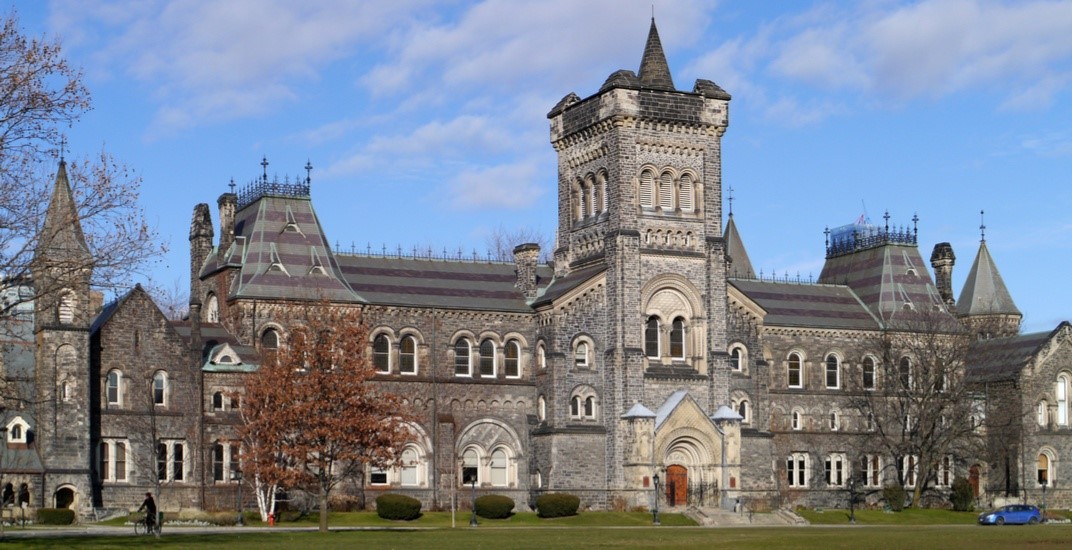 2. The University of British Columbia, Vancouver
The University of British Columbia (UBC) is ranked 2nd in Canada and 34th in the world by Times Higher Education. UBC has over $600 million in research funding each year. Moreover, the researchers have been working with several other universities, industries and the government too, Creating numerous projects and products. Established in 1908, UBC has been one of the best Universities in Canada and worldwide. Starting from Immersive virtual reality simulations to attempting to break a speed record with engineering and physics, the Professors, students and the staff have proven to be one of the best assets to the University and many industries.
3. McGill University, Montreal
Quebec is a state where most of the people communicate in french and McGill University is one of the only three universities in Quebec that provide coursework in the English language. McGill University is ranked 3rd in Canada and 42nd in the world due to its world-class quality of education and research prospects. Some notable alumni are William Shatner (Actor), Dr. Brenda Milner (Neuropsychologist), Leonard Cohen (Singer/Song-writer), Dr. Joanne Liu (International President of Doctors Without Borders) who have graduated and made their name in different industries! With a student-faculty ratio of less than 13:1, their classes are highly focused and informative with international students coming from over 150 countries across the globe.
4. McMaster University, Hamilton
McMaster University ranks 4th in Canada and 72nd in the world. It is one of the only four Canadian universities consistently ranked in the world's top 100, McMaster has a proud tradition of academic and research excellence, evidenced by the achievements of the best and brightest whose ranks include three Nobel Prize winners, global business leaders, technological innovators, prominent politicians, public intellectuals, philanthropists and performers. Even with the recent COVID - 19 scenario, the engineers at McMaster University are pivoting 3D cell printing technology to help in COVID-19 research, showing how up to date their university is with such strong research capabilities. It is definitely one of the universities to look into!
5. University of Montreal, Montreal
The University of Montreal is a leading research university in Canada which ranks 5th for overall education in Canada and 85th in the world. It is a French-language Public Research University with a major emphasis on French. The University of Montreal has some amazing College Affiliations which include, Polytechnique Montreal (engineering), and HEC Montreal (business), etc. A research team from the University of Montreal is also working on a device which will shorten the response time for detecting COVID - 19. With such a strong research front-line, they are without a doubt the leading research university in Canada.
6. University of Alberta, Edmonton
The University of Alberta ranks 6th in Canada. Established in 1908 in Edmonton, the capital of Alberta, the UofA is a public research university in Canada, located at the edge of the North Saskatchewan River valley. During the pandemic outbreak, the reply of UofA was this, "By the time the Government of Canada announced $26.8 million for research into COVID-19, University of Alberta teams had 17 project proposals ready to go, three of which were immediately funded by the Canadian Institutes of Health Research (CIHR). The others were poised to begin work as soon as more funding became available." With such a beautiful campus and pleasant weather conditions which is rare to find in Canada, it's hard to say no to such a beautiful and reputed University.
7. University of Ottawa, Ottawa
The University of Ottawa is the largest bilingual university (French-English) in the world! It ranks 7th in Canada. The industry income and the citations have kept on increasing since 2012 which shows the consistency of the university. Also, recently a University Virologist has joined the National Strike Force to fight against the COVID - 19 outbreak. The University of Ottawa is also a member of the U15: a cluster of research-intensive institutions in Canada, which also gives them that elite standard and their strong capability in research.
8. University of Calgary, Calgary
The University of Calgary is tied with the University of Waterloo for 8th position in Canada. Calgary, a city that is famous for The Canadian Pacific Railway Headquarters and many other things, but most importantly for the University too. The University has a very broad mindset and the officials of the University believe that by 2022 the University will be among the top 5 research universities. The University of Calgary has international students from over 125 countries, which shows its reputation not just in Canada but globally too!
9. University of Waterloo, Waterloo
The University of Waterloo is one of the most famous universities among International students, especially Indian students. The University is located in the heart of Canada's technological hub. So, if you are a student who loves technology and wants to get into the same field. This is the University to go to! The University of Waterloo is ranked 1st for student-employer connections in QS Graduate Employability Ranking of 2019! Remarkable isn't it? If you are a tech person, this is your university to go to.
10. Western University, London
Before you think about it, yes there is a city in Canada named London! Western University is among the top 1% of universities worldwide. Known for its exceptional academic programs and amazing student experiences. With such a vibrant campus it also has many research focuses like Imaging, Neuroscience/Brain & Mind, Philosophy of Science, etc! Western University has one of the best campuses in Canada which has pretty much everything, ranging from Tall Trees to Beautiful Architecture!
So! What do you think? Where do you fit in? No doubt these Universities are the top 10 universities in Canada but all the universities have their own potential in a particular field be it the University of Waterloo for Technology or the University of Montreal for amazing affiliations. What matters is which university is your best fit?
Choosing Canada is one of the best options you will make as your study abroad destinations because of its wide research capabilities and industrial aspects! To get a deeper insight into Canada and the benefits of studying there you can always check out our Canada Country guide