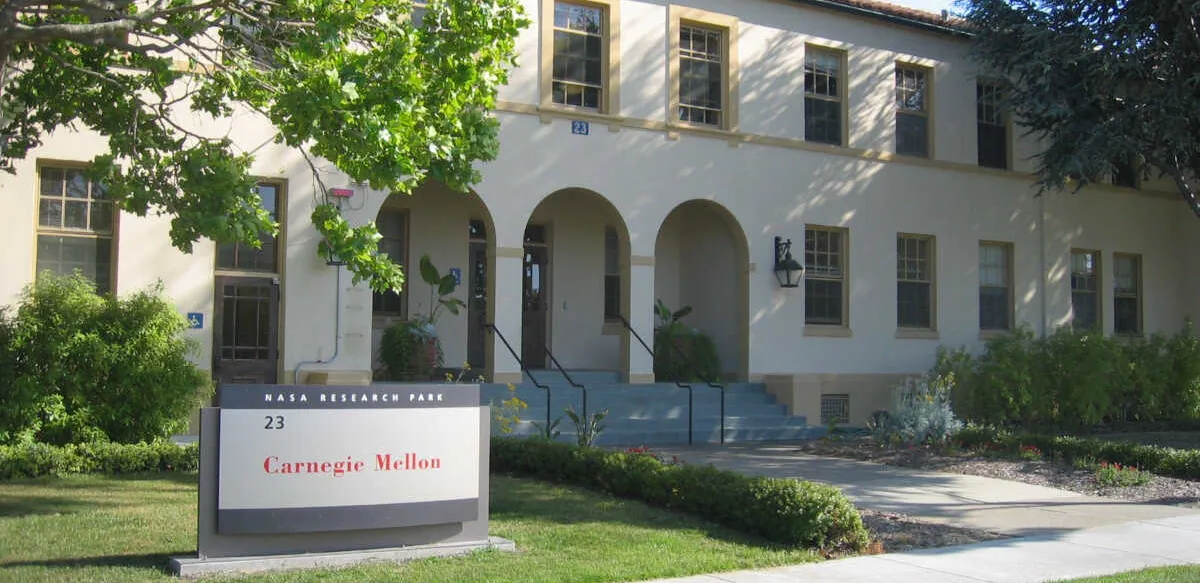 Carnegie Mellon University silicon valley
California, United States
Private University
Established in 2002
Established in 2002
About
Carnegie Mellon University Silicon Valley is located in Mountain View, California. It was founded in 2002 at the NASA Ames Research Centre. The campus is located in the heart of Silicon Valley. It is a branch of Carnegie Mellon University with a focal point on a project-centred learning process and practical approaches to education. Carnegie Mellon University is accredited by the Middle States Commission on Higher Education (MSCHE).
Carnegie Mellon University Silicon Valley courses facilitate full-time and part-time programs for the students in the fields of Engineering, Software Management, Masters programs in numerous sectors of Information Technology, and Software Engineering, and Bi-coastal P.hD programs in Computer and Electrical Engineering. The University enrols 350 students in its academic programs with 16% Carnegie Mellon University Silicon Valley international students from more than 105 countries other than the United States and 20% visiting students.
---
Cost of Studying at Carnegie Mellon University silicon valley
Average tuition fee
NA
---
Living expenses
Average living expenses (Bachelors)
$80,540
Average living expenses (Masters)
$80,972
Average on-campus living expenses
$28,872
Admissions at The Carnegie Mellon University silicon valley
Application Fee
$75 - $100
---
How to Apply at Carnegie Mellon University silicon valley
Carnegie Mellon University accepts online application forms.

Students must choose the program of their choice and fill out the common form.

Submit the necessary personal details and attach the documents along with them.

The non-native English-speaking candidates must submit the standardised test score reports.

Attach the transcripts of the previous qualifications from the certified institutions.

Submit the non-refundable application fee.

The students are likely to receive a response within 3-5 working business days regarding their application.
Note: Application Portal: Online application portal
Carnegie Mellon University silicon valley requirements for application are: 78 USD (5,820 INR).
---
Documents Required to Apply to Carnegie Mellon University silicon valley
Personal statement

Fee payment proof

Official transcripts and previous qualification documents

English test scores

Standardised entrance tests like SAT, ACT, GMAT, etc. scores

School Counsellor evaluation and approval

Recommendation letter from teachers

Common application essay

Common application supplementary requirements like 3-short answer questions
---
Exams Accepted By the University
The students must go through the Carnegie Mellon University Silicon Valley admission procedures available on the website to understand the university's requirements for the courses.
Courses

Exams

MBA

GMAT: 600

GRE: Verbal: 153

Analytical Writing: 4

Quantitative: 163

B.E./ B.Tech

SAT: 1460 to 1560

ACT: 33-35

MIM (Master in Management)

GMAT: 600

GRE: Verbal: 153

Analytical Writing: 4

Quantitative: 163
English Proficiency Requirements
Students must secure the following scores in the English language test to ensure a seat at Carnegie Mellon University.
| | |
| --- | --- |
| Test | Minimum Requirements |
| TOEFL | 84 |
| IELTS | 7.5 |
| Duolingo | 105 |
College
Finder
Know universities that fit you best!
Take us through your profile, study preferences, strengths, and weaknesses and we'd find you universities that are tailor made for you, instantly!
Find Universities
Courses at the Carnegie Mellon University silicon valley
Select School
Students
---
Yocketer profiles
Software Engineering
Fall 2023
View Profile
View Profile
Software Management
Fall 2023
View Profile
View Profile
Technology Ventures
Spring 2023
View Profile
View Profile
---
International Students
% of international students in the university
40
Total International Students in the university
6458
---
Alumni
Carnegie Mellon University has more than 4,000 alumni members who work to make a huge difference in the communities. Some of the notable alumni members of the university are Andy Warhol (Artist, DIrector), Holly Hunter (Actress), John Forbes Nash Jr. (Mathematician), and Ted Danson (Actor).
Campus
Number of campuses the university has
1
Campus locations

California
View on Google Earth
---
Transportation in the city
Carnegie Mellon University is a perfect destination for aspiring minds looking for a dynamic university to fuel their entrepreneurship skills and innovation.
Carnegie Mellon University Silicon Valley scholarships

are limited to the residents of the US. But, international students can apply for scholarships through federal grants. The undergraduate students can also avail Reserve Officer Training Corps (ROTC) scholarships, Air Force scholarships, and Army ROTC scholarships (amount of the scholarship varies from course to course).

Carnegie Mellon University is a member of the University Athletic Association (UAA). The university's extravagant team is known to win 152 national championships since 1976. It is also a prestigious member of the National Collegiate Athletic Association (NCAA). Equal opportunities are available for both men and women.

Carnegie Mellon University Silicon Valley

has study abroad programs for its students in various countries including Mexico, Taiwan and Switzerland.
---
Services offered by the university
The campus is surrounded by all the necessities of retail stores, banks, restaurants, cafes, etc.

Carnegie Mellon University provides medical facilities and allows students to buy student medical insurance for vision, medical and dental coverage through Aetna.

The campus surrounding constitutes the NASA Exploration Centre for students to visit and experience the NASA mission and advancements firsthand.

Stevens Creek Trail and Bicycling in the Silicon Valley are also available for the students to explore and enjoy the woodlands, city parks, and tidal marshes.
---
Student life
Carnegie Mellon University campus is surrounded by high-tech companies like Microsoft, Yahoo, HP, and Google.
The campus provides sports facilities like Chase park, a Swimming pool, a basketball gym, and a Tennis court.

The students can organise and be a part of various organisations like CMU-SU Wireless Innovators, CMU Project Management Club, Women in Technology, Rho Club, etc.

CMU conducts various student events to connect the students with other students and staff. Some of the events are Star Wars Party, Halloween Dance Party, Glow Party, Summer Tiki Party, and Carnival West.
---
On campus accomodation
Carnegie Mellon University does not provide on-campus accommodation to the students. The campus also offers no assistance concerning offline housing. But the students can visit the university website to have a look at the available alternatives.
Students can look for short-term accommodation choices on Trulia, Residence Inn, and Staybridge Suites.

Craigslist, Zumper, Rent.com, Trulia, Hotpads, Zillow, and Oakwood Apartments are some of the facilities located near the campus for long-term housing options.
---
Faculty
University Faculty:Student Ratio
1:20
---
University Faculty Stats
Students at the Carnegie Mellon University Silicon Valley get to explore a high-class academic life at the campus. The university has a male-to-female student ratio of 1:1. The number of faculty members is 1400 with a student-to-faculty ratio of 6:1.
Opportunities
University Endowments Value
3088868000
---
Research opportunities at university
The students can explore the full-spectrum research ecosystem at the university. The university is recognized by the National Robotics Engineering Centre and Software Engineering Institute. Some of the key areas of research at Carnegie Mellon are RObotics, Learning Science, AI, and Neuroscience.
---
Internship opportunities (Part time job opportunities)
The Career and Professional Development Centre at Carnegie Mellon University assists students to find and apply for the right internships for them. The department evaluates and negotiates offers, develops connections, and guides the students in acing the interviews.
---
Placement - Companies and average salaries offered
Carnegie Mellon university observes a high employment rate of 95.7%. The graduates of the university work in manufacturing, consumer products, finance, and technology. The students are employed within 3 months of graduation. The average salary of a graduate from Carnegie Mellon University is 107,000 USD (83,00,000 INR) per year.
Contact
---
Address
NASA Research Park, Building 23 Moffett Field, CA 94035, United States
---
FAQs
1. What are the average Carnegie Mellon University Silicon Valley tuition fees??
And. The total tuition fee of the students at Carnegie turns out to be 87,500 USD (67,88,000 INR).
2. What are GPA requirements for enrolment in Carnegie Mellon University Silicon Valley?
Carnegie Mellon University GPA requirement is a minimum of 3.84.
3. Does Carnegie Mellon University Silicon Valley offer online learning or distance courses?
Students working full-time or part-time can avail themselves of the university's online learning programs.
4. What is the Carnegie Mellon University Silicon Valley acceptance rate ??
Carnegie Mellon University is highly selective in its application process and has an acceptance rate of 17%.
5. Does Carnegie Mellon University Silicon Valley offer Exchange programs for the students?
Carnegie Mellon University sends and accepts exchange students from its partner universities to explore cultural exchange and provide students with study abroad experience.