USA has always been the premium destination for international students to consider for their further education. This country is divided into further areas that have also become a prominent choice amongst international students. One such is California. The decision to study in California has raised the popularity of the former making it a number one choice to study in USA.
So, how is it like to study in California for international students? From having 5+ universities holding a score of a perfect 100 in academic reputation to being situated in the hub where top brand offices are such as Netflix, Yahoo, etc, the study abroad California choice is increasing each year. If you too are considering to study in California, this blog covers all essential information to help you get started.
5 Benefits Of Studying In California As An International Student
There is a reason why multiple students flock to California to build a good academic pathway for themselves. Before you can move forward towards the city's details, let's first understand why studying in California is a huge deal?
QS-Ranked Universities: California is home to multiple QS ranked universities that stand amongst the top 10. To name a few are Stanford University (Ranked 3rd), California Institute of Technology (Ranked 6th).
Student Paradise: California is also known for its great student life. From having the best festivals, restaurants, national parks, etc, it is a complete student paradise for international students globally.
Diverse Culture: California consists of a variety of cultures. The city is open to welcoming new cultures and becoming friends.
Best Student City: California has multiple student friendly places such as LA, San Francisco, etc. These have been a popular choice amongst multiple international students over the years.
Suggested: Find Out if the USA is Safe for Indian & International Students
Top Courses To Study In California
The idea to study in California is a huge hit because the city offers a range of courses in USA to choose from. Students have the freedom to choose any course they wish to pursue and in return expect valuable education that will enhance their skills and knowledge further.
The top courses to study in California are:
Business
Management
Law
Arts
Music
Computer Science
Social Sciences
Physical Sciences
Engineering, etc
You can pursue these courses in multiple ways such as:
A degree program
Simultaneous degree
Minor courses
Certificate programs, etc
In California, the course duration are as follows:
10 Best California Universities To Consider In 2022- 2023
California is home to prestigious universities that are widely recognized, highly-ranked and offer a range of good quality education for any program offered. While there are multiple on the list, there are a few such universities that have been a popular choice for years now.
Thus here is an overview of the best California universities to consider right now:
| | | |
| --- | --- | --- |
| University Name | QS World University Rankings 2023 | Academic Reputation |
| | 3 | 100 |
| | 235 | 39.7 |
| | 6 | 96.5 |
| | 134 | 54.6 |
| | 27 | 100 |
| | 44 | 100 |
| | 53 | 90 |
| | 102 | 64.8 |
| | 149 | 55.9 |
| | 375 | 18.6 |
Suggested: Find Out How to Select University for MS in USA
Eligibility Criteria For Study Abroad California Universities
Before students can apply to study in California, they need to meet the eligibility criterias. These criterias can differ based from one university to another, however there is a standard procedure that is followed by all:
GPA Scores
Students should avail a GPA score of 3.4 or higher to be accepted in their dream university.
English Language Proficiency
The purpose of ELP is to help universities understand how well skilled a student is with the English language. There are many ELP tests you can take such as TOEFL IBT, IELTS, etc. The scores for each differ for instance with IELTS- 6.5 or higher, SAT- 31 of writing and language, etc.
High School/ Bachelor Degree
Students need to submit academic transcripts based on the program they wish to enroll for. For instance, to apply to an undergraduate program, you require a high school transcript, for graduate programs, a bachelor degree, etc.
Visa Proof
When you apply to any university abroad, you need to also apply for a student visa for US. In California, students require a F1 visa to come into the country and study. The visa is valid for 60 days after the academic study program chosen is over.
Entrance Exam proof
For students, who wish to apply for courses, they need to also check if there are any entrance exams. For instance, Indian students applying in California to study medicine are required to submit NEET scores.
Note: Visit the universities official website to receive a complete eligibility list based on the course chosen.
Admission Process To Study In California
Here is an overview of the process to study in California.
Identify which course you wish to study in California
Choose the university that has your course
Visit the universities official website to understand the entry requirements
Check if any entrance exams is required to be undertaken
Pay the application fee if required
Submit all required documents before the application deadline
Attend any interview if scheduled
Once cleared, await for your confirmation
If accepted, apply for the student visa and arrange for funding
Documents Required To Study In California
To successfully enroll in the best California universities, students need to attach a few supporting documents. Ensure the below is checked:
A copy of educational transcripts
Letter of recommendation
Work experience proof
English language proficiency test scores
Entrance exam proof (GRE, NEET, etc)
Visa proof
Application fee payment proof
Subject wise score proof
GPA score proof
Note: Visit the universities official website to check the documents required as the list would differ based on the course chosen.
Cost Of Study In California For International Students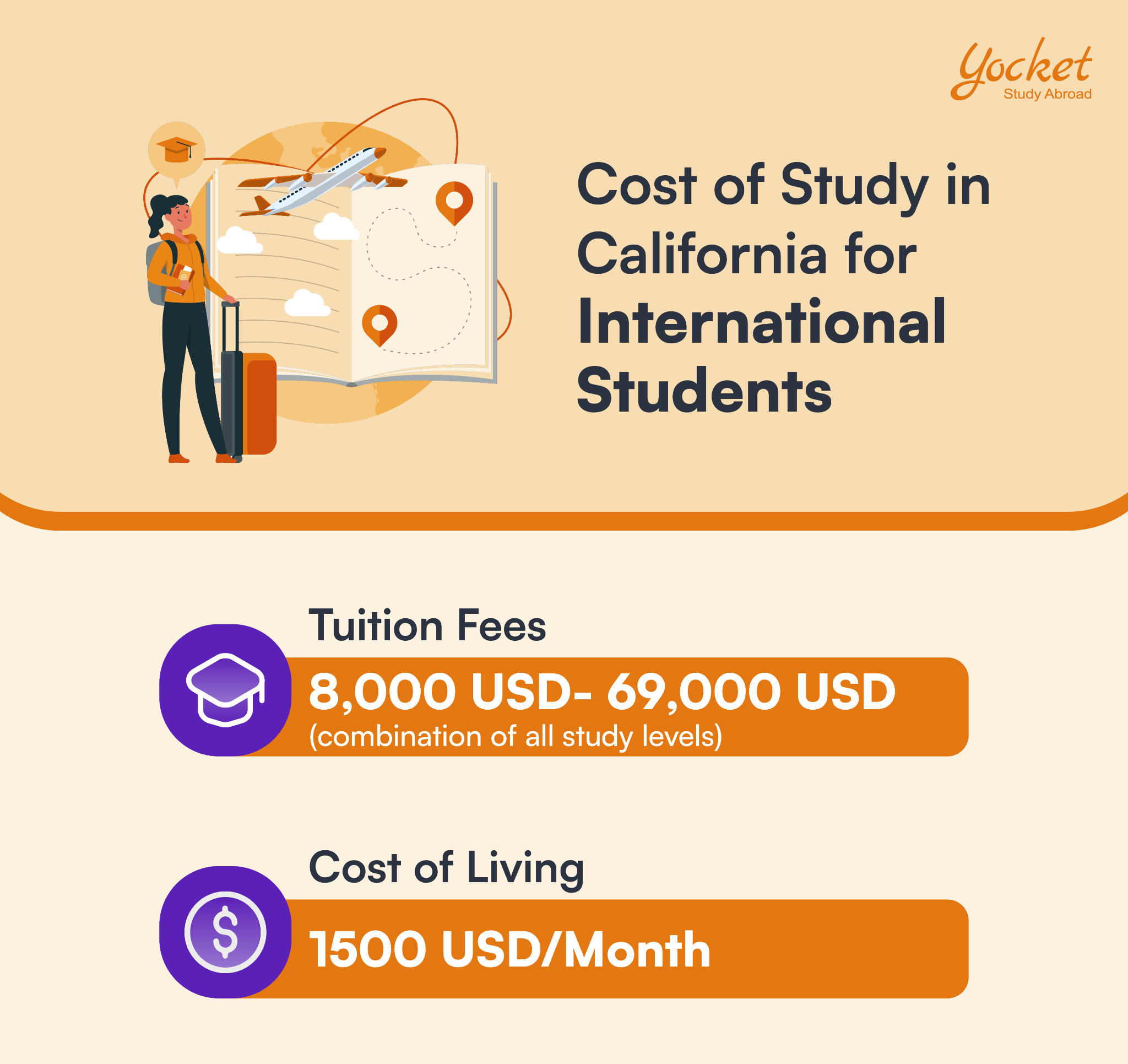 The monetary value to study In California is determined on two factors, university of California fees for Indian students and cost of living in California for Indian students.
Let's learn about each of them:
Tuition Fees
The cost of studying in California varies based on academic level and courses you choose.
Here is an overview:
| | |
| --- | --- |
| Undergraduate studies | 13,000 USD- 54,000 USD/year |
| Graduate studies | 8,000 USD- 69,000 USD/year |
| Postgraduate studies | 33,000 USD/year and more |
Cost of Living
The living expenses in California for international students varies based on multiple factors such as area of stay, lifestyle choices, etc. This cost of living in California for Indian students will vary from one student to another. For instance, the total monthly living expenses here would be 1,500 USD. The common expenses here are health insurance, accommodation, transportation, groceries, miscellaneous expenses, etc.
List Of Scholarships In California For International Students
Did you know that there are universities in California that offer scholarships to international students?
Whether it is the university of California fees for Indian students or the cost of living in California for students, with scholarships, the monetary burden has been successfully managed. These scholarships offer funding opportunities making it simpler for international students to study hassle free in this beautiful city.
Here is the list of five such scholarships in California for international students:
Scholarship Name

Amount/Value/Benefit/Grant/Awarded

Lyman G. Chaffee Scholarship

For low income students with financial issues that are enrolled in the CSU International Program
Awards 2000 USD

CSU IP Scholarship

For international students that are accepted in the CSU IP program
Award three 1500 USD for semester program, five 750 USD for first-year academic study and one 7500 USD, calendar year

WID Scholar Program

For women who wish to pursue UG or Graduate program in core subjects such as history, etc in any USA universities
Support women to pursue their academic degree in USA

Fulbright Foreign Student Program

For foreign students who wish to study and research in USA universities either in UG, Graduate or PG programs
Provide assistance in the study chosen

Optimist International Oratorical Contest Scholarship

Pursue UG programs in USA universities under any subject
Top three winners selected and will be paid 2500 USD, 1500 USD and 1000 USD
Part-Time Jobs In California For International Students
Did you know that there are part-time jobs in California for international students to earn extra income from and gain experience simultaneously?. Students can work either on-campus in US or off-campus.
California allows students to work part-time for less than 40 hours a week. In fact, students can earn up to 15 USD on an hourly basis as per the work undertaken. Potential job profiles for part-timers are stylists, freelance tutors, store associates, sales interns, etc.
Here is an overview of the part-time salaries based on the brands in California:
| | |
| --- | --- |
| Brand Name | Average Hourly Pay |
| Amazon | 15-17 USD |
| Smart & Final | 16-17 USD |
| UPS | 15-16 USD |
| Salesforce | 18-20 USD |
| DIG & INN | 17 USD |
Career Opportunities After Studying In The Best California Universities
Once you complete studies in california, there are a range of job profiles you can choose from. These job profiles and salary expectations vary based on the experience and course you've studied. To give you a better overview, here is a snippet of the popular job profiles and average salary expectations:
| | |
| --- | --- |
| Job Profile | Average Annual Salary |
| Software Engineer | 112,769 USD |
| Operations Manager | 74,648 USD |
| Dentists, General | 145,616 USD |
| Human Resource Manager | 77,711 USD |
| Art Directors | 123,537 USD |
To Conclude..
Home to best California universities, high paying part time jobs in California as an international student to accessing a variety of postgraduate courses in California, as a student looking to study abroad, there can be no better place than this. California has been a popular choice to study in USA. If you wish to seek further assistance related to studying in California as an international student, speak to our Yocket counsellors today.