Attempted by millions of students globally, SAT Exam is conducted in the months of March, May, June, August, October, and December. It measures a test taker's reading, writing, and mathematical skills developed during high school. And thus, evaluating their readiness for admission to undergrad schools.
Aspirants often face the question of how to register for SAT? Well, one can apply or opt for SAT registration 2022 either online or by mail registration method. In this blog, we have curated a complete guide to SAT exam registration including SAT registration fee, dates, eligibility criteria and more.
SAT Exam Eligibility
Before diving into the SAT registration process, let us begin our discussion by looking at the requirements for SAT. College Board, the official body that conducts the exam, does not specify any required SAT exam eligibility criteria. Also, there is no age limit to register for SAT exam.
However, students usually seek admission to undergraduate programs opt for SAT exam registration during the 11th or 12th grade of high school.
How to Apply for SAT Exam?
You may complete the SAT application process through the official College Board website. There you will find all the requirements and procedures for the same. To ease up your application process, we have curated a step-by-step guide to sat exam registration 2022 below:
SAT Registration Online
The entire online process of SAT exam registration can be divided into 4 broad stages as follows:
Sign-Up to Create a College Board Profile

Fill the SAT Application Form

Book a suitable SAT Exam Date & Test Center

Pay the SAT Registration Fees
Suggested: What is SAT Superscore?
SAT Online Registration Guide:
Step 1: Visit the official College Board website, then on the log-in page select the 'Create Account' option.
Step 2: Fill in the required details such as your name, high school details and contact information
Step 3: After filling in the details, you can recheck the same using the 'Edit' option.
Step 4: Once you have edited the details (if needed), you can confirm the same by ticking each box and clicking on 'Confirm' to move to the next page.
Step 5: If redirected back to the home page, log in again and continue the registration process. Once you log in, the following registration page will appear.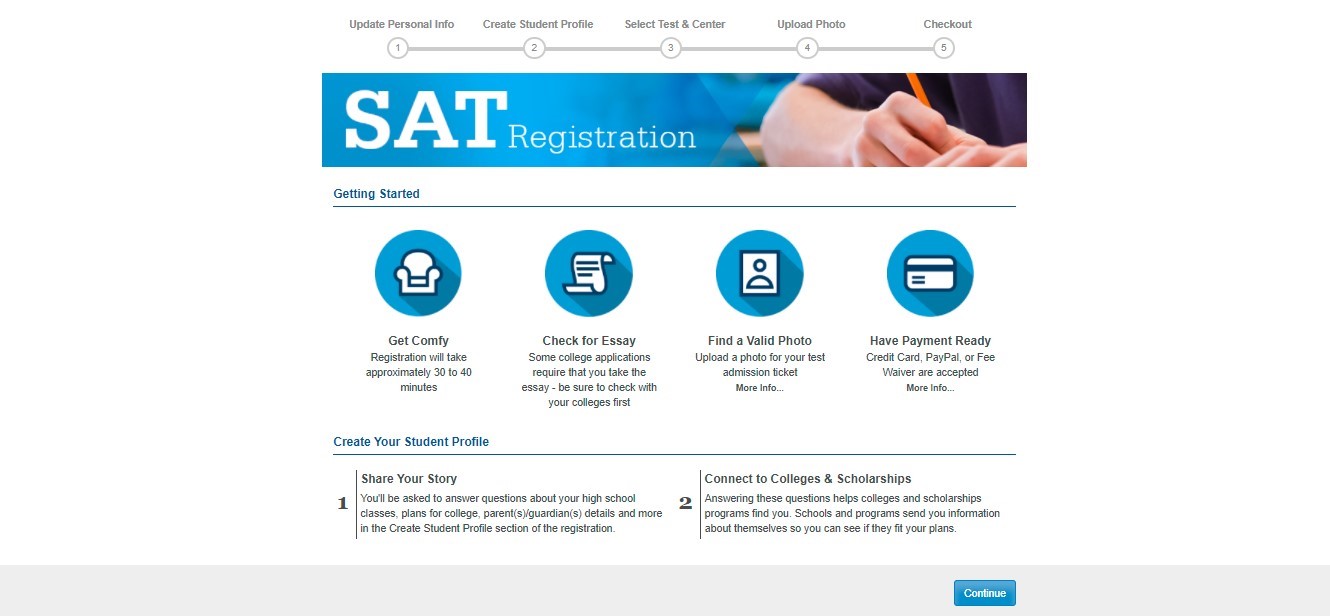 Step 6: Click on 'Continue', and you will reach the Personal Information page. Fill/confirm the details and move to the next page.
Step 7: On the next page, you will have to submit the Demographic details.
Step 8: Now, you will be asked if you wish for the colleges to contact you. You will also have to answer whether you wish to apply for AP Credit or not.
Step 9: Then submit your academic and subject details.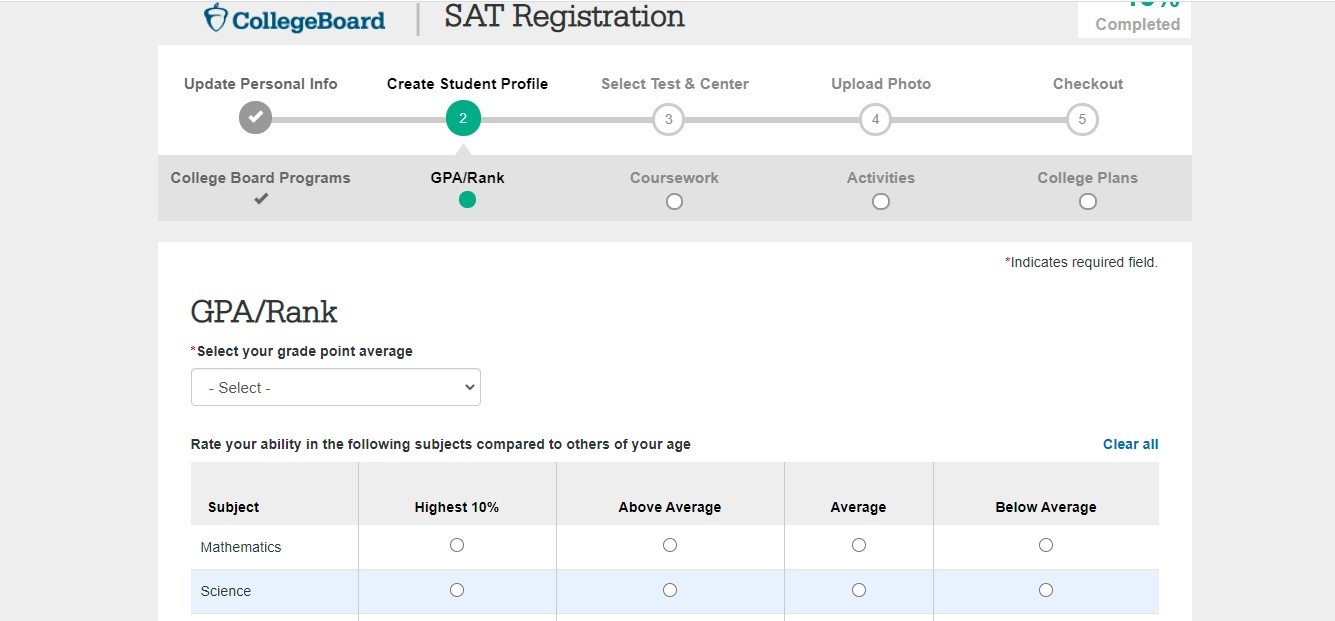 Step 10: You need to select the subjects (related to Math, English, Science, Social Sciences and Languages) and classes you studied during high school on the following 5 pages. See an example below.
Step 11: On the subsequent page, you will be asked to submit the details of your extracurriculars. The page also asks about your interests in future college.
Step 12: Next, you should mention the highest level of qualification you plan to have and the subject areas you are interested in. You will also have to mention the desired college type (4 year/2 year, Public/Private, all women/men), college setting (urban/rural), college size, housing, financial aid, part-time job, etc.
Step 13: Then comes a set of terms and conditions. After giving those a read, give the confirmation and move to the next page.
Step 14: Then you can choose your testing country/region, Test Type (SAT General/SAT Subject), Test Date, SAT Essay (whether you want to opt for it or not). You can also specify Testing Accommodations (if needed), Fee Waiver (if applicable), Question and Answer service (paying for a detailed summary of your questions and correct answers).
Step 15: On the next page, select the preferred SAT Exam Date and Test Center.
Step 16: Once you select the SAT test center, confirm and continue.
Step 17: Then you will need to upload your photo. The page specifies examples of acceptable and unacceptable photos.
Step 18: The last step would be to make the SAT exam fee payment.
Suggested: Exam Day Tips for SAT
If you want to change your registration details, the following table will help you know the process. Remember to print your updated ticket before reaching the test center through your College Board account.
| | | | |
| --- | --- | --- | --- |
| What you can change | How | Deadline | Fee |
| Name, Gender, Date of Birth | Customer Care service needs to be contacted | At least five days prior exam date | Nil |
| Test type, date, center | College board account | Mentioned on the admission ticket | Currently Nil |
| Switch between SAT and SAT essay | - | It can be done on the test day depending on the availability of test material at the test center | Pay the difference between the two |
| Photo | College board account | Up to 5 days before the actual test date | Nil |
| Address, High School related details, Score Reports | College board account | Nine days after taking the test | Nil |
Note:
Closer to the home facility and Sunday testing facility is not available in India and Pakistan.

If you are applying for SAT as a part of the Talent Search program, you will need to submit additional documents as specified on the portal.

If you are above 21 years of age, you need to produce a government-approved valid photo ID on the exam day.
Suggested: When to Start Studying for SAT Exam?
SAT Registration by Mail
If you are unable to register for SAT online, you can apply through the mail. However, there exist exceptional circumstances under which you can opt for this method of SAT application. The acceptable circumstances are:
The facility of request for late registration is unavailable.

Registering through SAT international representative.

Failure of uploading a digital photo during the online registration process.

Age is below 12 years. The requirement of a photo in such a case is exempted.

If the SAT fee payment can only be made through cheque or money order.

Seeking Sunday testing in case of any religious event on Saturday. However, a religious leader should sign a letter to be submitted.

If the test center is more than 120 Km from home, requesting for a change of test center.
For any of the circumstances mentioned above, you can request a SAT student registration booklet from the College Board or counselor. This will contain an application form that can be filled and sent by mail with a money order or cheque.
The official mailing address for SAT Mail Registration is as follows:
College Board SAT Program
PO Box: 7502
London, KY 40742-75027
Now that we know how to register for SAT exam, let us look at the latest SAT exam registration dates:
SAT Exam Registration Dates 2022
The College Board has released the SAT registration dates for the year 2022. Make sure to complete your SAT application before the deadline is crossed. The latest SAT registration dates are listed below:
| | | |
| --- | --- | --- |
| SAT Date | Registration Deadline | Deadline for Changes/ Cancellation/ Late Registration |
| 4 June 2022 | 5 May 2022 | 25 May 2022 |
| 27 August 2022 | 29 July 2022 | 16 August 2022 |
| 1 October 2022 | 2 September 2022 | 20 September 2022 |
| 5 November 2022 | 7 October 2022 | 25 October 2022 |
| 3 December 2022 | 3 November 2022 | 22 November 2022 |
Suggested: SAT Cut Off For Top Universities
SAT Exam Registration Fee
SAT exam registration 2022 fee in India is $104. For SAT with essay option, it becomes $117. There are additional fees added to the SAT registration fee as mentioned in the following table:
| | | |
| --- | --- | --- |
| SAT Application Facility | Details | Fee (USD) |
| Register by phone | Applies to candidates who have been previously registered | 15 |
| Change fee | Applicable if you change the test date, test center, SAT with SAT subject test | 25-35 |
| Waitlist fee | For seeking and getting admission in a test center on the test date | 53 |
Suggested: How to Prepare for SAT test 2022?
SAT Cancellation
There may be some situations wherein test-takers may have to cancel their SAT registration. The following table gives an overview of the situations, probable solutions and the cost incurred.
Situation

Solution

If fees apply

If you reach late on test center and your exam has started

OR

You are absent on the test date

OR

Reschedule the test

Yes. SAT reschedule fee is $30.

You know in prior that you won't be able to make it to center

Reschedule the test

No, if you reschedule before the deadline mentioned on the admission ticket (usually 5 days prior SAT test date). Otherwise, $30.

Test Centre Closed

Check Test Center Closings and be ready for Make-up testing

No.
Suggested: Digital SAT 2023
Applying for SAT is a simple process that requires you to submit your personal, academic, and other details. Hence, it is suggested to have patience while filling the SAT application form. If you are confused about any option, you must take the help from SAT customer support.
SAT registration gives an option of 'Save and Exit' at each stage. Thus, completing it at one go is not necessary. However, do remember that SAT exam registration should be completed 3-4 months before the university admission deadlines.
For more guidance and assistance, get in touch with our counselors at Yocket!
Frequently Asked Questions About SAT Registration
Ques. What is the next important step after SAT exam?
Ans. Once you are done with the SAT exam, you must start shortlisting colleges according to your SAT scores and other qualifications.
Ques. What are the document requirements for SAT exams?
Ans. The main documents required for SAT exams registration is a class 10th or 12th pass certificate. Other than that you will also require IELTS/TOEFL scorecards, LOR, SOP, ID proofs, passport-sized photos and a valid passport and student visa.
Ques. What is SAT exam age limit?
Ans. There is no age limit for SAT application. However, students aged between 16 to 18 years are mostly the ones to appear for the SAT exam.