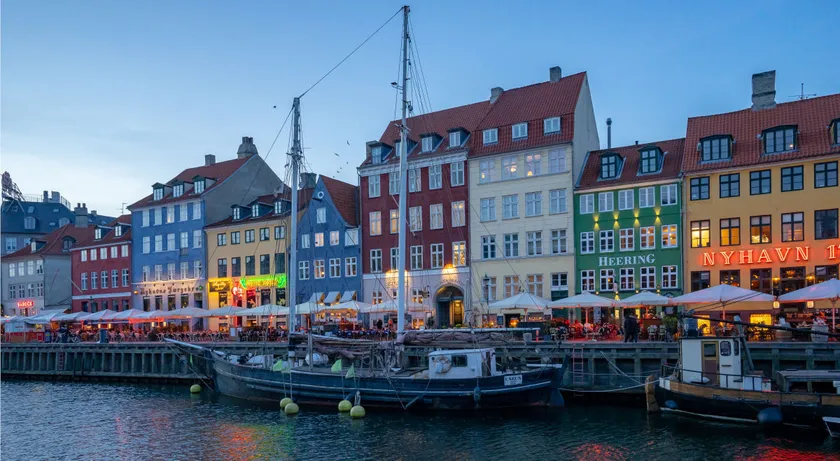 Overview
Denmark, the happiest country in the world, is definitely a great destination when it comes to planning your studies abroad.
The highly reputed education system, positive and lively atmosphere of campuses, amazing social security system and student-friendly cities make studying in Denmark for Indian students a memorable experience.
Denmark also provides an exceptional quality of life to its students. The highly advanced country has a robust economy, gives a lot of importance to gender equality and has a very well developed welfare system.

Denmark As a Study Destination: Highlights
Here's an overview of all the factors that an international student must know about when pursuing higher studies in Denmark:
| | |
| --- | --- |
| Language of Instruction | English, Danish |
| Average Cost of Study | 44,618 - 118,982 DKK/ year |
| Average Cost of Living | 9,518 - 13,385 DKK/ month |
| Sources of Funding | Scholarships, Aids and Part-time jobs |
| Exams Required | |
| Intakes | 2 times a year – Summer Intake (January Mid-March) & Winter Intake (July - September) |
| Types of Visa | Visa (short stay for 3 months), Resident Permit (long stay for more than 3 months) |
| Top Courses | Social Sciences, Humanities, Business Administration, Civil Engineering, Design etc. |
| Types of Degrees | Bachelor's degree, Masters degree, PhD |
| Best Student Cities | Copenhagen, Aalborg, Aarhus, Odense |

Why Study in Denmark?
Studying abroad in Denmark can be a thrilling experience for international students because of various factors. Take a look at all the factors why higher education in Denmark for Indian students is worth it :
Higher education is provided by some of the

top ranked universities in Denmark

. These promise excellent education standards, are internationally-oriented and combine teaching with research.

One of the best parts about education in Denmark for international students is its student life. Denmark offers an amazing student life and there are many student friendly cities.

Denmark was voted as the happiest country in the world. Danes enjoy a great quality of life, gender equality, culture of generosity and freedom to make life choices. This is one of the good reasons to study in Denmark.

Another great reason to pursue education in Denmark for international students is its culture. From exotic and unique food and traditions to lively events and festivals, every aspect of Danish culture is worth experiencing.

Studying abroad in Denmark can give the students an opportunity to travel to other neighbouring countries. Denmark itself has vast wildlife, diverse geography and many more fun activities to do.
Education System
After completing their high school, the students in Denmark go to colleges and universities to pursue higher education. The education system in Denmark is highly reputed and there are various educational institutions offering different types of degrees to all the students. The degrees are explained below:
Academy Profession Degree:

This is a pre-Bachelor's qualification obtained after 1.5-2.5 years of study, depending on the amount of ECTS (European credits) required. Programs are geared towards employment in business, industry and science, and entail a work placement of a minimum of three months. Sometimes the Academy Profession qualification can be 'topped up' to become a Bachelor's with a further 1.5 years of study.


Bachelor's Degree: This degree takes 3 to 4 years to complete, depending on the chosen program. A Bachelor's degree can be awarded in all disciplines apart from the liberal arts. A Bachelor's degree can also be categorised as a professional bachelor's degree. A professional degree caters to vocational professions, and all programs include a compulsory period of in-service training (for a minimum of 6 months).


Master's Degree: A Master's degree usually takes 2 years. However, certain programs such as medicine and veterinary medicine are longer, taking between 2.5 and 3 years to complete.


PhD Programs:

PhDs involve a research project undertaken independently. The program usually takes 3 years to complete.
Choosing to study in Denmark for international students entails choosing between 5 types of higher education institutions. The detailed view of Denmark education system for international students is discussed below:
| | |
| --- | --- |
| Type of Institution | Key Points |
| Business Academies | Offer two-year academy profession programmes. Some business academies also offer professional bachelor programs, further adult education and diplomas. |
| Maritime Educational Institutions | Offer research and practice-focused courses. |
| University Colleges | Provide vocational professional courses, in areas such as nursing, engineering and social work. |
| Institutions of Art and Architecture | Are specialist art schools for design, music, architecture and textiles students, among other artistic disciplines. |
| Universities | Offer traditional Bachelors, Masters and PhD degrees across a range of subjects. There are 8 universities in Denmark. |
Credit System in Denmark
All Danish educational institutions follow the ECTS credit system. The credits that a student earns during the course are taken into consideration to calculate the final result.
According to the Danish Ministry of Education and Science, one year of studies corresponds to 60 ECTS credits and one semester corresponds to 30 ECTS credits. One ECTS credit point equals between 25-30 working hours. This includes hours spent at the university as well as outside the university. The number of credits awarded for each course varies depending on the workload.

A 3-year full Bachelors programme, therefore, has 6 semesters and equals 180 ECTS credits and a 2-year Masters programme has 4 semesters and equals 120 ECTS credits.
Popular Universities
There are many top universities in Denmark that match with the world standards and help students succeed in all the areas of life. Let us have a look at the best universities in Denmark:
| | | |
| --- | --- | --- |
| University | QS World Ranking 2022 | Average Tuition Fees/ Year |
| | 79 | 10,000 - 17,000 EUR |
| | 99 | 15,000 EUR |
| | 155 | 8,000 - 15,300 EUR |
| | 309 | 6,200 - 13,900 EUR |
| | 326 | 6,514 - 13,553 EUR |
| Roskilde University | - | 8,700 - 18,000 EUR |
| | - | 15,200 EUR |
Top Courses
Whichever course you choose to study, you can expect excellent education standards and great quality of teaching. There is an array of courses to choose from in Denmark, from Engineering and Science to Architecture and Design. Given below some of the most popular courses in Denmark :
Environmental Science

Life Sciences

Social Sciences

Business administration

Engineering

Agriculture and environment

Architecture

Design and Visual Arts
The most popular programs that students opt to study in Denmark:
| | | |
| --- | --- | --- |
| Program | Duration | Average Tuition Fees/ year |
| Bachelor of Visual Arts | 3 years | 14,000 EUR |
| Bachelor of Architectural Technology & Construction Management | 3-5 years | 12,000 EUR |
| MSc Agricultural Development | 2 years | 15,000 EUR |
| | 1 - 2 Years | 44,300 EUR |
| MSc Economics | 2 years | 10,000 EUR |
| MSc Environmental Science | 2 years | 13,600 EUR |
| MSc Design and Innovation | 2 years | 15,000 EUR |
| MSc Civil Engineering | 2 years | 15,000 EUR |
Admission Process
The Denmark application process is fairly simple and can be completed on an online portal. We have discussed all the steps that international students must follow while completing their Denmark university admission process.
Choose a course that you want to study and a best university in Denmark offering the course of your choice.

Check the application requirements and eligibility criteria. You may find this information on the website of the university of your choice.

Give all the necessary entrance examinations and language tests and keep your scores ready. Do not forget to check the application deadlines.

Finally, apply for the university of your choice. You can apply for upto 8 programs. All the applications to study in Denmark are made via the national admission site

https://www.optagelse.dk/

Fill in the application form, verify your ID, submit your documents and everything else as per the instructions on the application portal.

Pay the application fee.

Wait for the results. You will receive an acceptance letter if you are accepted at your desired university.
The Denmark admission process can be a long and complicated task. Hence you may want to get in touch with our career counsellors at Yocket to simplify the process for you.

Denmark University Requirements for International Students
To understand how to study in Denmark, you must understand the study requirements in Denmark.
Please note that these are just the basic requirements. You must check your desired university's website for more details.
Degree

Requirements

Academy Profession Degree

Relevant vocational training or upper secondary education

Mathematics minimum level C

English proficiency tests (IELTS - 6.0, TOEFL iBT: 83)

Bachelor's Degree

12th standard certificate with minimum 60%

English proficiency tests (IELTS - 6.0, TOEFL iBT: 83)

Master's Degree

Internationally recognised bachelor's degree.

English proficiency tests

(IELTS - 6.0, TOEFL iBT: 83)

GRE/ GMAT Scores

SOP, References &

CV

Doctorate Degree

Masters Degree

in a relevant subject

English proficiency tests

(IELTS - 6.0, TOEFL iBT: 83)

Research Proposal

SOP, References & CV

Entrance exam may be required
Cost of Attendance
The cost of studying in Denmark depends on the kind of lifestyle you have and the city you decide to live in. Your course and university also play a role in determining your cost of living.
Living in Denmark can be a bit expensive but can be managed with effective budgeting and applying for various scholarships, asking for student discounts wherever possible and by taking up part time jobs.
The overall cost of studying can be divided into two categories – Tuition Fees and Cost of Living.

Tuition Fees
Denmark university fees differ for EU or non-EU/EEA students, being higher for the latter. Other than the tuition fee, international students in Denmark also need to pay some administrative and student services fees.
| | |
| --- | --- |
| Degree Type | Average Annual Tuition Fee |
| Bachelors | 15,000 EUR |
| Masters | 6,513 - 8,500 EUR |

Cost of Living
The cost of living for international students in Denmark depends upon your lifestyle. As a rough estimate, international students would need between 800 -1,200 EUR per month to live in Denmark. Take a look at the expense chart of an international student in Denmark.
| | |
| --- | --- |
| Particular | Cost Per Month |
| Accomodation | 400 - 670 EUR |
| Food | 200 - 270 EUR |
| Transport | 40 - 50 EUR |
| Books & Study Material | 30 - 65 EUR |
| Social Activities | 120 - 175 EUR |
| Mobile & Internet | 20-30 EUR |
| Miscellaneous | 200 EUR |
Best student cities
Popularly known as the happiest country in the world, Denmark has some very student friendly cities that ensure that international students enjoy the best quality of life and best education standards. Given below is a list of best cities/places to study in Denmark :

Copenhagen


Average Cost of Living:

1,200 EUR / month
Top Universities:

University of Copenhagen
Copenhagen Business Academy

University College Copenhagen

Aarhus


Average Cost of Living:

950EUR/ month
Top Universities:

Aarhus University, Aarhus School of Architecture, Aarhus Technical College

Aalborg


Average Cost of Living:

1,008 EUR/ month
Top Universities:

Aalborg University

Odense


Average Cost of Living:

900 EUR/ month
Top Universities:

University of Southern Denmark
Visa
The document which allows international students to study in Denmark is called "Resident Permit" in Denmark and not "Student Visa".
The process of getting a Denmark student visa (residence permit) to study in Denmark for Indian students is quite simple. It may take 60 days for your visa to get processed. Hence, it is recommended that you start the process at least 3 months before your arrival in the country. Take a look at the step by step procedure of getting a resident permit in Denmark:


Apply to a Danish university and get your acceptance letter.

Apply for the resident permit on the

New To Denmark

website and fill the online form.

Upload the documents and submit your application.

Pay the application fee of 255 EUR through a Visa or MasterCard.

Receive confirmation from the consulate or embassy.

Submit your biometric information and photograph at the nearest embassy or consulate office of Denmark on receiving the email.
Necessary documents to apply for a Residence Permit in Denmark
Formal letter of acceptance by your university

Detailed explanation of your academic program

Valid passport and passport style photos

Completed ST1 form

Proof of English or Danish proficiency ( depends on the language of your course)

Proof that you have sufficient funds to live in Denmark

Details of your accommodation

Receipt of application fee payment

Proof of travel insurance
Top Scholarships
There are many scholarships offered by the Danish Government, universities and other organisations which cover tuition fees for the international students and sometimes even their cost of living. Some of the popular scholarships in Denmark:

Nordplus Programme


High-Achieving Students who wish to study at a Nordic or Baltic higher education institution.

Amount/ Benefit:DKK 7,000 per semester

Danish Government scholarships


International students pursuing any full-degree program.

Amount/ Benefit:

Full or partial tuition fee waivers and/or as an amount that covers basic living costs.

Study a Masters in Europe Scholarships


Students who want to study masters degree in Europe

Amount/ Benefit:

Up to 5000

EUR

Erasmus Mundus


Both EU/EEA and non-EU/EEA students planning to study for a masters degree.

Amount/ Benefit:

1000 EUR per month living stipend.

The Danish State Educational Support


International students can also apply who meet the criterias.

Amount/ Benefit:

Varies with the nature of grant

Denmark University Scholarships


International students studying at Danish Universities for undergraduate and graduate programs.

Amount/ Benefit:

Cover partial or full tuition fees and sometimes even living costs.
Work Opportunities
Having a resident permit in Denmark allows the international students to opt for part time jobs in Denmark.
International students can work part-time up to 20 hours per week between September and May and 37 hours per week during the months of June, July and August.
Apart from part time jobs, students can also opt for various internships which are related to their field of study. That can be a great addition to their CV and will give them a better chance of landing a job after graduation.
However, part time jobs can pay anywhere between 800 to 960 Euros per month which is not enough to cover all cost of living. Also, it can be difficult to find a part time job in Denmark if you do not know the Danish language. Some popular part time student jobs in Denmark for international students are -
| | |
| --- | --- |
| Part-Time Jobs | Average Salary Per Hour |
| Assistant | DKK 148 |
| Waiter/Waitress | DKK 122 |
| Newspaper Delivery | DKK 104 |
| Housekeeping | DKK 130 |
| Bartender | DKK 129 |
| Sales Assistant | DKK 145 |

Post Study Work Options For International Students In Denmark
Denmark is the home to various top brands like Lego, Maersk, Carlsberg, Royal Copenhagen, Vestas etc. Denmark is also known for having a great work life balance which is why most international students choose to work in Denmark after their graduation. Take a look at job opportunities and post study work visa options in Denmark for International students below:

Job Outlook for International Students after Studies
Here's a quick look at the top fields for applying to jobs after MS in Denmark :
| | |
| --- | --- |
| Area of Specialisation | Average Monthly Salary |
| Management | DKK 56,000 |
| Computer Science | DKK 43,000 |
| Design | DKK 36,000 |
| Mechanical Engineering | DKK 42,000 |
| Statistics/ Data Science | DKK 45,000 |

Work Visa & PR in Denmark
After your graduation, your resident permit (student visa) will remain valid for additional 6 months allowing you to seek employment in Denmark. You may apply for an Establishment Card if you have been awarded a degree in Denmark and wish to stay in the country. You must apply within 1 year of completing your studies. The application process usually takes a month. To apply, you must prepare the following documents:
Copy of all pages of your passport – including all empty pages and the passport's front and back cover.

Documentation that you have completed a Danish higher education

Documentation that you can support yourself during your stay in Denmark
An Establishment Card is initially granted for 2 years. It is possible to extend your establishment card by an additional 1 year, if you are employed in a job relevant to a completed educational programme. When you have been granted an establishment card, you are allowed to work in any company and in any position in Denmark.
You can apply for permanent residency in Denmark after four years of stay in Denmark provided you fulfil the following conditions
Employed full-time in each of the last 4 years

Passed the Danish language exam, PD3

Earn at least 290,000 Kroner in each of the last two years

Pass an active citizenship (Medborgerskab) exam
Pursuing higher education in Denmark for Indian students can truly be a happy experience. The friendly people, great quality of life, excellent education system, and top Danish Universities are some of the benefits of studying in Denmark. Professionals can help make your study abroad Denmark journey easy, so feel free to reach out to Yocket Counsellors today!
FAQs
This is a new guide component dummy heading?
This is a new guide component dummy content