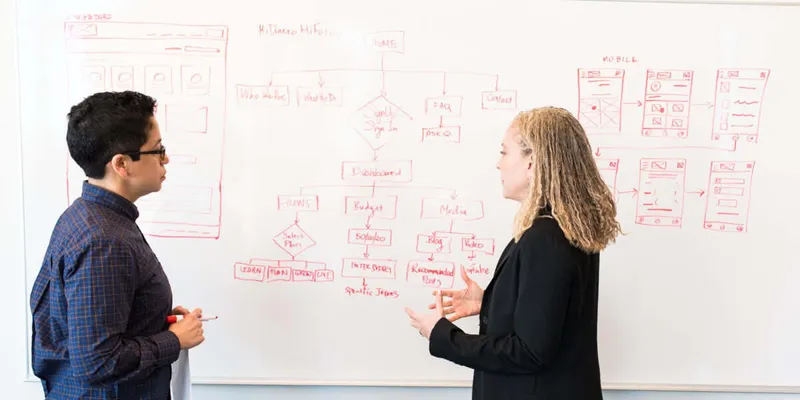 Bachelors in Operations Management Abroad
Overview
Bachelors in Operation Management is a three-year undergraduate program associated with the overall management of manufacturing and production processes. It embraces planning, managing, supervising, and controlling the aspects of operations such as business analytics, microeconomics, macroeconomics, financial accounting, marketing, and business strategies essential for the business.
Operations management professionals are tasked with the responsibility of managing and directing activities of all forms in crucial organizations. If you are the one who wants to make an impact on an organization's ability to produce goods and services which provides value to customers and would develop a career in supply chain or operations management, then a bachelor's in operation management will be an apt choice for you to start a career.
Studying bachelors in operations management abroad can be seen in an individual's interest as well as the level of organization. Every business always gains profit by increasing its productivity while its personal goals are realized with the development of analytical skills. Aspiring individuals who are concerned with efficient designing and product processes, studying at operations management colleges abroad will give them a perfect platform to seek more about this field and upscale the business.

Why Study Bachelor Operations Management Abroad?
Pursuing operations management courses abroad can learn about supervising and managing the internal and external activities crucial for their organization. Post-completion, you can explore different aspects of business while paving your path toward great career prospects. Here are some of the reasons why to study a bachelor in operations management abroad are:
International perspective:

Operations management abroad teaches you about the global challenges industries might face, looking at the international boundaries, economics, trade and negotiations with diverse cultures. This will develop your problem-solving skills with a broad view of different perspectives.

Advanced Knowledge:

Operations management requires the activities process in an organization. You will get both theoretical and practical learning by studying abroad. In top universities, you can develop high research, analysis, presentation, management, and analysis skills. With advanced learning, you will be ready for any professional challenges in the business.

Career Scope:

If you study operations management abroad, you are open to having great career opportunities. You have the opportunity to explore a diverse range of courses and skill sets that employers across the world are specifically looking for. Moreover, the job opportunities for operations and general managers are expected to grow by 6 percent from 2019 to 2029, showing a great career ahead.
Suggested: Benefits of Studying Abroad
Course Structure
Bachelor's degree in operations management trains students in a wide range of areas such as logistics and supply chain. This course turns them into skillful operations and production managers. Let us take a look at the course structure of this program:
Duration:

Operations management bachelor degree at top colleges abroad is of 3 to 4 years duration similar to other different undergraduate degrees. Some universities offer a co-op placement which gets you the opportunity to earn while studying in the fourth year.
Course Subjects
The core curriculum combines effective management of the resources and activities that produce and deliver the goods and services of any business. The list of courses includes in the program are
Factory Management

Quality Control

Supply Chain Management

Marketing Research

Logistics and procurement

Technology Infrastructure

Database Design and Management
Top Specializations
There are many colleges that offer a wide range of specializations for bachelors in operations management abroad. You can choose any of the specializations that will prepare you with a focus on operation management. Some of the popular specializations for an operations management degree in foreign countries include:
Quality Management

Inventory Management

Supply Chain Management

Layout Design and Strategy

Layout Design and Strategy.

Human Resources and Job Design

Logistics Management
Suggested: Guide to Popular Courses for International Students Abroad
Core Skills
The academic requirements and documents are surely most important for getting admission into operations management courses abroad, but there are some other requirements that university asks you to have. Let's have a look at them:


Supervision for the Work
Since bachelor of operations management is a part of operations and planning aspects of the world. It is crucial to gather the required knowledge for it before the application. Starting the preparations early can give insights into your interest in the course. Hence, you must try to grasp the foundation of the course you are going to study.


Delegation
As a student beginning your career in business and operations management, you must train yourself how to manage larger teams, inspires the workers, and delegate tasks to one another. This will help you to understand the ethics of operations of organizations in the long run.


Importance of Time
Timing is a crucial element in the operations of any business. The course involves timely delivery of products, managing, and processing in the organization. Operations management professionals are skillful in time management. So be upfront and show your skills with confidence to the admission committee.
Requirements
Irrespective of the program you are seeking, there are some eligibility criteria every college and university abroad has. You must have to follow these criteria and requirements to consider your admission in the university. The common criteria for admission to the course are
Higher Secondary
English Language Proficiency
Passport and Student Visa

Higher Secondary
A higher secondary certificate is a must for taking admission to any bachelor's degree abroad. You must have to complete your 12th level of education in a relevant field from a recognized institution. A score of 80% or more is a competitive score for top universities.

English Language Proficiency
If you are from a non-native English-speaking country and wish to study bachelors in foreign institutions, you must submit the language proficiency test scores. These scores are mandatory for all international students who are looking to study abroad. Since the scores vary from university to university, the minimum scores of two majorly accepted tests are:

Passport and Student Visa
A copy of passport and visa is a must for every international who is seeking admission to bachelors in operations management abroad. The student visa should be based on the country you choose for studying. Make sure to apply at least three months before the date of your travel.
Suggested: Everything You Need to Know about International Student Visa

Documents Required to Apply for Bachelor Operations Management Colleges Abroad
Apart from the above-mentioned requirements, make sure you must have other documents that stand on your profile. These documents are a key element in the procedure, and you must attach them to your application submission. The documents include:
Higher education certificate

Academic transcripts

Language entrance scorecards

Proof of financial resources

Student Visa

Photo Identity

Insurance or medical certificates

Admission Process for Bachelor Operations Management Abroad
The application timeline of bachelor's abroad generally differs from university to university, while most of them accept applications in three popular intake sessions i.e. fall, winter and summer. Each season has different deadlines. The step by step guidelines you can follow to complete the process are:
Visit your selected university website and check out the application timeline and availability of seats.

Gather the entry requirements and other essential information on their international student's websites.

Fill up the application form and pay the fees.

Prepare all the required documents and submit their scanned copies in the application. Must translate the documents in English as it is recommended.

After completing the application, wait for the decision or you can check the application status.

Once you receive the letter, accept it and pay the required depository fees to confirm your seat.
Suggested: Know About Entrance Exam for Abroad Studies
Top Scholarships
Various scholarships are available for international students abroad to study in their institutions. These scholarships are offered by both universities and some external bodies like the government or sources. You can look for these scholarships to manage your expenses while studying. Some of the scholarships for bachelor degrees are:

American University Emerging global leader Scholarship


International students pursuing bachelor's degree in any American University are considered for this scholarship.

Amount/ Benefits:

6,000 USD to 25,000 USD

ACI Foundation Scholarship


Awarded to undergraduate, masters, and PhD international students. Must be proficient in English language, if it is not native language, a written statement is required to be attached with the application attesting this proficiency.

Amount/ Benefits:

10,000 USD to 15,000 USD

Inlaks Scholarship


United Kingdom offers this scholarship to their meritorious international students who are studying at any university in a number of disciplines.

Amount/ Benefits:

Upto 70,000 Euro

International Admission Scholarship


Entering international students who are enrolled in undergraduate courses at University of Alberta are eligible. Students must have good academic records in their previous academics.

Amount/ Benefits:

5,000 CAD
Suggested: Know About Top Scholarships to Study Abroad

Cost of Studying Bachelor Operations Management Abroad
The cost of studying operations management bachelors is an important aspect in any study abroad institution. These costs are determined by various factors. The tuition fees of a bachelor of operations abroad and the costs of living in a country require higher investment for international students. Let's discuss about them:

Tuition Fees
The tuition fees of some of the best colleges offering operations management bachelors abroad range from 22,000 to 56,000 USD per year. However, countries like Germany charge only minimal or no fees in their public institutions. But other countries such as the US, UK, and Australia have comparatively higher fees.

Cost of Living
Apart from the tuition fees of an operations management bachelor degree in institutions abroad, you also have to bear the living costs in that country. On average, you have to spend around 10,000 USD to 30,000 USD per year on your cost of living. These include accommodation, food & materials, stationery, transportation etc.
Suggested: Cost for Studying Under Graduation Abroad
Work Opportunities
The career scope after a bachelors degree in operations management abroad is very high. A graduate can expect an average salary of 45,000 USD with a bachelor's degree. They have the opportunities to get their desired jobs with higher pay in various business and industry sectors. Moreover, a large number of organizations hire graduates with operations management courses. A few of the job roles for bachelor graduates along with their average salaries are:
| | |
| --- | --- |
| Job Profile | Average Salary |
| Operations Manager | 50,007 USD |
| Materials Manager | 55,038 USD |
| Production Planner | 48,760 USD |
| Logistics Manager | 53,936 USD |
| Quality Manager | 60,000 USD |
| Operations Research Analyst | 48,690 USD |
Suggested: How to Work While Studying Abroad?
So this was all about operation management abroad. There are various highly recognized institutes abroad that offer bachelor degrees in operations management. Selecting top-rated colleges will help you in making a promising career in the future. So, if you are looking for any assistance in seeking admission to the best university for operation management courses, do connect with our Yocket Counsellors.
FAQs
Ques. Which country is best to study operations management?
Ans. The best countries to study operation management programs are the UK, US, Germany, France, Canada, Spain and the Netherlands. The UK is one of the best among them to pursue management courses according to the business school candidates.
Ques. What is the overall cost of studying bachelor in operations management in USA?
Ans. The cost of studying will depend on the university and the daily expenses, but the annual cost for pursuing bachelors in operations management is around 32,370 USD annually.
Ques. Is it necessary to appear in English language tests for admission?
Ans. Yes, all international students must submit language test scores for admission to any program abroad. However, some countries like Germany also ask for a German language test for admission.
Ques. Are Standardized Tests scores mandatory for admission?
Ans. No, standardized scores are no longer a mandatory requirement for admission in abroad institutions. However, you can submit the scores to get an extra edge for your profile.
Ques. Can I get any financial aid while studying abroad?
Ans. Most universities and governments offer students a wide range of scholarships to study at. These are in terms of grants, awards, fellowships, etc.