The excitement of studying abroad in the UK is real! The adrenaline rush of living your dream life in London or Oxford or any other city in the UK is legit! But, living this dream does come with a rate card. Most international students come to the UK to pursue masters degrees with MS in the UK cost Indian Rupees of around INR 15 - INR 30 lakhs. Yes, the cost of masters in UK for Indian students is quite high.
If you, too, are planning to study masters in UK, don't get disheartened. A well-thought-out financial plan can reduce your burden. But what is the first step in creating this plan? Knowing all the involved costs for studying masters in UK.
In this article, we have discussed the cost of masters in UK for Indian students covering every minute detail. We have also analyzed the total masters in UK cost by dividing it into different parts for a better understanding. And as a bonus, we have also included a few smart student hacks that can save you pounds. Let's begin with it!
An Expenditure Map: Navigating Through Masters in UK Cost
How much does it cost to study MS in UK? In order to wholly understand 'Where and How much?' is the cost of masters in UK for Indian students, you need to first identify your expenses. To do so, let's list out the cost of a masters degree in UK in the order of your study-abroad journey and further dive deeper into each of them.
In a snapshot, the estimated average fees for masters in UK for Indian students is between 15,000 GBP to 35,000 GBP. However, it can vary depending on the quantum of other involved expenses. Let's check how? The cost of masters in UK for international students can be broadly divided into 4 stages:
Pre-application expenditure
Application expenses
Post-admission expenditure
Cost of living in UK
Let us discuss each of these masters degree fees UK individually.
Pre-application Expenditure in UK
To begin your preparation, you will first need to take qualifying examinations to study Masters abroad. STEM courses require you to take the GMAT or GRE. While all courses abroad also require your English language proficiency score. Implying that you will spend on:
| | |
| --- | --- |
| Test | Cost |
| | £ 215 and £ 116.95 |
| | £ 161.77 - £ 148.17 |
Therefore, you will be spending approximately £ 300 - £400 on essential tests.
Application Expenses in UK
Once you are prepared to apply to universities in the UK with all the necessary documents, GMAT or GRE scores and your English test scores (TOEFL or IELTS), you can progress to apply to your universities.
During your application, you are required to pay a small amount as an application fee. This is the second MS in the UK cost you have to endure. This cost varies from university to university. However, the UK application cost ranges from £75 to £150, depending on the course you are applying for.
Hence the MS in UK cost in Indian rupees for different applications ranges from 7,082 INR to 14,166 INR.
The Complete Guide to Masters in UK for International Students
Post-admission Expenditure in UK
Universities in the UK usually take about 2-6 weeks to respond to your application. Once accepted by your desired university, you will have to make additional payments as part of your UK master degree fees to complete your admission formalities. These expenses include: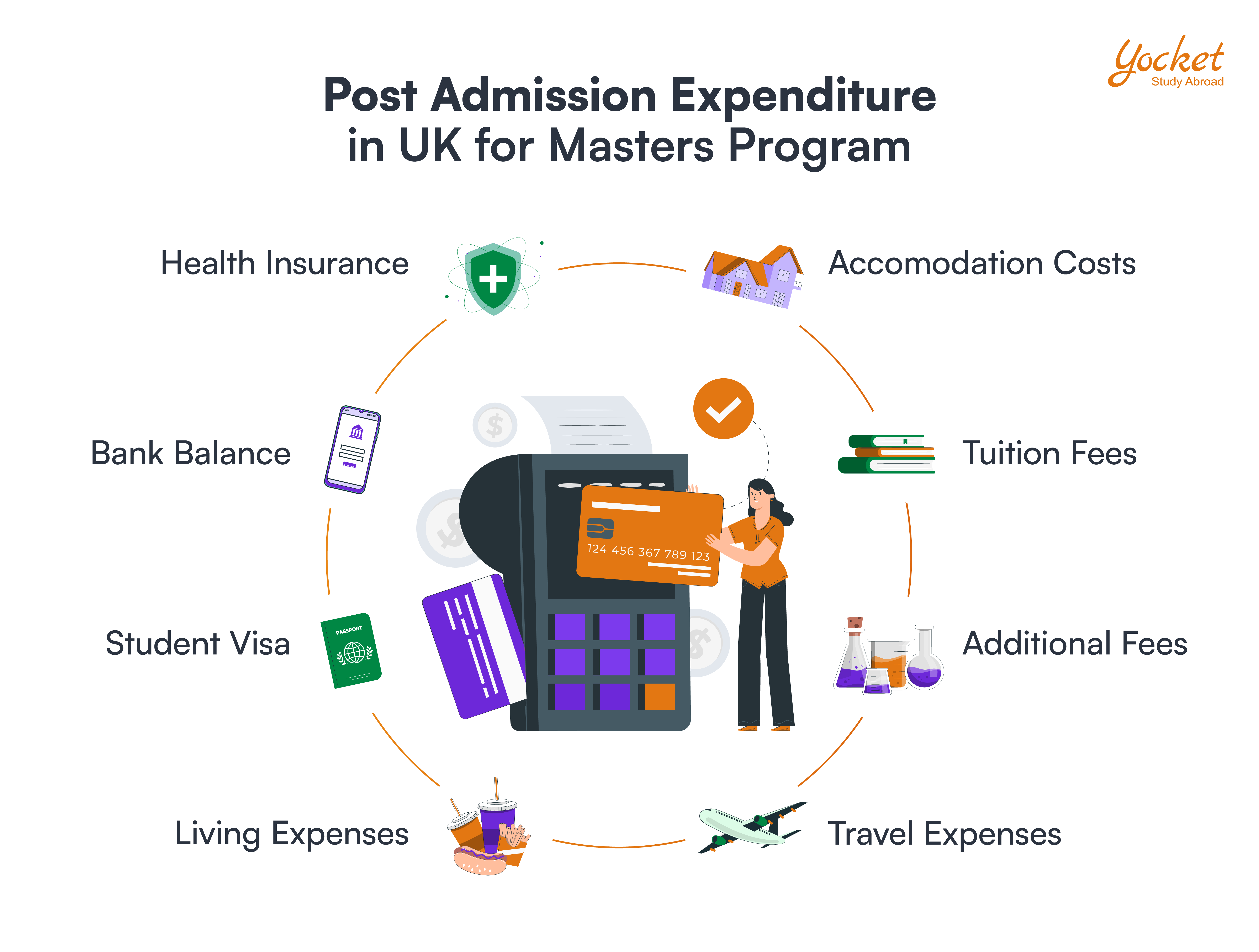 Tuition fees:
Confirming your admission, you will need to pay the Masters in UK fees. The cost of a Masters degree in UK for international students is higher in comparison to the UK Master degree fees charged to locals.
The Masters fees in UK for international students also vary depending upon the university and the course you are opting for. For instance, if you choose an Engineering or an MBA in UK, with an expected high ROI, your fee is bound to be higher as compared to a course that has a lower ROI.
Have a look at the average tuition fees of some of the top universities in UK:
| | |
| --- | --- |
| UK University | Tuition Fees/ year |
| | £24,450 - £29,160 |
| | £20,157 - £37,815 |
| | £16,897 - £57,402 |
| | £21,000 - £25,000 |
| | £28,500 |
| | £20,000 - £47,000 |
| | £19,520 - £44,540 |
| | £17,609 - £23,088 |
| | £7,700 - £46,610 |
| | £21,000 - £28,000 |
Hence, you can hold an estimate of £7,700 - £57,000/year for UK tuition fees for Masters programs.
Additional fees/lab charges:
In addition to the tuition fees, some universities might include some additional charges to cover your lab costs etc. This amount can be paid along with the tuition fees of masters in UK. But, this fee is applicable to only a few universities.
Student visa charges:
After paying your university fees and other charges, you are all set to begin your travel preparation. To do this, you need to apply for a UK student visa which will cost you about £363.
Bank Balance for UK:
To study in the UK as an international student, you are required to prove to the UK government that you will be able to manage your expenses in the UK.
You will be required to show £1334 in your account for every month of your course in the UK. This means that, if the duration of your course is about 12 months (1 year), you will have to have £16,008 in your bank to get a Tier 4 student visa.
Health insurance cost
Your health coverage isn't an expense you can miss out on when you plan to study abroad. You will have to pay a health insurance surcharge of £470 to the NHS for a Tier 4 student visa.
Travel expense
The final expense before your departure is the cost of your flight ticket. International flights are expensive and the pricing usually depends on multiple factors. However, the approximate cost of your travel to UK will come up to £250 - £700.
Hence, your overall post-application cost will be about £31,000+ (bank balance)/ year to study in UK.
What is a Tier-4 Pilot Visa in UK?
Cost of living in UK
Your last but not least expense in UK is your cost of living. It is a wise decision to keep an approximate amount of money aside for your regular expenses in UK. This expense includes the expenditure of your rent, commute, entertainment, food etc.
| | |
| --- | --- |
| Factors | Average Cost Per Month |
| Accommodation | £500 - £1,000 |
| Food & Groceries | £180 - £100 |
| Transportation | £150- £1,200 |
| Household Bills | £40 - £50 |
| Entertainment | £40- £50 |
Thus, the average monthly expenses in the UK for international students can be around £910 to £2,400.
A detailed Look at the Cost of Living in UK for International Students
Summing Up the Total Cost to Study Masters in UK
The above-mentioned expenses are the different expenditures you will incur in the UK. However, the costs also vary depending on your lifestyle, the city you live in, the type, of course, to opt for and so on.
For instance, if you live in London, you will need £1200-£1600/month. Whereas studying in Warwick will cost you approximately £900/month.
Despite these minor differences, the estimated sum to study masters in UK is:
| | |
| --- | --- |
| Entrance Tests | £300 to £400 |
| Application charges | £75 to £150 |
| Post Application expenditure | £20,000 to £1,00,000 |
| Cost of living in UK | £910 to £2,400 |
| TOTAL | £35,000 - £1,00,000 |
Therefore, the cost of Masters in UK for Indian students can be estimated to be 20 lakhs - 50 lakhs including everything. This massive amount of money can be reduced drastically by managing your funds well. Some of the ways you can do it are:
4 Efficient Ways to Manage Your Masters in UK Cost
The masters in UK fees is a humongous amount of £35,000 - £50,000 for most courses. For Indian students, this is a very huge amount to shell out. While student loans for UK are available, that isn't the wisest option to depend on for all your expenses. Therefore, it is important that you raise funds in UK with:
Scholarships: Apply to various universities scholarships or government-offered scholarships. This will help you reduce your tuition fees and many other expenses in the UK.


Part-time jobs: International students in the UK take up part-time jobs. By doing so, you will be able to survive in the UK without overspending from your own pocket.


On-campus jobs: Universities offer a number of on-campus jobs to international students. This is to help them upskill their knowledge and to give them an earning opportunity.


UK student discount hacks: A number of student discounts on your university and other international student cards are available in the UK. Special discounts on travel and other lifestyle hacks are available, and you can save a ton of money by just showing them your student card.
Find out more about the part-time jobs in UK for international students
Now you know how much does it cost to study masters in UK. Try the above hacks and reduce your masters in UK cost dramatically.
The cost of masters degree in UK for international students is comparatively cheaper than studying in one of the top universities in the US. This is one of the main reasons why many international students choose to study in the UK over the US. The hassle-free admission process, student visas and the affordability of studying in the UK make it one of the top study destinations in the world for masters programs. If you need end-to-end guidance for arranging finance to pursue your UK study, subscribe to Yocket premium.