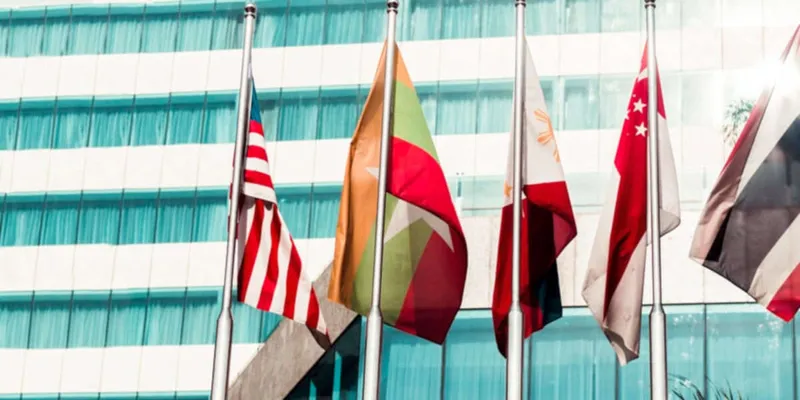 Bachelors in International Relations Abroad
Overview
The International Relations, which falls under the political science section focuses on the role of international organisations, nongovernmental organisations (NGOs), and multinational enterprises in a world that is becoming more and more globalised. In the framework of international affairs, BA in international relations addresses themes like development, citizenship, human rights, and ecology.
Students who study bachelors in international relations abroad have a well-rounded grasp of world affairs because of the subject's heavy emphasis on politics and incorporation of elements of economics and law. A fresh viewpoint on world issues and the connections between regions can be gained by studying international relations overseas.
The main objective of pursuing an international relations bachelor degree is to develop highly trained professionals with a solid background in the social sciences. Many top universities in different countries offer bachelors of international studies covering global level study, along with dealing with developing nations and emerging Asian governments. The BA in international relations is offered with a duration of 3-4 years. The three-year undergraduate program will give you an intellectual foundation for a variety of professional options by introducing you to the theoretical and practical background of international relations.

Why Study Bachelor's in International Relations Abroad?
Starting a career in international relations is an excellent way to get into politics, government, international non-profits, or diplomacy. Students pursuing bachelor of arts international relations abroad get the opportunity of learning multidisciplinary areas, including sociology, business, economics, management, history, politics, and global affairs. Let's examine some justifications for studying the discipline in some of the greatest nations for international relations. Some more benefits of studying bachelors in international relations:

Get Insight of Different Areas
The course will offer you the chance to learn how to interact with different cultures, people, and entities. Moreover, you may find yourself opening up a range of fascinating employment opportunities in several fields.

Get Core Knowledge of International Social Science
Students have the choice to use their foundational knowledge from a variety of social science subjects to become better informed citizens. Bachelor's courses allow students to prepare themselves for higher studies and get into the profession of related sectors thanks to the degree.

Learn in Perfect Environment
Students while studying bachelor's in international relations get the chance to study outside of a traditional classroom and in the ideal atmosphere for learning. In order to understand international relations, students will get a hands-on approach rather than reading about it in textbooks. To get the most out of an International Relations program, it is best to choose the right university in the right country.

Better Job Scope
There are better jobs after completing bachelors in international relations abroad. One can work for international government or national government agencies in public relations or other top positions as a part of bachelor of arts in international relations jobs.
Suggested: Benefits of Studying Abroad
Course Structure
Since, the demand for the BA in International Relations abroad is quite high, it is important to know the overall course structure for the same.
Duration: Similar to other undergraduate degree programs, the bachelor's international relations abroad takes 3-4 years to complete. There are some universities and colleges that cover placement and academics under the 4 year program.
Course Subjects
Through core subjects under BA in international relations, you will get exposure to international system, government working and other similar areas. Moreover, these subjects will provide you the chance to improve your knowledge, confidence, and get fully immersed in a different culture. There will also be time for class discussions in seminars and other small-group settings. Below is the subject list of bachelors of arts in international studies:
Political Geography (Processes of creating a modern state)

The History and Institutions of European Integration

Introduction to international relations

Introduction to Social Communication

International Negotiation Techniques
Top Specializations
Bachelor's in international studies offer a wide range of specializations. Students get options to choose that fits the skills they need to develop. Below is the list of popular specializations under Bachelor of International Studies:
International Women's Health and Human Rights

Political Science

Politics and Policy

International and Global Studies

Economics with International Relations

Public Administration
Core Skills
Besides presenting your academic skills, you need to carry other vital skills for better academic years. Some of the skills are-

Good Language Skills
Regardless of where you are from or where you plan to work, having fluency in English is a necessity. Naturally, it is also a huge advantage to be fluent in the language of the nation where you start your career in international relations.

Organizational Skills
For the majority of international relations job roles, excellent organisational abilities are a requirement. You will need to be able to handle organizational pressure and handle various government work areas.

Analytical Skills
It's highly helpful to be able to analyse circumstances using all of your academic tools. You should be able to read an article and comprehend its main ideas and the implications for you in a current negotiation to build international relationships.
Suggested: Latest Study Abroad Updates
Requirements
Students seeking admission in Bachelor's in International Relations Abroad, it is important to know about the eligibility criteria and documents required for admission. Mentioned below is an overview of bachelor degree of international relations abroad eligibility:
High School Certificate

Language Proficiency Score Requirements

Passport and Visa
Let us check in detail

High School Certificate
Students need to present their 10+2 passing certificate with relevant background and subjects. The average passing score should be 70%.

Language Proficiency Score Requirements
International students need to present scores of IELTS, TOEFL, or similar test results as a part of English language proficiency. You will need to enrol in a language course in case of non-fulfilment of minimum language requirements. Different universities have different score requirements. The average score should be-

Passport and Visa
Students need to provide a valid study visa of the respective country. It is important to apply for the study visa 3 months prior to the date of travelling.
Suggested: International Student Visa Details

Documents Required Applying for the Bachelor's in International Relations Abroad
As a part of admission for the bachelor's degree in international abroad, students need to provide some vital documents to the authority. Different countries may have some additional requirement, we have mentioned the common ones-
Official academic transcripts

Entrance exam requirements

Evidence of English language proficiency test scores

Completed application form

Statement of purpose

(SOP)

Personal essay

Letter of recommendation

(LOR)

Proof of application fee (If applicable)

A valid passport and student visa

Admission Process for International Relations Bachelor Degree
To complete the admission process, you need to have all the required documents. Although there could be changes according to the country, but we have mentioned the common admission process-
Check the official university website to see if you match the eligibility requirements for your desired program.

Take a look at the important documents and permits that you need to submit along with your application.

Complete the online application form and pay the application cost.

After submitting your application, you can log in to the admission portal.

Meanwhile, you can gather all of the documents needed to apply for a study permit.

If you meet the required needs, the university invites you for the entrance exam.

The cut-off for the entrance exam is determined by the college administration. If an applicant performs well on the entrance exam and meets the cut-off, the next step is processed.

Once the university accepts documents and scores, you can get an acceptance letter from the applied university

After receiving an acceptance letter you can apply for the study visa
Suggested: Entrance Exam for Abroad Studies
Top Scholarships
Since the fees for Bachelors in International Relations Abroad differ, for many students it is quite difficult to pay. One of the best ways to pay for your study abroad is to be eligible for a scholarship. There are various scholarships available for overseas students that provide respectable perks to assist their cost of study. Here are several well-known bachelor's degrees in International Relations Abroad scholarships available abroad.

GREAT Scholarships- UK
GREAT scholarships are special grants for students from 18 different nations to study in a range of courses at UK institutions. All GREAT scholars will receive invitations to a welcoming event and a networking event as part of the program in the first and second semesters, respectively.
Amount- Students will receive a grant of USD 9981 (INR 796831.33) that covers tuition fees.

DAAD Scholarships- Germany
DAAD Scholarships are offered to Graduates, doctorate students, and postdocs, which are given for study and research trips to German universities and non-university research organisations.
Amount- Students receive USD 861 (INR 68645.38) monthly.

Skidmore College need based Finaid
Eligible students at Skidmore College have the chance to submit an application for a scholarship for a bachelor's degree in any of the university's specialties. All that is covered by scholarships and financial aid is tuition.
Amount- The amount varies

Government of Ireland - International Education Scholarships 2022
There are around 60 scholarships for undergraduate, masters and PhD students to successful candidates. These are available for both domestic and international, admitting an eligible Irish higher education institution.
Amount: Students receive USD 10,000 (INR 798325)

QS Undergraduate Scholarship
The scholarship is offered to students pursuing undergraduate courses in QS Ranked University. Candidates are required to submit a brief essay outlining how an inspirational figure has influenced their goals and way of life.
Amount- Students receive USD 10,000 (INR 798325)
Suggested: Top Scholarships to Study Abroad

Cost of Studying Bachelor's in International Relations Abroad
Students need to consider the cost of an international relations bachelor degree which comprises living costs. Different countries have different costs of study and living according to currency. The overall cost of studying bachelor of international relations colleges are divided into two categories-

Tuition Fees
The tuition fee in most universities and colleges for bachelors in International Relations is around- USD 32,606.17- 56,342.90 (INR 26, 00,000- 45, 00,000) per year. In many public universities in countries like Italy or Germany, students need to pay less fees. But in countries like the USA and the UK, the cost of this respective course is comparatively expensive.

Cost of Living
Besides tuition fees, you also need to bear the cost of living in each country. On average, the cost of living that covers transportation, accommodation, food, internet, study material and others is around USD 1,000-3,000 (INR 7,9739- 2,39,218) per month.
Suggested: Cost for Studying Bachelors Abroad
Work Opportunities
There is a good prospect of a Bachelor of Arts in international relations job. To build a bachelor of arts in international relations careers, students will get a good exposure during the academic year. Research analyst, political writer, immigration specialist, public affairs specialist, and others are among the options for a Bachelor of Arts in international relations job.
| | |
| --- | --- |
| Job Title | Average Salary Per Year |
| Economist | USD 97,000 |
| Diplomat | USD 89,000 |
| Political Analyst | USD 90,000 |
| Communications Officer | USD 79,000 |
Suggested: How to Work While Studying Abroad?
The bachelor of international relations introduces students to the basic insight of the global system. It opens the door for higher studies like MSc, MA or MBA and best bachelor of arts in international relations careers. If you wish to pursue bachelors in international relations abroad, do get in touch with our counselors at Yocket now.
FAQs
Ques. What are available bachelor of arts in international relations jobs?
Ans: Students with a bachelor's degree in IR can work as the following-
Journalist

Political Writer

Intelligence Analyst

Politician

Research Analyst
Ques. How to get scholarships for Bachelor's in international relations?
Ans: He/she should be the citizen of the respective country, present 10+2 passing certificate, and fulfil other eligibility criteria,
Ques. Which are the best countries to pursue BA in international relations?
Ans: Some of the top countries to pursue BA in international relations are-
UK

USA

Canada

Switzerland

Spain
Ques. What are the best bachelor's courses in International Relations?
Ans: Some of the best options for bachelors in International relations are-
Bachelors in Politics with International Relations

BA in Political Science

BA in International Studies

BA in Middle Eastern Studies

BA in Politics and Policy
Ques. Is it worth it to study bachelors in international relations abroad?
Ans: A thorough awareness of world issues can be attained through studying BA in international relations. It's an interesting and significant topic that emphasises economics, culture, and political science heavily and looks at how these factors affect society.