With a bachelor's in Architecture or a degree related to design, you can apply for Masters in Architecture. Here, an SOP for architecture can showcase your academic and career aspirations, so it plays a crucial role in your application to some of the top design schools like MIT, Harvard, and more. These b-schools assess your motivation and capabilities like critical thinking and creativity through SOP writing samples and your portfolios. If Masters in Architecture is dream, the let's understand the component in depth to help you get an admission—a succinct architecture SOP.
Let's dive right in!
Decoding your Architecture SOP
What is the accepted word count of an SOP for architecture?
Ans. Keep the length of the architecture SOP within 800-1000 words. However, universities abroad have word counts defined as part of the online applications.
For example, Harvard University, Cambridge requires a 300-word response to two prompts.
What can lead an statement of purpose for architecture to be rejected right away?
Ans. Plagiarism and poor syntax can get your SOP for masters in architecture rejected.
What is the best writing style of an SOP for masters in architecture?
Ans. Conversational writing keeps the narrative engaging. So, write your SOP effectively maintaining a positive tone.
Talk about your passion so that it conveys a sense of excitement.
How many SOPs to write for Design/Architecture?
Ans. Each university requires a separate and original architecture SOP sample. Hence, you need to write a different SOP for every university you're applying to. Along with SOPs, Universities will require a portfolio of your previous works to showcase your creativity and skills.
How to save and submit your SOP?
Ans. SOPs have to be uploaded in PDF as part of the applications. This makes your SOP look professional and eliminates the possibility of any formatting inconsistencies. Universities may also provide forms to paste contents of SOP as part of applications with or without the option to upload it.
What to Write in an Architecture SOP?
To start writing your architecture SOP sample, brainstorm, free-write, and collect your thoughts. Your SOP for architecture masters should be a dive into relevant life experiences, academic and professional background, career goals, co-curricular activities, volunteering/community involvement, and more.
Follow this blueprint on how to draft an intuitive sample SOP for masters in architecture.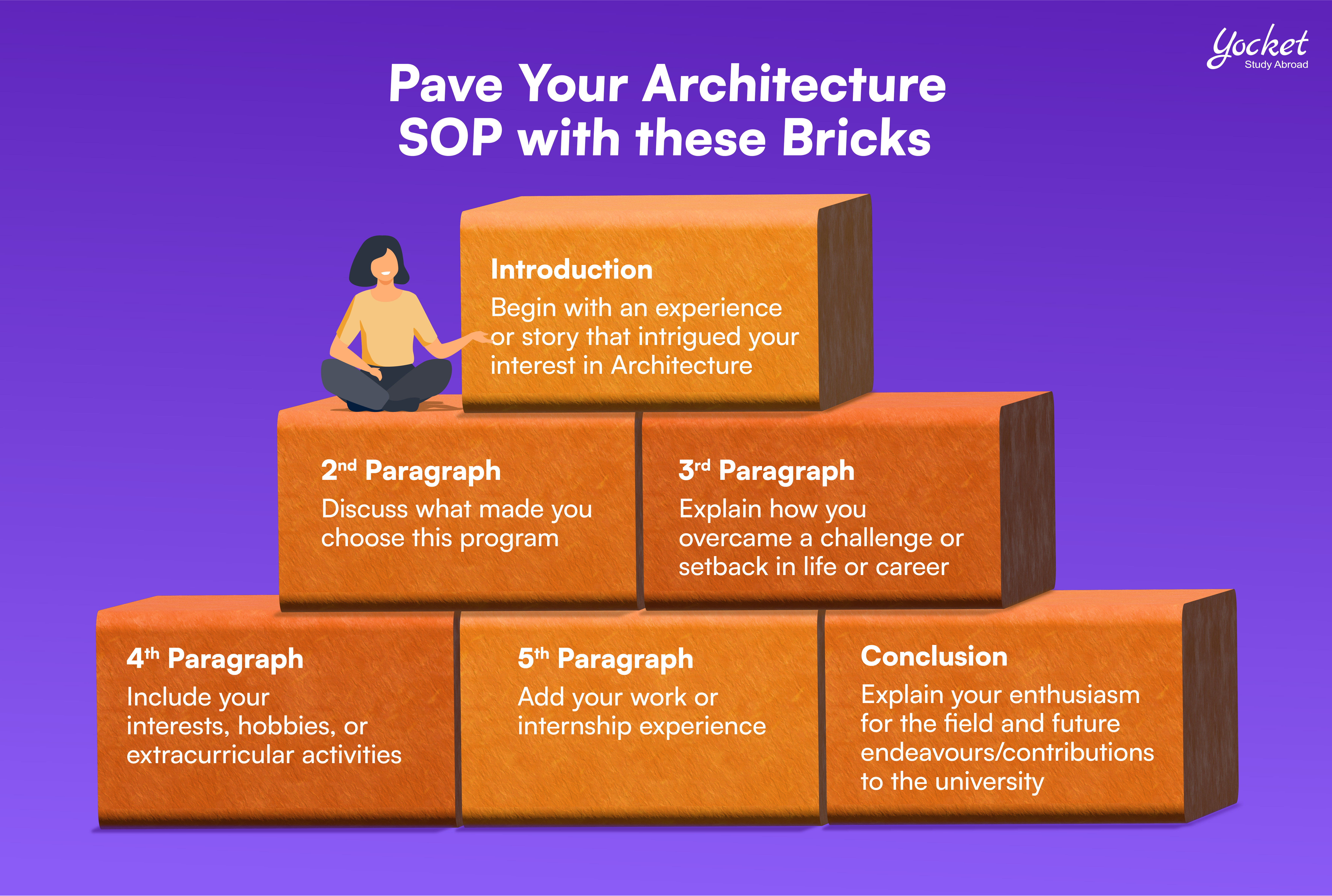 Here, you need to mention what motivated you to choose architecture or design as your interest?
For example, how the coziest nook in your favorite cafe made you seek out designs and spacing, eventually turning into a hobby. This helped you decide on creating such beautiful spaces as a career option.
You can also begin with a research statement or topics that you consider exploring in your M Arch program.

This is because some programs/Universities directly seek a statement of purpose sample for masters in architecture that is more of a research proposal than it is otherwise.
For instance, the Delft University of Technology, Netherlands instructs applicants to describe their hypothetical thesis project. They want to assess students on their priorities about the program and the kind of projects they want to work on. So, the admission will be based on your research aptitude and this is further the key to a great SOP.
Discuss relevant academic and life experiences that have augmented your interest in Architecture. How has each of these experiences pivoted your thinking, streamlined, or transformed it?
Here, you can discuss relevant undergraduate experiences or courses in which you developed a particular interest. For example, the subject, History of Architecture could be the reason why you decided to pursue M Arch.

How have these courses motivated you to develop your portfolio and inspired you to work on relevant projects?

You can discuss interesting projects you have worked on or relevant co-curricular experiences worth sharing. Make sure that your experiences align with your interest in the Architectural program you're applying for.

Third Paragraph
Have you faced any setbacks in your academics? If you just made the cut or have lesser scores, you can mention that here.
Have you faced any other unique challenges or setbacks that have redefined your perspectives or interests?

How did you overcome these challenges and what is/are the positive outcomes of these experiences?

It's essential to reflect on the lessons from these experiences to underscore your resilience.

Fourth Paragraph
You can discuss extracurriculars in this paragraph. Remember that Universities are interested to know more than just academics. So, go ahead and discuss your hobbies, social work, volunteering, etc, here. You can also discuss workshops or certifications which you have taken to upgrade your skills.
But keep in mind to not make the statement of purpose sample architecture an elaborate copy of your resume.
If you have work experience, add it here. But if you do not have work experience, you can also discuss your internship experiences, reflecting on your specific learnings and take-aways. Identify a knowledge gap or a research question or the need for you to go for M Arch course.
How has the work experience/s influenced your career goals? Why do you wish to go for M Arch now?

Define your short-term and long-term goals.

How will the M Arch program from a specific design school help you achieve these goals?

How does the program align with your areas of interest?
Architecture schools like to assess your reasons for applying to their programs. Make an effort to explore the programs in-depth and devise this paragraph accordingly.
Sign off with your expectations from the program and how you look forward to receiving, assimilating, and contributing to new knowledge at the University.
How will you contribute to the University?

What activities, clubs, sports, student associations, groups, etc, piqued your interests?

What diverse experiences do you bring to your future classroom?
5 SOP Questions that Must be Answered
With these crucial steps in mind, let's checkout a few more instructions to follow while writing an SOP for architecture masters.
Do's and Don'ts for an Architecture SOP
You can follow these Do's and Don'ts in your statement of purpose for architecture.
| | |
| --- | --- |
| Maintain a positive tone throughout the SOP? | ✅ |
| Should you include your name in your statement of purpose for architecture? | ❌ |
| Can you write your SOP at the last minute? | ❌ |
| Is it imperative to stick to the word limit? | ✅ |
| Can you opt for a friendly tone while writing SOP for M Arch? | ❌ |
| Should you strictly adhere to the given SOP format? | ✅ |
| Should you include your work experience in your SOP? | ✅ |
| Should you be honest about your strengths and weaknesses? | ✅ |
| Can you be extremely direct or casual? | ❌ |
Common mistakes in Writing SOPs and Application Essay
Skills to Include in Your SOP for Masters in Architecture
Your SOP for M Arch should be in-depth and research-intensive. Architecture is a creative and fascinating field. From Building Researcher, Set Designer, Interior Designer, to Architectural Engineer, Landscape Architect, Building Contractor, the career opportunities are innumerable.
Therefore, your sample SOP for masters in architecture should portray these skills to make it unique and appealing than the rest. Let's check.
Creativity

Technical Focus

Academic/Research Writing Skills

Construction Savvy

Knowledge of Architectural Specialization applying for

Relevant Technologies/Software (AutoCAD, Studio Max, Adobe Illustrator, etc.)

Experiential Mindset

Critical Thinking

Leadership
Suggested: Know the SOP Requirements for Undergraduate Courses!
SOP Requirements of Top Universities for Architecture
Below are the SOP instructions for a few top universities for M Arch.
1. Massachusetts Institute of Technology
If you are applying for M Arch at the Massachusetts Institute of Technology, follow these guidelines. It is important to note that the SOP guidelines remain same for all the architecture Universities in US.
The SOP should be a page or two long.

It should be uploaded to the online application.

It can be either single or double spaced.

Discuss the relevance of your academic and professional background.

What are your reasons for applying for this particular architecture/design course?

Mention research topics or interests that you want to explore.

Discuss your future goals and how the program can cater to achieving them.
2. Delft University of Technology, Netherlands
Delft University of Technology requires a motivation letter as part of M Arch application. Let's go through the requirements specified for it.
The motivation letter should be 1000-1500 words.

It should be written in English, be clear, and relevant to the course.

It should state your reason or motivation for choosing M Arch.

Mention the specialization you want to pursue.

Discuss your research area of interest and try to restrict your answer to three topics.

In 250 words, talk about your previous work experience, internships, or projects.
3. University of California, Los Angeles (UCLA)
UCLA requires both Statement of Purpose and a Personal Statement for their application.
The SOP guidelines are as follows:
It should be within 1500 words.

Demonstrate your purpose for applying to M Arch.

Talk about your experience, the skills that you gained through these experiences and the outcomes like publications, awards, presentations, etc.

Why choose M Arch in UCLA?

Talk about your short-term and long-term goals.
The Personal Statement guidelines are as follows:
It should be within 500 words.

Elucidate on the points that you have not mentioned in your SOP, like the factors that played a role in your education journey.

Talk about the hardships you faced during your education, how you overcame those, and how you have been persistent about your goals.

Include your plans on matters other than academics. How can you contribute to the school beyond academics?
Now you can write an impressive and all-encompassing SOP for your architecture program.
We understand writing an architecture SOP can be daunting. But don't worry, Yocket is here to help you understand the nuances and draft a succinct SOP in terms of the format and guidelines. The architecture SOP writing style for most countries remains the same. However, in case of program-specific requirements, you can re-engineer the original draft to suit the asked for requirements.
Still, if you need guidance/expert advice, you can reach out to Yocket counselors for a free 15-minute consultation.