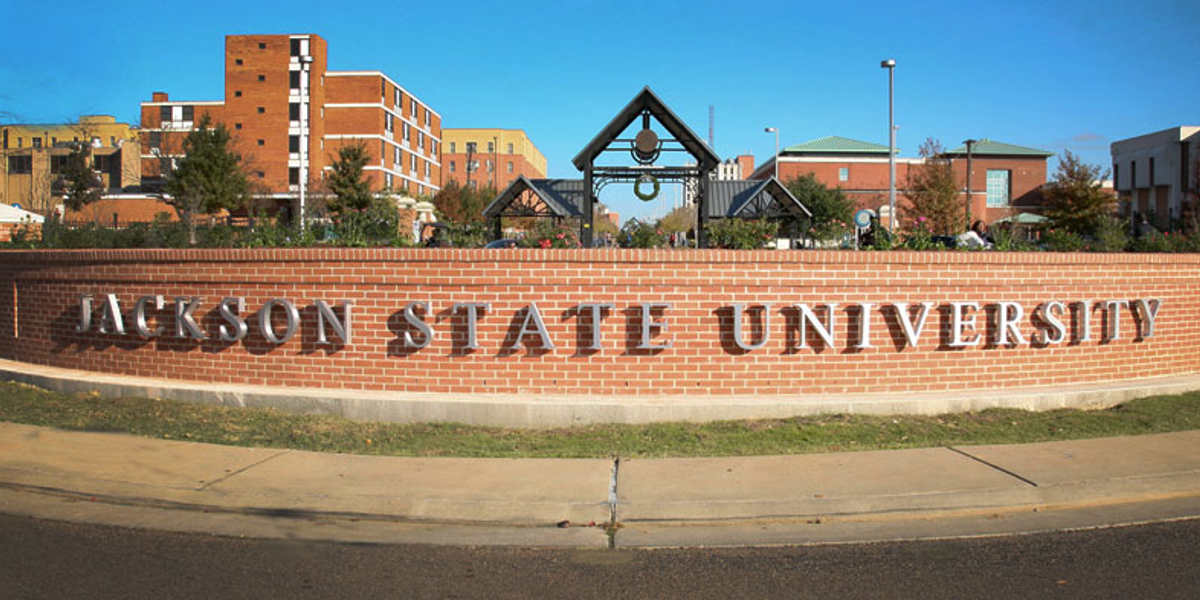 Jackson State University
Mississippi, United States
| Public
Public University
About
Jackson State University is one of the known diverse and advanced universities. With varied courses and upgraded technologically, the university is committed to preparing and nourish its students to become global leaders. The university is the fourth largest higher education institution in Mississippi. It provides a unique caring, nurturing the environment that allows students to grow themselves and also serve others. The University is based on high research activity by offering courses in sectors including healthcare, technology, economics and education.
The University was initially founded as Natchez Seminary in the year 1877 by the American Baptist Home Mission Society. A school named Natchez was set-up for improving religious beliefs in Christianity among Mississippi and other neighboring states. Later in November 1882, the school was shifted to Jackson and with the passage of time curriculum expanded and in the year 1899 the school changed to Jackson College. With this there was no looking back, the courses expanded and graduate, bachelor programs were included. By 1956, the small school was established as Jackson State College. In 1974, the college was officially designated as Urban University of State of Mississippi.
Currently, the Jackson State University have grown well through four campuses with bright students and dedicated faculty. The University works hard to provide higher and advanced education to its students by changing their minds for progressive lives.
Cost
$17,539
Average Living Expenses (Bachelors)
$17,539
Average Living Expenses (Masters)
Admissions
69%
Avg acceptance rate (Bachelors)
No courses found! Try other school
Campus
Location
The beautiful campus of Jackson State University is located in prominent street John R. Lynch, of Jackson in Mississippi, United States. It can be easily accessed by public or private transportation system. The university's JATRAN bus system is highly reliable and is a safe and comfortable mode of transport to and from the university. Apart from this, the university also offers a special shuttle service for driving students to and from the main campus, Jackson Medical Mall, Walmart, Tiger Plaza or Metrocenter.
Campus
The Jackson State University owns a beautiful campus imbedded with all kind of facilities for their students. The University is particular about providing technologically advanced facilities to their students.
The University owns well maintained and up-to-dated different departments including Mathematics, Weather Sciences, Culture and Arts, Basic Sciences, Healthcare and Technology. All the departments are well-flourished with high standard classrooms, laboratories, labs and proper sitting rooms for students.
Here you will find well-stocked library in each department to provide sufficient assistance to their students, with Franklin D. Schurz Library being the focal point for study and inquiry. There are various study and relaxation rooms spread over the campus. The Hammes Information Commons offers a computer lab as well as other equipment for students with disabilities.
Residing Options
Living in-campus is a great option for students. The University happily provides Housing and Residence Life Program that offers a variety of option to meet student's residential requirements. Here students can conveniently live close to their classes, the library, laundry facilities and enjoy various facilities. The University offers a helpful environment to their students. Living off-campus is also an option. University suggests a list of nearby localities where students can live and dwell comfortably.
Faculty
Jackson State University is a symbol of progress and motivation. The University holds brilliant professors and faculty members, who have specialized knowledge and significant experience in their particular. The faculty is trained to bring out innovation and fresh ideas from their students. The University is committed to improving the instruction and the outcomes by guiding their faculty members. They are able to accomplish healthy academics by creating innovative pedagogies and the hi-tech instructional methods. All the esteemed professors work well in collaboration with technologically advanced systems to shape the normal student into global leaders who will in their future lives solve societal issues and compete effectively for a better world.
Jobs and placements
Jackson State University extends proper guidance and support to their students to earn good employment options. For bright and brilliant students they also provide fellowship or part-time earning options so that they can learn and also gain experience at the same time. Many students have scored successful placements in following known International corporate houses including L3 Communications, Mississippi Power, Regions, Sanderson Farms, State Farm and many more.