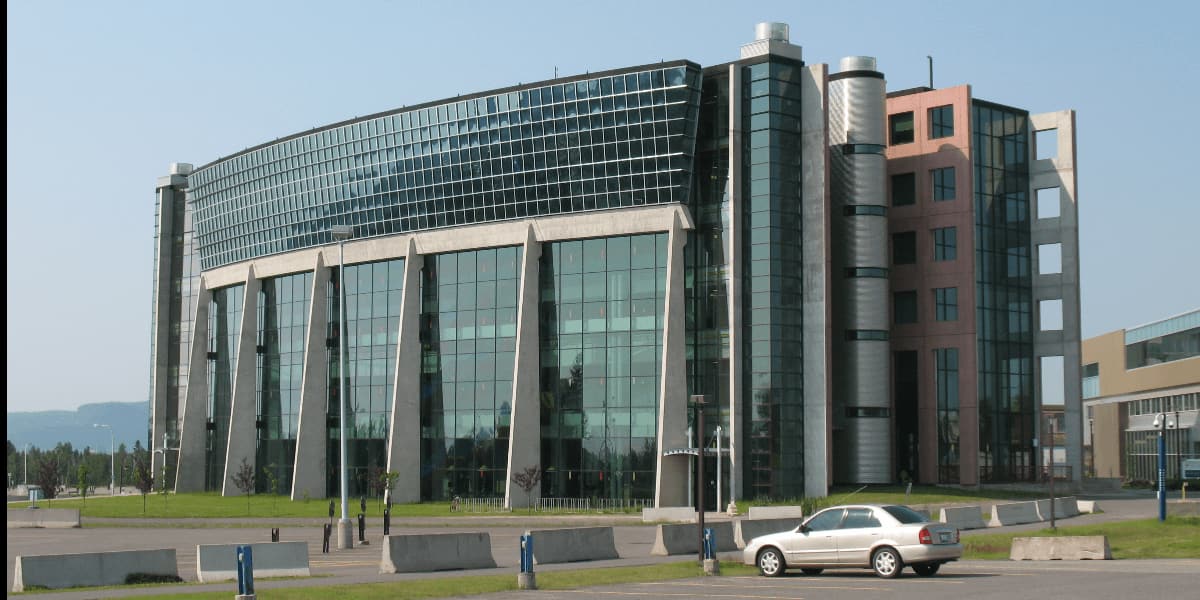 Lakehead University
Public University
About
Established in 1965 with a lineage from 1946 (then Lakehead Technical Institute), Lakehead University (popularly known as LU or Lakehead U) is a public research university in Ontario, Canada. There are two major campuses in Ontario: Thunder Bay and Orillia. The university has nine faculties that are divided into Business, Education, Engineering, Natural Resource Management, Health Sciences, Medicine, and Humanities. They have about 5500 alumni members around the world. It ranks #1119 according to U.S. News' 'Best Global Universities Ranking' list.
Cost
CA$14,500
Average Living Expenses (Bachelors)
CA$14,500
Average Living Expenses (Masters)
Rankings
#1254
#801
Admissions
CA$100 - CA$156
Application Fee
No courses found! Try other school
Campus
Location
Being at least a 13-hour drive from each other, the Lakehead campuses at Thunder Bay and Orillia are both situated in Ontario, one of the most populous provinces of Canada. The main campus is that of Thunder Bay. To the south of the city lies Mount McKay and a range of flat-topped Hills. There are impressive rock formations just 25 km away called the Sleeping Giants. The city has about 50,000 inhabitants of which major concentrations are of Ukrainians and Italians. There are now increasing numbers of Poles, Dutch, Chinese, and South Asians. ThunderBay has become the regional center for cultural life for the whole of Northwestern Ontario with its finest concert halls (Community Auditorium), Bay Symphony Orchestra, Magnus Theatre, Historical Museum etc.
Campus
Originally 79 acres, Lakehead University got an additional campus of 214 acres of an adjoining piece of land including 39 buildings and 40 hectares of landscaped and maintained grounds. Out of that, the Thunder Bay campus holds 119 acres. A significant part of the campus is Northern Ontario School of Management (NOSM) that is shared by Laurentian University. It also holds the residential halls. Students may feel that the Thunder Bay campus layout is in the middle of nowhere. Wi-Fi facility is limited and not pervasive to all the buildings on campus and there is not enough parking. The main library is The Chancellor Paterson Library, occupying a separate space in the center of the campus.
The two Orillia campuses were opened in 2010, holding a building to promote environmental leadership. The graduate and professional studies are taught at downtown Orillia. With that, it also holds a 271-bed student residence building, the Orillia campus library, and a cafeteria.
Residing Options
Divided into three living styles, LU provides residential halls, apartments, and townhouses. Main dorms are Bartley and Halliday Halls that are smoke-free, dormitory-style residence halls. These housing services also offer cafeteria/dining halls. The men's residence halls have grown into a student residential village comprising of 10 buildings. Living here is great, just the food is terrible. On-campus housing may cost under $10000 per year.
Faculty
Having around 2000 faculty members, the class sizes are very small and individual attention is given to students. Professors may know you by your name. But there is a good mix of really experienced faculty and a few very new ones. The study is not that difficult, without additional rigor. Some of the popular professors are Ayan Sadhu (Engineering), Adam Tuyl (Mathematics), Brian Maclvor (Business), etc.
Jobs and placements
Strong representations of natural resource extractions, processing and transportation are seen in the economy. Forest industry is the largest industrial employer. It also has a big Port Industry. Official figures say that 94.5% of LU students get jobs within two years of their graduation. Companies for which some of the alumni work are Vimeo, World Eye Organization, Southwest Ontario Tourist Corporation, Park West Gallery, Google, Spotify etc.
A student of masters of engineering may fetch about C$63,000 while someone with an advance diploma would fetch around C$48,000. Other Master of Science may even go around C$82,000. The average salary for graduates is $47,000. Students should check visa rules after graduation for international students before applying.