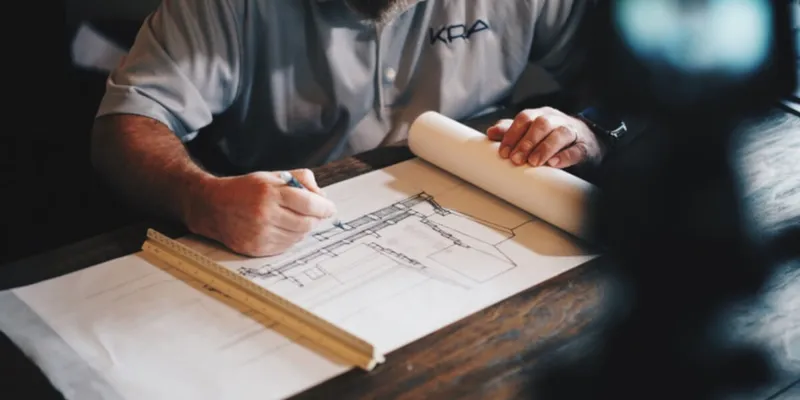 Bachelors in Architectural Engineering Abroad
Overview
Bachelor in Architectural Engineering is a professional discipline encompassing civil engineering and architecture. It is a multidisciplinary degree that deals with the technical aspects of designing, planning, construction, and operations of buildings. It is regarded as an art of engineering and science distinguished from architecture as an art of design with respect to the built environment.
Architectural engineers are tasked with the responsibility of the design of different systems within the buildings or an aspect of critical infrastructure along with a particular focus on a specific area. If you find yourself interested in the sphere of construction technology and architecture and looking to develop a career in an innovative field, Bachelors in Architectural Engineering is an apt choice for you.
Studying architectural engineering courses provides you with a multidisciplinary skill set to design building structures, bridges and critical infrastructure, incorporating both with a solid grounding to become a successful engineer. Aspiring individuals who want to create innovative design strategies and have a zeal for architectural, societal, economical and environmental aspects pursuing architectural engineering will provide a correct base in the future.

Why Study Bachelor Architectural Engineering Abroad?
The bachelors of architectural engineering abroad offer a program that is a combination of your studies and professional career. And most universities abroad offering architectural engineering give you practical-based learning to get insights about the subject. Besides, the job scope of fresh graduates in the architecture field is also great. Some of the reasons why to study architectural engineering bachelor's are:
Creative Course:

Architectural engineering is a great deal of creative field which requires a good vision and expression. Manifesting this vision and creativity in your professional work is very rewarding. Putting your creativity skills and knowledge on architecture is extremely fulfilling.
Career Opportunities:

The BEng architectural engineering jobs in countries like the US, UK or Australia are vast. As per US Bureau of Labour Statistics, the employment outlook of physicists and astronomers is expected to grow by 8 percent from 2020 to 2030. Similarly, as per JobBank Canada job openings of architects are expected to be 6,800 between 2019-2028.
Salary:

Although the salary of an architect-engineer varies in different countries. The minimum annual wage of an architecture engineer with bachelor degree can earn up to 79,840 USD. The lowest 10 percent earns less than 45,760 USD and the highest 10 percent of the total population may earn more than 102,330 USD. While in the UK, the average salary is 43,756 Euro and in Canada, a material science graduate earns up to 76,941 CAD annually.

Scholarships:

Universities abroad offer various types of scholarships, financial aid, grants, award, fellowships, etc for international students, which covers the tuition fees. These scholarships are either university-specific or external sources.
Suggested: Benefits of Studying Abroad
Course Structure
Architectural Engineering is a professional degree that develops your understanding of the principles of engineering, which you can apply to architectural engineering projects. Let us look at the course structure of a bachelors in architectural engineering abroad:
Duration:

Bachelor in Architectural Engineering from top abroad institutions is of 3 to 4 years duration, as duration, just like other undergraduate degrees. Some universities offer the program with co-op placement or industrial placement opportunities.
Course Subjects
The course curriculum covers a wide range of topics of structural engineering, architecture, and environmental and energy performance. Apart from this, the bachelor in architectural engineering Abroad includes core courses like:
Mathematical Modelling of Structures

Mechanical and Mathematical Principles of Fluid Mechanics

Engineering Materials for Construction

Mechanical and Electrical Systems

Control, Modelling and Simulation

Statistical Analysis of Engineering Data
Top Specializations
Bachelor in Architectural Engineering degree abroad offers a wide range of specializations. You can choose any of the specializations and pursue your architecture engineering degree. The list of some popular specializations for architectural engineering in foreign countries includes:
Architecture design

Architecture studies

Architecture and environment

Building and architectural engineering

CAD architectural

Architectural technology

Civil and architectural engineering
Suggested: Guide to Popular Courses for International Students Abroad
Core Skills
The entry requirements and documents are definitely the most important for getting admission into architectural engineering, but there are some other requirements that the university asks you to have. Let's have a look at them:


Good Designing Knowledge
Since bachelor of architectural engineering is a part of designing and creativity aspects of the world. It is crucial to have good design knowledge before the application. Starting your preparation early can give you more insights based on your interest in the course.


Knowledge of Building and Construction
As a student beginning your career in architectural engineering, you must train yourself in maths and physics by reviewing blueprints, design techniques as well as map reading. This will help you to understand the ethics of architecture of a building in the long run.


Pay Attention to Detail
Thoroughness in accomplishing a task without a thorough concern of all areas is a crucial element in architecture. The course involves quality assurance, efficiency and thoroughness. Architectural Engineering professionals are skillful in monitoring and checking information and plans and resources efficiently. So be upfront and show your skills with confidence to the admission committee.
Requirements
For admission to bachelor in architectural engineering in abroad institutions, you must carry a certain eligibility criterion that depends upon the university and the location you are getting. However, most of them follow common requirements, which include:
Higher Secondary
English Language Proficiency
Copy of Passport and Visa
Let us discuss each of them below:

Higher Secondary
A higher secondary certificate is a must for taking admission to a bachelor's program abroad. You must have to complete your 12th level of education in a relevant field from a recognized institution. A score in the region of 75% to 88% average performance in the best four subjects is competitive in most colleges.

English Language Proficiency
If you are from a non-native English-speaking country and wish to study bachelors in foreign institutions, you must submit the language proficiency test scores. These scores are mandatory for all international students who are looking to study abroad. Since the scores vary from university to university, the minimum scores of some majorly accepted tests are:

Copy of Passport and Visa
A copy of passport and visa is a must for every international who is seeking admission to bachelors in architectural engineering abroad. The student visa should be based on the country you choose for studying. And if you don't have one, make sure to apply at least three months before the date of your travel.
Suggested: Everything You Need to Know about International Student Visa

Documents Required to Apply for Bachelor Architectural Engineering Colleges Abroad
The eligibility criteria and the requirements is some conditions that you have to fulfill to be eligible for the course abroad. Apart from these, you have to submit some documents which are essential in the application. These may include:
Higher education certificate

Academic transcripts

Language entrance scorecards

Proof of financial resources

Passport & student visa

Admission Process for Bachelor Architectural Engineering Abroad
The engineering program is the most popular degree abroad. Every year countless students across the world apply to many universities to get into an engineering course abroad. The application of most of the abroad universities accepts in three or more intakes. To complete the admission process, you must have all the required documents. Here are some steps you can follow for the admission procedure:
Browse the selected university websites and check out the application timeline and availability of seats.

Gather the entry requirements and other essential information on their international admission website.

Fill up the application form and pay the fees.

Prepare all the required documents and submit their scanned copies in the application. Make sure you have translated documents.

After completing the application, wait for your admission decision or you can check it in the application status.

Once you receive the letter, accept it and pay the required depository fees to confirm your seat.
Suggested: Cost for Studying Under Graduation Abroad
Top Scholarships
Getting some scholarships is one of the best ways for you to manage your expenses and education abroad. There are various types of scholarships for international students which offer good benefits to support their living and the costs in abroad institutions. Let's have a look at some of the scholarships you can consider to pursue bachelor's in architectural engineering abroad:

School of Architecture Scholarships


Undergraduate and graduate students enrolled in the School of the architecture of Texas A & M University who meet the academic standards based on the criteria of the scholarship.

Amount/ Benefits:

1,000 USD to 2,000 USD per year

ASHRAE Undergraduate Engineering Scholarships


Students of BS or BEng degrees in US institutions are eligible for the scholarship. They must have a cumulative college Grade Point Average (GPA) of at least 3.0 on a scale of 4.0.

Amount/ Benefits:

3,000 USD to 10,000 USD per year

Inlaks Scholarship


The United Kingdom offers these scholarships to their meritorious international students who are studying at any university in a number of disciplines.

Amount/ Benefits:

Upto 70,000 Euro

Arkwright Engineering Scholarship


UK offers this scholarship to their brightest and best students that have the passion and determination to succeed in their future studies and career.

Amount/ Benefits:

Varies

University of Toronto Engineering Admission Scholarship


Undergraduate students taking admission to University of Toronto in any engineering degree are considered. Scholarships are awarded on the basis of their academic achievement and academic excellence demonstrates in the application.

Amount/ Benefits:

Varies

Sir John Monash Fee Scholarship


Undergraduate students who are currently in Year 12 (or equivalent), or completed their Year 12 (or equivalent) in previous year and have not undertaken any other tertiary study. Must have achieved a minimum equivalent ATAR of 97.5 scores.

Amount/ Benefits:

40,000 AUD
Suggested: Know About Top Scholarships to Study Abroad

Cost of Studying at Bachelor Architectural Engineering Abroad
Calculating the costs of studying before application gives you a fair idea of how much an international student has to spend on their education abroad. Although, the costs depend on different factors. But the majority of it goes to your tuition fees and the cost of living. Let's discuss about them:

Tuition Fees
There are number of universities across the world for bachelors in architectural engineering abroad. Each of the universities has its own cost structure, and the location is also a key element in the costs. Like if you study at top US or UK universities, their tuition fees should range between 23,000 USD to 57,000 USD annually. Similarly, in other countries like Germany the fees is much less which is around 4,000 to 8,000 Euro per semester.

Cost of Living
Apart from the tuition fees of architectural engineering bachelor's in institutions abroad, you also have to spend on your living. On average, you have to spend around 10,000 USD to 30,000 USD per year on your cost of living. These include accommodation, food & materials, stationery, transportation etc.
Suggested: Know About Entrance Exam for Abroad Studies
Work Opportunities
There are a number of exciting opportunities awaiting you when you graduate from a specialist building design consultancies to some multidisciplinary firms, to some of the largest construction organizations across the world. Architectural engineering graduates are in great demand and a majority of the graduates every year secures professional or managerial positions and take their first step in this field.
Some of the job profiles after bachelor in architectural engineering graduates are:
| | |
| --- | --- |
| Job Profile | Average Salary |
| Architecture Engineer | 53,756 USD |
| Design Engineer | 54,436 USD |
| Structural Design Engineer | 57,101 USD |
| Continuous Improvement Engineer | 57,140 USD |
| Mechanical Building Services Engineer | 52,001 USD |
| Civil Engineer | 54,160 USD |
Suggested: How to Work While Studying Abroad?
To study bachelors in architectural engineering abroad, you need to list down some of the top universities mentioned above. Overall your career after completion remains open once the course is completed. Some of the universities also offer four-year co-op and work placement to improve your employability and assist you in standing in this competitive graduate jobs market. To get more information about this university or need any assistance in their application process, do connect with our Yocket Professionals now.
FAQs
Ques. What is the difference between a Bachelor in architecture and Architectural Engineering?
Ans. The bachelors in architecture specialize in aesthetics, functional and spatial design whereas an architectural engineering program focuses on the engineering principles and technology to construct the necessary systems within a building.
Ques. Is a degree in architecture worth it?
Ans. Yes. It is a creative, diverse and ever-changing subject and profession that provides a huge array of opportunities and avenues to explore. Currently, it has an absolute pleasure to pursue this subject and work within this as a qualified professional.
Ques. Is architectural engineering in Canada cheap?
Ans. This completely depends on the type of university you are studying. On average, the tuition fees is around 37,000 AUD per year.
Ques. Is TOEFL necessary for bachelors abroad?
Ans. Yes it is essential to submit TOEFL test scores to study a bachelor degree abroad. However, you can also submit other English test scores like IELTS, Duolingo, or PTE for admission.
Ques. What are the specializations of architectural engineering?
Ans. Some of the specializations of a bachelor of architectural engineering abroad are
Commercial

Landscaping

Interior Architecture

Urban Design

Green Building Design

Industrial Architecture