The DS-160 form is the visa application form for a U.S. non-immigrant visa, like the F-1 visa most students apply for. This is a very important form as this is all the information that you are providing to the embassy about yourself. Be accurate and true in providing this information as if you make any mistakes, you will not be able to rectify the form. You will have to start filling a new form from scratch.
When you start filling the student visa form, an application number is generated for you. You should make note of this application number as it will be used to link your profile with your visa interview timings. You will also be able to manage your application using this number.
Tip: Keep saving your application every few sections so that your progress is saved even if the connection times out!
To get further assistance from our experts and overwatch on your DS-160 form, we encourage you to look into our Yocket Premium service for a smooth visa process.
Here is a walkthrough of the entire process of filling the DS-160 form.
Step 1:
Once you're on sign in page, enter your preferred consulate and the CAPTCHA code. Select 'Start an application' to start your new application, or select 'retrieve an application' if you already have your application number.
Step 2:
The security question is the same for everyone, i.e. the name of your mother's mother.
Step 3:
The next two pages require you to enter your personal information. This includes your full name, name in native alphabet, information of any previous name you might have had. Check 'No' where they ask you if a Telecode represents your name. On page 2, you will be asked about your nationality, and whether or not you hold nationality of another country. Do fill the necessary details according your profile.
Step 4:
The next two sections are about your address, phone numbers, travel information, passport information, etc.
Some important points to note are:
The type of passport is REGULAR, unless you come into any of the other categories

The type of visa is generally student F-1 STUDENT VISA
If you have booked your flight tickets, then you can mention so in the form. If not, you need to enter the intended date of entry to the U.S.. This could be 5-7 days before the your orientation.

The address where you will stay is the University's address mentioned on the I20.

If you're paying for the trip then mention SELF, else mention your sponsors name, contact details and relation to you.
Your U.S. Point of Contact is mentioned on your I20. They are a school official, generally from the office of international admissions or such. Their address is the college address mentioned on your I20 and their email address and phone number can be found on the website.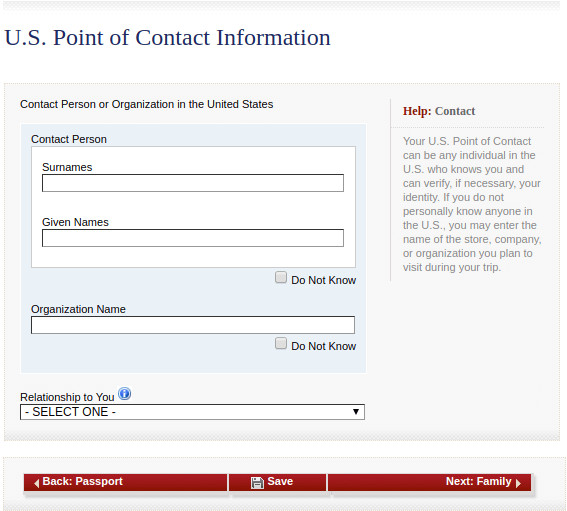 Step 5:
The next section just asks for basic family information.
Step 6:
In the next section, you need to mention your post secondary education (undergraduate degree, graduate degree, etc.) You also need to mention your current and previous employment details. For people who are not employed as well as not studying can select 'NOT EMPLOYED' in the Primary Occupation section.
You will also be asked questions about languages you can speak, places you have travelled to (abroad) in the past 5 years.
This is followed by a few questions about you, such as whether you have any special skills in the field of explosives, if you've ever served in the military, if you've been a part of a rebel group, etc. The answer to all these questions should be NO, unless it's valid for you and you have a valid explanation for it.
Step 7:
The next section contains security questions. These are to ensure that you are not going to cause any trouble in terms of violence, communicable diseases, etc. while in the U.S. It is a 5 part section.
They ask you questions like whether you have any communicable diseases, any disorders, drug addiction, whether your or any member of your family have been involved in criminal activities, etc.
They also ask you whether you have ever tried to gain immigrant status in the U.S. by unlawful means. The answer to all these questions should be NO, otherwise you raise red flags with the visa officer!
Step 8:
The next section is specific to the F-1 visa. It contains fields to enter your SEVIS ID, school name and address, course information, duration, etc. This is specific to student visas.
Step 9:
After filling the complete DS-160 form, review you application carefully. You don't have to upload any photograph as the photograph will be taken at the ASC (Application Service center).
Submit your form. Make sure that you check your information thoroughly as you cannot make changes once you submit. Once submitted, you will receivet the confirmation. After which you can proceed to book the VISA interview dates on embassy or consulate website.
To understand all the steps involved in DS-160 form filling process visually, please go through the images in this pdf.