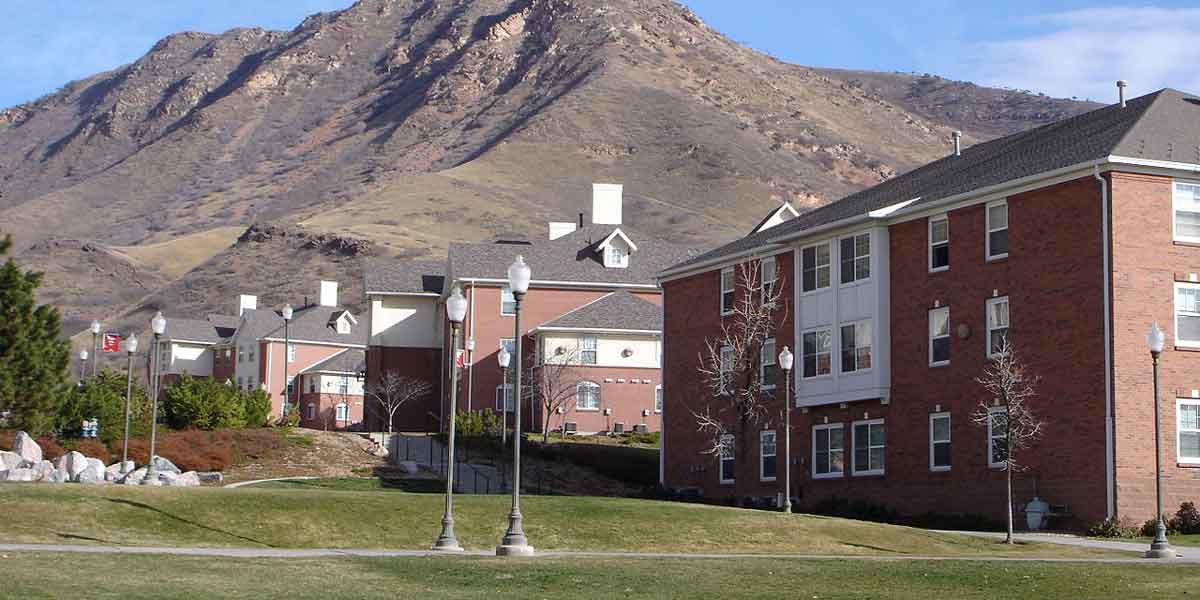 University of Utah
Utah, United States
| Public
Public University
About
University of Utah (U of U) is a Public University founded in the year 1850. The U of U has renowned courses on Business, Economics, Computer Science, Clinical, Pre-Clinical & Health. The U of U has made its mark not only in Utah and the USA but also worldwide. It's situated in Salt Lake City, Utah where the 2002 Winter Olympics took place!
Cost
$13,270
Average Living Expenses (Bachelors)
$13,270
Average Living Expenses (Masters)
Rankings
#151
#358
#251
Admissions
67%
Avg acceptance rate (Bachelors)
$5 - $656
Application Fee
No courses found! Try other school
Campus
Location
The campus is huge with over 1500 acres of land in the capital of Utah, Salt Lake City. Salt Lake City is famous for many activities starting from Steel Refining, Mining to oil and gas-related schemes. Salt Lake City has a fair amount of Industrialization and yet away from all the buzz which makes it a calm and composed place to study in. But, it also has an amazing and vibrant urban atmosphere so that you don't miss out on anything!
Campus
The U of U has a charming campus covering 1500 acres of land in Utah. There are two huge libraries namely the J. Willard Marriott and S. J. Quinney library which can help you with any information/knowledge that's required. There are many buildings named after the past Presidents of the University. This place is called the Presidents Circle. A. Ray Olpin University Union's primary student activity center also known as the Community Center of Campus is situated on the Campus. The business Program is taken by the David Eccles School of Business that's also on the scenic beauty of the campus. The Health, Physical Education, Recreation Complex (HPER), and the Nielsen Fieldhouse are a part of the campus fitness centers.
Residing Options
There are 32 buildings or dorms for students who opt for on-campus housing. There are many off-campus living options available as well. These off-campus housings are also in close proximity to the University. Many students prefer staying off-camp because of cheaper pricing options. A single room would cost about $650 as monthly rent approximately.
Faculty
"The University of Utah is home to some of the world's greatest thinkers and academic minds", said the University of Utah, and they truly abide by it. The prospective students across all disciplines have many great things to talk about their Professors! Most important the faculty members are very modest and help a lot even with the easiest doubt. Similarly, many positive reviews on the course curriculum and program flexibility have also been received from the students.
Jobs and placements
Salt Lake City, the location of the university is an industrial city with a number of Fortune ranked organizations like Huntsman Corporation, Sinclair Oil Corporation, eBay, Adobe, and many more! Keeping all these in mind and the fact that there are a number of career fairs in Utah too! The University of Utah also has Business Career Services, Career Coaching, Internship Board, etc!
Events
Master's at University of Utah (David Eccles School of Business)
Webinar Binge - 49: University of Utah- David Eccles School of Business
University of Utah: Study MS in Finance (STEM)
Career Path & Jobs in MS-Finance at University of Utah