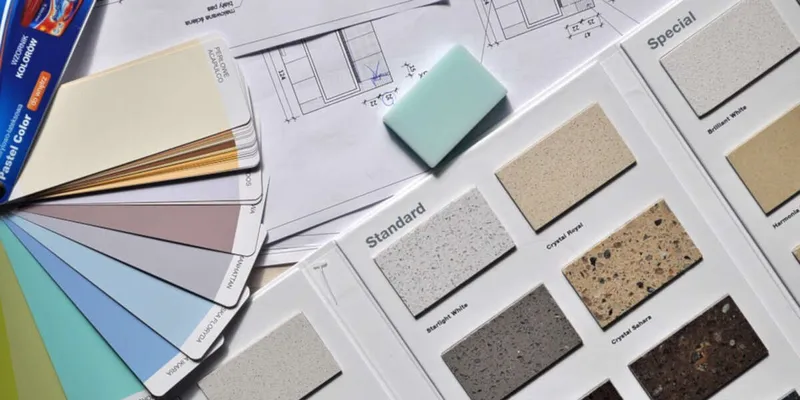 Bachelors in Interior Design Abroad
Overview
Anywhere in the world, you can pursue an interior design degree. It may have a specialization or area of expertise in sectors like residential and commercial, as well as potential inclusions of design and architecture. You can gain the theoretical and practical knowledge necessary to work as an interior designer for a corporation or to launch your own business by completing bachelors in interior design overseas. Creating a portfolio of work while you're in school to demonstrate your learning and how you can assist clients and potential employers is critical. Studying interior design abroad will expose you to new methods and fashions and those derived from the host country's culture.
A created interior environment is achieved via the use of creative and technical solutions inside a structure by an interior designer. These solutions improve the tenants' quality of life and culture while being aesthetically pleasing and useful. Designs are developed in reaction to and coordination with the building structure, considering the project's geographic location and social context. An interior design bachelor degree must know building codes, inspection requirements, and universal accessibility guidelines.

Why Study BSc in Interior Design Abroad?
Your decision to enrol in an interior design degree will present you with a wealth of professional options. Following are the advantages of learning Interior Design in a different nation and culture.:
Innovation, Inventiveness, and Creativity

:

You should choose interior design as a career option if you think you have a creative, futuristic, inventive, and artistic perspective on the world around you. By studying interior design, you can develop your creative abilities professionally. Selecting an interior design program and entering the sector will give you many opportunities to express your creativity, make the most of your imagination, and regularly offer novel design concepts. As you develop your imagination, creativity, and innovation, more projects will come your way.

Exciting and Challenging Projects

:

Every job you undertake will be interesting and difficult as an interior designer. Your technical proficiency, innovation, patience, devotion, and client relationship will all be tested. Getting clients' goals accomplished on schedule, within budget, and to their standards is one of the biggest problems for interior designers. You will have an excellent opportunity to connect with society due to overcoming this hurdle. So choosing an interior design course is more than just choosing a career.

Possibilities for Starting a Business

:

As we have discussed, rural and urban areas are experiencing fast growth in the building business. Interior designers have tons of business potential because of this limitless potential for expansion. After completing your interior design course, you can see a successful future as a self-employed businessperson. You could benefit from the independence of being your boss if you decide to go out on your own, work as a freelance interior designer, and start your own business. Consequently, picking an interior design course is a wise professional choice.
Suggested: Benefits of Studying Abroad
Course Structure
An understanding of design principles, design aspects, and colour psychology is provided through a B.Sc. in interior design. The program is delivered through a combination of lectures in the classroom, studio practice, design contests, exhibitions, creative workshops, project reports, market surveys, and internships to give students real-world experience in the design industry. let's discover bachelor of interior design course details:
Duration- Like other undergraduate degree programs, the bachelor of interior design course duration is 3 years.
Course Subjects
The B.Sc. in interior design curriculum includes courses on themes including accurate comprehension of 3D and 2D composition, abilities for making accurate size judgments, the newest ideas and innovations, and in-depth material knowledge. Interior design's major focus is on drawing technical figures. Below is the BSc Interior Design subjects list-
Architecture History

Designing Interior Lighting

Use of Color

Drawing and Perspective

Computer-Aided Drafting
Top Specializations
BSc Interior Design colleges abroad offer various specializations. The list of popular specializations under the BSc Interior Design course:
Commercial design.

Healthcare facilities design.

A sense of place/sense of self.

Sustainable design.

Creativity.

Cultural/global design.

Universal design.
Suggested: Guide to Popular Courses for International Students Abroad
Core Skills
Aspiring interior designers must be imaginative, have a sense of design, and be able to visualize their work. The best course to take for this is the BSc in Interior Design. Today's interior designer is a professional, not just a simple decorator. As a result, an interior designer is gifted and skilled in many different areas. A student's abilities to become a potential interior designer are listed below:

Creativity Skills
A student majoring in interior design must be creative and develop original designs and styles that fit the client's preferences and personality.

Communication Skills
Since they will need to communicate with clients, project managers, contractors, supervisors, vendors, and labourers at various stages, from planning to executing a site, a BSc interior design student must have strong communication skills. Additionally, listening abilities are crucial for comprehending a client's needs, both visually and functionally.

Visualization Skills
A student majoring in interior design should be able to try to create an environment that fits the user's lifestyle. A learner should be able to envision or visualize the result of their work before it manifests in reality.

Basic Drawing Skills
Excellent fundamental hand-drawing abilities are necessary for BSc interior design students since they will be helpful while sketching and designing. One of the key abilities a student has to develop is the ability to sketch out designs since they will use it to construct, assess, and convey interior floor plans, surface materials, perspective drawings, etc.

Aesthetic Sense
A BSc interior design student has to have an excellent aesthetic sense, which may be developed by reading periodicals and visiting numerous relevant websites. A student studying interior design with a BSc can also visit several websites created by renowned architects and study their designs.
Requirements
Who doesn't enjoy being surrounded by lovely areas? An interior designer's duties include decorating, organizing, and arranging goods presented to maximize space. Since many people with sophisticated preferences and extra cash wish to beautify their homes and offices, bachelor's degree holders in interior design are in high demand. Students in undergraduate and graduate programs must submit a copy of their academic records along with any exam scores.
You'll almost certainly need to submit an essay to complete your application. Mentioned below is an overview of BSc Interior Design eligibility abroad:
High School Certificate

Language Proficiency Score Requirements

Passport and Visa
Let's get into the details of each requirement below:

High School Passing Certificate
Students must submit their 10+2 passing certificate, having subjects including History, Political Interior Design, Basic knowledge of Mathematics and Interior Design, Economics, Sociology, Classics, and Humanities, Biology, Chemistry, Economics, English, French, Geography (Fredericton campus only), German (Fredericton campus only), History, Math and Physics (minimum score of 6 is required in Physics on the Fredericton campus). The average passing score should be 70%. English Language and Literature, etc.

Language Proficiency Score Requirements
Since many Interior Design degrees are taught in English, international students must also demonstrate their English language skills. Different universities have different score requirements. The average BSc Interior Design eligibility score requirements are:

Passport and Visa
You need to have a valid passport and student visa to apply for bachelors in interior design degree as an international student abroad. A college acceptance letter is necessary for the application. So, make sure you can apply for it at least three months before departure.
Suggested: Know about International Student Visa

Documents Required to Apply for BSc Interior Design Abroad
Admission to BSc Interior Design programs abroad requires certain documents. Since different universities from different countries may ask for some additional ones, here is the list of some of the most common documents below:
Higher education certificate

Academic transcripts

Language entrance scorecards

Proof of financial resources

Student Visa

Photo Identity

Admission Process for BSc in Interior Design Abroad
Here is your step-by-step guide for the common admission process to get admission at one of the best bachelor in interior design colleges:
Search for the best universities offering bachelor's degrees in Interior Design.

Check out the university's official website page to get all the required information for admission purposes.

Upload all scanned documents such as transcripts, high school certificates, test scores, etc.

Fill out the application form and pay the application fees.

Attend the interview as a part of the admission process from the university.

Once you get the admission letter upon clearing the interview process, you can proceed with the study visa

Lastly, pay your tuition fees after reading all the terms and conditions of the university carefully.
Suggested: Entrance Exam for Abroad Studies
Top Scholarships
Scholarships are one of the most effective means of funding your education abroad. As an international student, you can apply for scholarships that offer decent benefits to assist them with your studies and expenses. Here are some of the most popular Bachelors in Interior Design scholarships abroad:

British Chevening Scholarships 2023


Chevening Scholarships, offered by the UK government, is supported by partner organizations and the Foreign and Commonwealth Office (FCO). The program awards master's degrees in any field from any UK university to outstanding scholars with leadership potential worldwide.

Amount:

full tuition fee support, monthly allowance, etc.

New Zealand Aid Programme Scholarships 2023 for international students


New Zealand Aid Programme 2023 Scholarships are available to students from all Commonwealth nations and overseas. The scholarship aids students in enrolling in undergraduate, Ph.D., bachelor's, master's, and postgraduate level programs in a wide variety of subjects at the University of Auckland, Auckland University of Technology, Lincoln University New Zealand, Massey University, University of Otago, University of Waikato, and Victoria University of Wellington, depending on their nationality.

Amount:

20,000 USD (

15,98,298

INR)

Global Korea Scholarship


You will facilitate international educational exchanges and goodwill between nations by allowing international students to get higher studies in undergraduate and graduate programs at higher educational institutions in the Republic of Korea.

Amount:

10,000 USD (198,583 INR).

ANU Chancellor's International Scholarship


Students from all around the world have the chance to apply for one of the numerous undergraduate and graduate scholarships that are offered through the ANU Chancellor's International Scholarship. The scholarship aims to draw a variety of exceptional overseas students to begin their studies at ANU. Academic merit is considered when making a decision. A candidate's position on the merit list will be determined by converting the qualifications submitted for admission to the university to the common scale. The qualification that served as the foundation for admission will be utilized to rank eligible applicants who possess multiple qualifications.

Amount:

Instead of the regular deposit amount shown on the admissions offer letter, recipients only need to submit a reduced tuition deposit of AUD 10,000. The scholarship will provide a 25% or 50% tuition fee discount, as mentioned above.
Suggested: Top Scholarships to Study Abroad

Cost of Studying Bachelors in Interior Design Abroad
Prior to finalizing your dream of studying abroad, it is imperative that you gather all the information you need regarding Bachelor of Interior Design fees. In general, the overall cost of studying at the best universities for BSc Interior Design abroad can be divided into two categories: tuition fees and cost of living:

Tuition Fees
In general, the tuition fees for Bachelors in Interior Design abroad will range between 20,585 USD to 62,922 USD (16,44,646.81 INR to 5,000,000 INR) based on the institution. Depending on the country and region, the bachelor of interior design fees varies greatly between universities and colleges. Therefore, the tuition fee for a Bachelors in Interior Design in an abroad university depends on the country in which you enrol.

Cost Of Living
Having an understanding of the average living costs abroad is an essential part of your financial planning. The cost of living abroad ranges between 20,000 USD to 27,000 USD (1,588,570 INR to 2,144,610 INR) per year (BScsed on living arrangements and individual choices). Thus, in order to survive as an international student, you must manage your expenses effectively.
Suggested: Cost for Studying Under Graduation Abroad
Work Opportunities
After completion of your course, you will be able to obtain employment in a variety of private and public sectors or can launch your firm and work for yourself. After completing a B.Sc. in interior design, there are several employment opportunities with competitive pay packages. Jobs in the field of interior design require a bachelor's degree. Here are some of the popular jobs after BSc Interior Design:
| | |
| --- | --- |
| Job Positions | Average Annual Salary |
| Art Directors | 54,760 USD |
| Craft and Fine Artists | 93,750 USD |
| Furniture Designers | 86,550 USD |
| Floral Designers | 112,690 USD |
| Exhibition Designers | 73,203 USD |
| Industrial Designers | 82,510 USD |
| Landscape Architects | 86,759 USD |
Suggested: How to Work While Studying Abroad?
As interior design is a fascinating career option, selecting an interior design course could change your life. You won't get bored working in this innovative and demanding field. People are considering how to build a space with limited resources because there is a global increase in population and a shortage of available space. You can assist these people by taking a course in interior design. Therefore, individuals who wish to take their studies seriously and position themselves for future professional success might consider earning an Interior Design degree overseas. To know more about your desired destination and target universities, connect with professional consultants at Yocket today!
FAQs
Ques. Which university has the best BSc in Interior Design program?
Ans. Here are the best colleges offering BSc in Interior Design: Harvard University, University of California--San Francisco, Massachusetts Institute of Technology, Stanford University, University College London, Johns Hopkins University, Columbia University, etc.
Ques. What is the scope of interior design undergraduate?
Ans. The most valuable "transferable work skill" is Interior Design. Interior Design is an excellent option for post-graduate study and a professionally rewarding career. According to Learn, the U.S. Bureau of Labor Statistics predicted a significant increase in demand for jobs in the Interior Design field. Jobs in Interior Design are expected to expand by 13% in 2023.
Ques. What is the duration of an interior design undergraduate?
Ans. Generally, the BSc Interior Design duration abroad depends on the location and universities you choose to study. The average duration of BSc Interior Design is 3 years.
Ques. Is it Worth pursuing interior design education?
Ans. A career in interior design can be quite lucrative. The average annual salary for interior designers is 86,430 USD (68,75,489.21), or 25.39 USD (2,019.77) per hour. You can charge whatever you want for your job as an interior designer. You might not make as much money as you would like when you first start your job.
Ques. Which nation offers the best pay for interior designers?
Ans. The United States of America is among the nations with the most promising job prospects in interior design.