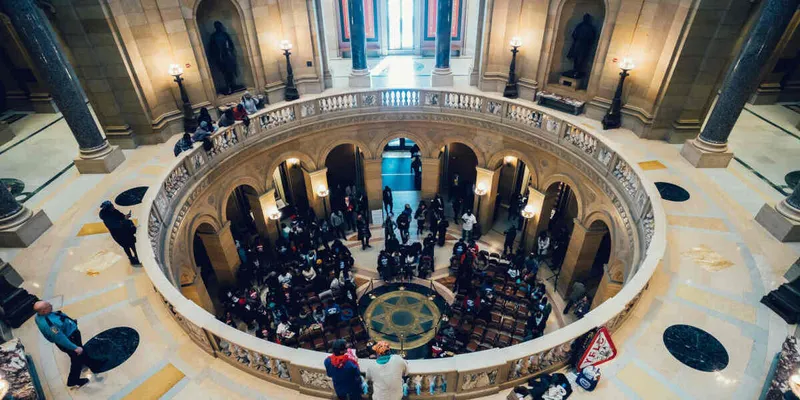 Bachelors in Political Science Abroad
Overview
Politics is an unavoidable subject that affects our lives directly or indirectly. Bachelor's in Political Science is one of the highly crucial fields of study in modern times that emphasizes not only on government or political parties but every citizen and each man also. The Bachelor in Political Science students get an understanding of the theories, policies, practices, and functioning of various governments of the countries and the political system at regional, state, national, and international levels. Political Science is important for the citizens as it makes them aware of their fundamental and constitutional rights.
Bachelor in Political Science is a highly popular subject among international students as it allows them to improve their knowledge in the area and improve their potential to improve their careers. It facilitates the understanding of the election process, decision-making, and critical thinking processes.

Why Study BA in Political Science Abroad?
Colleges for BA political science allow the students to gain insights into the thought processes and the working atmosphere, privileges, and restrictions of a government in areas of related fields.
Bachelor in Political Science is an amazing programme to develop essential skills like critical thinking, decision making, research, analytical abilities, etc. It offers hands-on experience in areas of Political Science and its branches and sub-branches. It is a powerful programme with infinite benefits, some of which are:
Awareness of Politics Around the World:

Comparative Politics is a crucial aspect of Political Science and gives information about the various country functions, and a study of the political systems around the world. It allows the students to understand similarities and differences among the powers concerning the military system, economic strength, election process, rights, etc.

International Perspective:

International universities promote political science research in global political communities and complex processes like globalisation. The interdisciplinary diversities expand the mental capacities of the students.

Understanding Human Culture:

Bachelor in Political Science permits the capacity to explore the human culture, global diversities, and communities and gain openness towards the viewpoints of other peoples, and cultures, develop unique ideals, practices, and attitudes.
Political science addresses the fundamental concerns of human society and prepares students to develop enriching careers for themselves through the use of broad theoretical issues discussed during the programme.
Course Structure
Bachelor in Political Science is an innovative course that can be learned as a bachelor's, master's, or a liberal arts model, permitting the freedom to learn BSc political science subjects as a major or minor with other subjects.
Duration- Bachelor in Political Science is a three-year programme in the majority of the countries around the world. However, a Bachelor in Political Science may extend to four years in some countries.
Course Subjects
BA Political Science course structure depends on the type of country and the university chosen for admission. Some of the popular BA Pol Science subjects are:
Introduction To Comparative Politics

International relations

Political Science As A Social Science

Social justice

Dynamic Society And Global Flashpoint

Diplomatic History

The Concept Of Political Power

Modern Political Campaigns

Political economy

Communications In International Relations

Public administration and policy

Philosophy Of Feminism

World Politics

Introduction To Labor Studies

Political theory
Top Specializations
The students can apply for a wide variety of specialisations in their careers. Some of the popular specializations under the bachelor of arts political science syllabus:
Political Theory and Political Philosophy

Urban Politics

National and International Security

Political Systems

Political Behavior and Identities

Human Rights

Political Economy

Political Psychology

Political Institutions

Political Methodology

Security, Peace, and Conflict
Core Skills
To understand bachelor of arts political science syllabus, the students must showcase their proficiency and skills in the respective fields of Political Science. It allows them to set themselves apart from the crowd for admission:

Communication Skills
Bachelors in Political Science abroad students require the ability to gather information and communicate their ideas, notions, information, and statistics effectively in verbal, visual, and presentational aspects. The majority of the BA Political Science students pursue Law that requires effective communication skills.

Research and Quantitative Skills
BA in Political Science abroad expect students to be proficient and skilful in acquiring relevant and necessary data and use previous concepts, knowledge, technical attributes, and insights for reasoning comparing and analysing the information to maintain highly valued logical solutions.

Presentation Skills
Bachelor in Political Science students appearing for international universities must acquire substantial presentation skills. It facilitates high-quality written and oral presentation of data after critical thinking, analysis, gathering data from multiple prominent sources and organising it for future uses.
Requirements
Bachelor in Political Science international programme is taught by some of the prestigious universities of the world. Studying BA in Political Science helps the students to understand the structure, ideas, and political positions that shape international or global politics. It is a perfect programme for international students with a drive and inquisitive mental capacities to understand government functioning.
Following are the important requirements and the minimum eligibility criteria for the students to apply to foreign universities.
High School Transcripts

English Language Proficiency Test Scores

Entrance Exam Proficiency Scores
Here are the necessary details for the following:


The students must submit official transcripts from an approved institution at higher secondary or equivalent levels. The students must make sure to submit the transcripts officially translated by the National Association of Credential Evaluation Services.


English Language Proficiency Test Scores
Submitting English language proficiency test scores improve the chances of enrolment at their desired international university. Following are the required English language test scores required by the students:
Entrance Exam Proficiency Scores
Entrance exam test scores play a crucial role in ensuring that students find their desired institution. A high entrance exam score improves the probability of admission. Some of the following entrance exam scores necessary for the students include:
You need to have a valid passport and student visa to apply for bachelors in politcal science degree as an international student abroad. A college acceptance letter is necessary for the application. So, make sure you can apply for it at least three months before departure.
Read: Everything You Need to Know about International Student Visa

Documents Required to Apply for BA Political Science Abroad
Studying abroad in some of the finest and most prestigious universities around the world requires the students to maintain a vast number of documents to meet the minimum eligibility requirements of the university. International universities have different eligibility criteria depending on the country and the program chosen by the candidate. Some of the commonly asked and accepted documents are:
Completed application form

Proof of application fee (If applicable)

Entrance exam requirements

Letter of recommendation

(LOR)

Official academic transcripts translated into English

A valid passport and VISA

Evidence of English language proficiency test scores

Admission Process for BA in Political Science Abroad
This is the step-by-step guide for international students to get admission to a BA in Political Science:
Make the list of the universities offering the desirable programme for which the students qualify the minimum eligibility criteria.

Check the course structure and the session starting date of the program.

Fill in personal details like name, course name, age, date of birth, permanent residence, official transcripts, entrance exam, scores, and the English language proficiency test scores.

Upload all the necessary documents like a Letter of recommendation, Motivation letter, passport details, visa, etc.

Pay the application fee to complete the application.

The selected students are granted an Offer letter. Check the tuition fee structure and the rules and regulations of the institution before applying.
Top Scholarships
Scholarships are special monetary aids and grants offered to students to ensure that the students can continue their education effectively. It expands the existing choices for universities and facilitates a healthy space to overcome financial instabilities and issues in families. The universities host a wide opportunity for the students to avail their internal and external scholarships and grants annually. Some of the major scholarships available for a BA in Political Science abroad include:

Radboud University Orange Tulip Scholarship Program


The Radboud Orange Tulip Scholarships is a dedicated program for students with academic excellence from Mexico, Brazil, China, India, Russia, Indonesia, Korea, and Vietnam. The Radboud university provides 40 scholarships worldwide and offers tuition waiver, reduction in visa, permit costs, health insurance coverage, and transportation costs. The students with a bachelor's degree in any programme outside of the Netherlands and with no former education in the Netherlands are eligible for the scholarship.

Amount:

2,107 USD (1,70,000 INR)

Missouri State University Political Science Scholarships


The Political science department of Missouri State University offers scholarships to international students to continue their higher education at the university. The eligible candidates must complete the MU Annual Scholarship program to be eligible for the MSU Political Science scholarship. It is ideal for students across the world to meet their financial requirements.

Amount:

1,500 USD (1,20,000 INR)

Rutgers University Political Science Department Fulbright Foreign Student Program


The Rutgers Fulbright Foreign Student Program is a scholarship that allows young professionals, artists, and graduates to study abroad and participate in research in the United States actively. The Fulbright Foreign Student Program is working in 155 nations and aims to cover the stipulated living expenses like meals, transportation, and the full tuition fee for the students.

Amount:

1,000 USD to 2,500 USD (80,000 INR to 2,00,000 INR) per year
Read: Top Scholarships to Study Abroad

Cost of Studying Bachelors in Political Science Abroad
There are times when the cost of living at international destinations surpasses the tuition fee of the programme. The students must be thorough with the estimated costs and expenses of accommodation, meals, and transportation.

Tuition Fees
Every university has a unique tuition fee structure depending on the course module and the overall duration of the programme. The total tuition cost of a Bachelor of Arts in Political Science can be reduced with external or internal scholarships and sponsorships. The average tuition fee to pursue a Bachelor in Political Science starts at approximately 18,000 USD (15,00,000 INR) per year.

Cost Of Living
The cost of living primarily depends on various on-campus, off-campus, and surrounding amenities offered in the region. The average cost of living to pursue a Bachelor of Arts in Political Science abroad is 10,000 USD to 12,000 USD (8,00,000 INR to 10,00,000 INR) per year.
Work Opportunities
Students can build a prosperous career after BA political science based on the vast amount of skills acquired throughout their programme. The students can utilise the skills of research, analytical capacities, problem-solving, and creative skills.
The students can further improve their skills and explore the branches and sub-branches to find the right specialisation for them. Political Science is a rewarding experience with the freedom to pursue and switch BA Political Science careers in related areas.
Some of the popular and renowned jobs after completion of a Bachelor of Political Science:
| | |
| --- | --- |
| Job Positions | Average Annual Salary |
| Professor | 250,000 USD |
| Lawyer | 160,000 USD |
| Policy Analyst | 100,000 USD |
| Political Consultant | 90,000 USD |
| Journalist | 50,000 USD |
Read: How to Work While Studying Abroad?
Individuals who complete a Political Science bachelor degree are eligible for various job opportunities at national and international levels. The knowledge and skills learned to allow them to explore and understand a better nurturing political system worldwide. The students can visit the client to understand further about the course, its prospects, and the available options for international students. To know more about your desired destinations and target universities, connect with professional consultants at Yocket today!
FAQs
Ques. Which university has the best Political Science programme?
Ans. Some of the best universities offering the best Political Science programme are Harvard University, University of Oxford, Princeton University, University of Cambridge, Yale University, Duke University, and the University of Pennsylvania.
Ques. What is the scope of Political Science abroad?
Ans. Some of the popular fields to pursue after a BA in Political Science include Legal advisor, Marketing research analyst, Election and Campaign manager, and Corporate manager.
Ques. Is a Bachelor of Political Science abroad a difficult study field?
Ans. Bachelor in Political Science is not a hard subject. It is a great subject for students with a passion, understanding, and genuine interest in the subject.
Ques. Does BA in Political Science abroad require proficiency in maths?
Ans. To successfully ace BA in Political Science, the understanding and knowledge of statistical methods like multivariable calculus, probability, graphs, and linear algebra play an important role.
Ques. What are the disadvantages of pursuing a BA in Political Science?
Ans. Career after BA in Politics includes work opportunities involving law and politics. The positions require long work hours, making it a strenuous regular experience.