TOEFL is a standard English language proficiency test. It is taken by students who are non-native English speakers aspiring to attend Universities or Graduate Schools abroad. Students who aspire to take the TOEFL test, mandatorily have to register themselves on the official ETS website to confirm their test slot at their desired test center.
In the present article, the test takers will learn the know-how of TOEFL registration procedure, TOEFL exam eligibility, methods of registration and how much it costs to take the TOEFL exam.
TOEFL Exam Eligibility and Requirements
According to ETS, the governing body for TOEFL, there is no specific eligibility criteria prescribed to appear for the TOEFL exam. Also, test takers can take the test at any age as there is no set age limit prescribed for TOEFL as per the ETS.
The TOEFL test is particularly meant for all the students who have completed their high school and aspire to get admission to the UG or PG programs in the Universities of English-speaking countries. Thus, test takers can apply according to their educational needs and convenience.
Before proceeding with the TOEFL registration, there are certain requirements as per the ETS which the test takers must consider. These requirements may vary depending on the test taker's nationality and the location wherein they plan to take the test.
For instance, if the TOEFL test taker is an Indian, planning to appear for the Test, then they are required to have a valid passport as an ID proof.
General ID Documents Requirements
There are a few General ID Documents Requirements which the test takers are expected to consider before they register for the test. These documents requirements must include:
Full name with which test-taker would want to register

All documents must be valid, as expired documents are unacceptable

All documents must include your most recent and recognizable photograph

AIl documents must include your full signature that should match with the name on the ID
TOEFL Exam Registration 2021
The ETS provides a fairly simple and quick process for TOEFL online registration. Test takers are required to follow the steps properly and keep the requirements ready beforehand.
To get the preferred TOEFL test center and test date, early registration is advisable as there are thousands of test takers applying for TOEFL every year.
Methods for TOEFL Exam Registration
Registration for the TOEFL exam can be done in four different ways:
Online

In-person

via Phone

Mail
A test taker must have knowledge about all the methods available for TOEFL registration. So that they can choose the most convenient one for themselves.
1. TOEFL Online Registration Procedure:
Among all the available TOEFL registration methods, it is recommended that the test taker chooses to register online. It is the smoothest method that comes with less hustle and hassle. Online registration procedure for the TOEFL test in simple and easy to follow steps is discussed below:
Step 1: Setup your Profile and Create an Account
Visit the official ETS website and create a new account for TOEFL registration or Login if you already have an existing one.
To create a new account, fill in all the required details, including personal and additional information. Then, carefully review and submit the application. Now, Sign in to register with your username and password.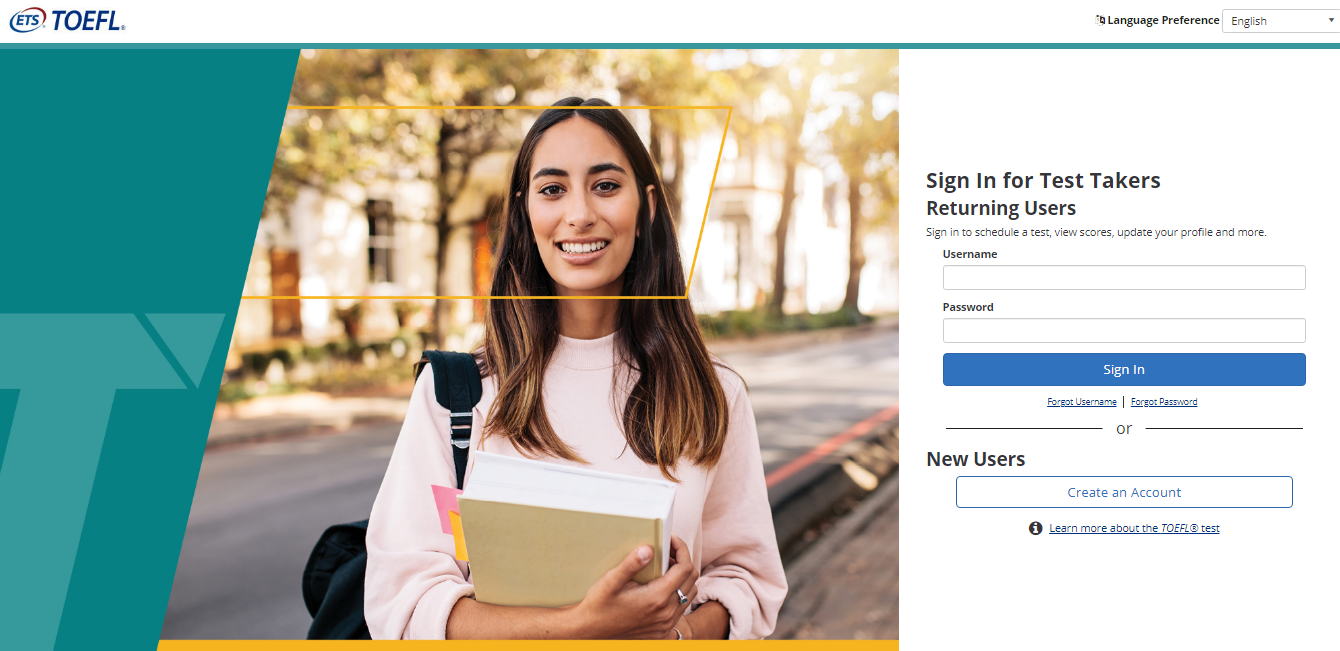 Step 2: Find Test Center and Dates
On the TOEFL Homepage, select 'Register / Find test center and dates'. Enter your preferred testing location and choose the 2-month period when you would like to take the test.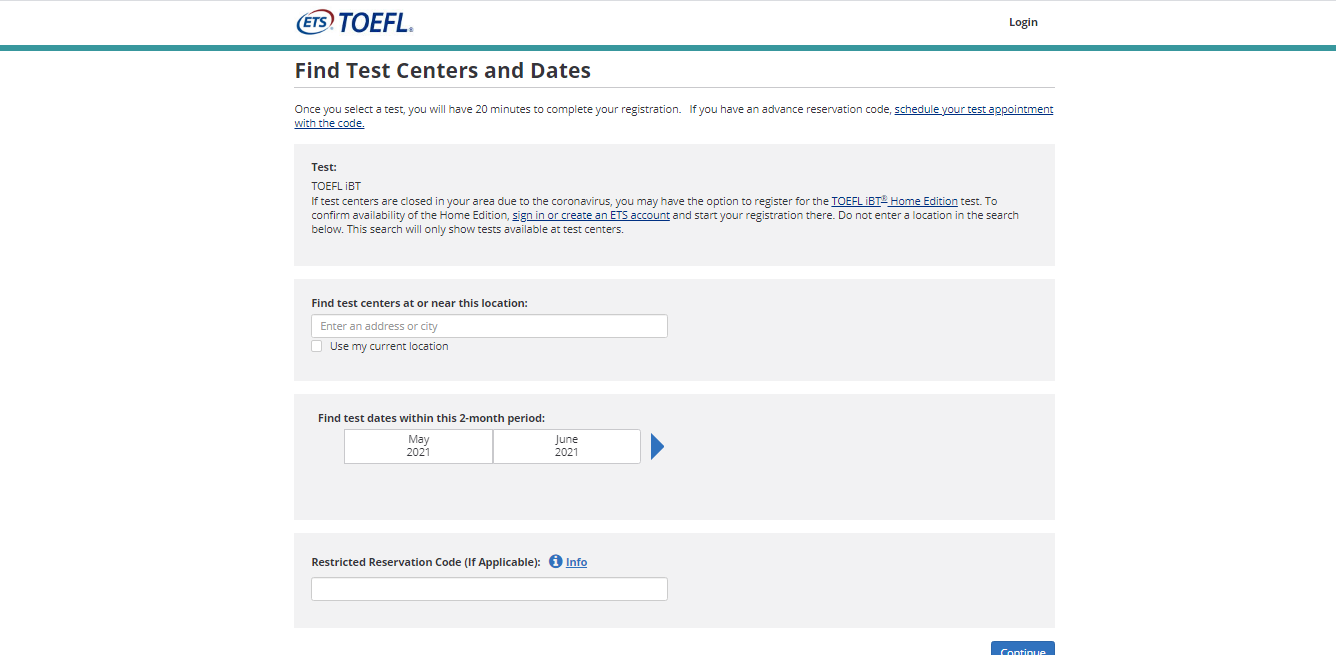 Step 3: Select Test Center and Date
Under 'Find Test Centers and Dates', select your preferred date on the calendar which has slots available. After selecting the date, choose a location, and select 'Show Test Times and Register' for that test. When you find a time that suits you, click 'Register'.
Step 4: Register for Your Test
At this stage, you have to fill out your Identification Information. Make sure you use an ID that is valid for your testing location. After this, you can review your Personal and Additional Information and update the other information in case there are any changes.
Step 5: Search and Select Score Recipients
On the Free Score Recipients page, choose upto 4 Institutions who should receive your test scores. Then, choose how you would like to receive your score report and click next. On the following page, review your registration date, time, location and score recipients.
Step 6: Shop for Test Preparation (Optional)
To help you get prepared and ready for the test, shop for the official Test Prep. Review your shopping cart and proceed to checkout. Also, on the next page, enter voucher codes if you have any.
Step 7: Pay the TOEFL Exam Fee
This is the final stage in the process of TOEFL registration. Before you pay the fee, you must review all the information entered and agree to the terms and conditions. Then click 'Pay Now'.
After clicking on Pay Now, you will be directed to the payments page. On this page, select your preferred payment mode and currency from the available ones.
Acceptable payment modes for TOEFL:
Credit or Debit Cards
The accepted cards are: (MasterCard, VISA, American Express, Discover, China Union Pay, Diners Club, JCB

PayPal

E-check (Electronic Check)
Available only for the candidates staying in the US and its territories. These E-checks must be drawn on a bank in the United States, U.S. Virgin Islands, Puerto Rico or Canada, in U.S. dollars only.
Non-acceptable payment modes for TOEFL:
Cash or demand drafts

Post-dated checks

Any currency other than U.S. dollars (for payments not made by credit/debit card)

Receipts for bank checks

UNESCO coupons

Western Union
2. In-person TOEFL Registration:
To register for the test in person, the test taker should visit the TOEFL Resource Center. The address of the center is:
Prometric
2 Floor, DLF Infinity Tower-A
Sector-25, Phase-II
DLF City
Gurgaon - 122002
Haryana
India
Contact number: +91-124-4147700
Email: www.prometric.com/contact-us
3. TOEFL Registration via Phone:
A test taker can register for the TOEFL test via phone as well. So to register by phone, the applicant has to call the Regional Registration Center (RRC) on this number - 91-124-4147700. Payment for test registration can be done with either Debit or Credit Card.
4. TOEFL Registration via Mail:
Another available method to register for TOEFL is via mail. The test taker should do the registration via mail minimum of three days before the registration deadline. The test taker is required to follow these steps if they opt for this registration option:
Download and fill the Registration Form from the official ETS website.

Choose the payment method that is most convenient to you

Deliver the completed registration form and payment receipt to RRC. You can find the RRC's address on the TOEFL website.
How much does it cost to take the TOEFL test?
TOEFL exam fees generally vary by the testing location or across countries. Under mentioned is the TOEFL online exam registration fee for Indian test takers as per the ETS.
| Item | Fees |
| --- | --- |
| TOEFL Online Test Fee (Internet-based test) | US$185 |
| TOEFL Paper-Based Test Fee | US$180 |
| TOEFL Exam Late Fee | US$40 |
| TOEFL Rescheduling Fee | US$60 |
| TOEFL Cancellation Fee | US$20 |
Cancellation or Rescheduling of TOEFL Registration Form
If in any case the candidates want to cancel the TOEFL registration there are some considerations for the same. TOEFL cancellation or rescheduling of registration can only be done 4 days before the exam date. This can be done either online or via phone.
To cancel or reschedule the registration online through your ETS account, candidates can go to the 'View Orders' page on the ETS, TOEFL registration homepage. There they can cancel or modify the registration status.

In order to cancel or reschedule the registration by phone, candidates are required to contact their Regional Registration Center.
TOEFL test takers are advised to register early for the exam in order to ensure their preferred test slot. It is suggested that the test taker should register at least 3 to 4 months before they plan to appear for the TOEFL test. Also, there must not be any slip during the registration process to make a confirmed application. To avoid that, it is advisable that the test takers should go through the registration process and the requirements very well before starting with the TOEFL online registration.
Frequently Asked Questions by Students on TOEFL (FAQs)
Q1. How do I pay for TOEFL in India?
Ans. You can pay for TOEFL online via Credit or Debit Cards ( MasterCard, VISA, American Express, Discover, China Union Pay, Diners Club, JCB ), PayPal or e-check (Only for candidates staying in the US and its territories).
Q2. What is the age limit for the TOEFL exam?
Ans. As per the ETS, there is no such specified age limit for taking the TOEFL exam.
Q3. How can I create an ETS account for TOEFL?
Ans. To create an ETS account for TOEFL, visit the official ETS website and go to the TOEFL registration page. Under 'New Users' click 'Create an Account'. On the current page, fill in all the required details, including personal and additional information. Then, carefully review and submit the application. Now, Sign in to register with your username and password.
Q4. Where can I find my TOEFL registration ID?
Ans. Your ETS ID is specific to your TOEFL online account and can be found on the right-hand side of the homepage, below your email address and phone number.
Q5. How do I get a fee waiver for TOEFL?
Ans. TOEFL fee waiver is available through these two programs:
For high school seniors in the US who are a non-native English speakers and seniors in the high schools.

Through TOEFL Registration Voucher Service wherein these vouchers are purchased by academic institutions, and given to students so they can take the exam for free.
Q6. How can I get my TOEFL refund?
Ans. To get your TOEFL refund, you must cancel your registration by the deadline, ie, 4 days before your test date. If you cancel your registration before the 4-day deadline, you'll receive a refund of 50% of the original test fee you paid.