'Knowing how to write is more important than knowing what to write'
About half a million people from over 160 countries take GRE every year. To be able to excel in GRE despite the rising competition, you must invest yourself in thorough GRE preparation and level up!
Whipping it out from the expert's experience - Ashiwini Nene, the first Indian to champion a complete GRE score of 340/340, shares in one of her interviews, "For about 2-3 months, I studied for two to three hours and later, extended my study time to 4-5 hours in the last month of my preparation."
Taking inspiration from many such experts who excelled in their GRE scoring, it is substantial to say that preparing for GRE is the key to mastering it. To be able to logically solve your GRE paper, here's the best way to prepare for the same.
How to start preparing for the GRE exam?
The best way to start preparing for the GRE exam is by chalking out a study plan. Stick to the study schedule based on your strengths and weaknesses in order to achieve your Goal Score.
Constructing your study plan for a higher GRE Score:
Take a practice test.

Understand the paper pattern.

Identify your strengths and weaknesses.

Make a progressive study plan assessing your current practice test score V/s your Goal score to get an admission in your dream college.

Compose a timetable working on the difficulty levels of paper, tough questions, check on your time management etc.

Track your progress by taking practice tests regularly.

Time your answering speed and facilitate GRE test time management.
How much time do I need to prepare for GRE?
Students get to choose their desired GRE test date. This way you can take complete control of your test performance. Candidates are recommended to make a plan of preparation before registering for GRE. Ideally, you must invest at least three months of your time in dedicatedly preparing for the GRE exam.
Related Discussion: Can I prepare for GRE in 1 month?
Best tips to prepare for the GRE exam:
In the process of preparing for GRE, tackling your weaknesses and channelizing your learning requires calculative methods. Here are a few ways you can amplify your learning and get the best out of your preparation:
Focus on learning, not mugging: Once you hook yourself with a GRE study schedule, you're sure to be overwhelmed by the enormous GRE study material available online. However, you don't have to be stressed about the quantity, rather focus on the quality. Study from official guides and books that convey concepts easily. Always remember that GRE is an aptitude test!

Mix and match your course material: GRE study material is available in the form of books, articles, online sample questions, CD's, webinars, etc. And, there is no one way to get it right. Ensure that you are studying and choosing to learn from the ones that best serve you. You might enjoy reading the GRE book as well as learning online. The bigger your learning ground is, the greater your horizon! However, ensure you're learning from a credible source.

Practise as if this is your last attempt: Challenge yourself! Write mock GRE tests like it's your final attempt and check yourself. Mend your pressure points. Keep working on your weaknesses. Remember, you have to just keep learning and progressing.

Work on your logical reasoning: GRE doesn't just test your bookish knowledge, it tests your smartness! The test assesses your methods and logic more than the number of formulas or steps you would have known. So, it is important that you train your mind to look at every question logically before rushing into solving it.

Revamp the basics of English and Mathematics: Brush up on the basics of grammar and math. It might sound redundant and unnecessary. But, it is highly recommended before the GRE test. In order to pace up with your answering, a refreshed memory of all the basic know-hows always comes in handy.

Portals to your rescue: Discussion portals online are a great place to build your learning community. To be able to learn together and help each other progress is a great method to opt while studying. If you wish to do the same, join the Yocket student community. By joining the Yocket community, you will be able to facilitate discussions and clear any kind of doubts you might have about studying abroad.
Do's of GRE Preparation:
Try and attempt every question to avoid negative marking.

Read the questions thoroughly and understand what is expected to be done.

If you need time to answer any question, move on and go back to the question later.

Answer quantitative reasoning questions in the same measurement scales as in the given questions or as mentioned in the question.
Dont's of GRE Preparation:
Don't waste your time dwelling on answers you don't know.
Don't focus on showcasing the number of steps and formulas you know, just answer the question.
Most Important Books To Refer For GRE:
Best Books for GRE Quantitative Reasoning Section -
Best Books for GRE Verbal Reasoning Section -
Best Books for GRE Analytical Writing Section -
Gathering an experience of writing GRE practise tests, you would now know the GRE pattern. The paper is divided into three major segments of Verbal Reasoning, Quantitative Reasoning and Analytical Writing. Refer to the visual below for more details:
Since, each of these sections are devised to examine different fields of knowledge, the further section will reflect on how to prepare for each of those individually:
Verbal Reasoning section of GRE:
Verbal Reasoning is a language based section of the GRE test to examine your reading, comprehension and answering skills.
What is tested under the Verbal Reasoning section of GRE?
The Verbal Reasoning section checks your language quality, wide vocabulary as well as a sense of your english etiquette. You must hone your vocabulary on a daily basis to excel the Verbal Reasoning section of GRE.
Verbal Reasoning section has questions on reading comprehension, text completion and sentence equivalence. Let's look at how you can prepare for each of these sections individually:
1. Reading Comprehension: Tests your gauging capacity by presenting long passages from the fields of art, science, social, political scenes, business, humanities etc. Prose of RC requires attentive reading.
What does Reading Comprehension test?
Reading Comprehension checks your language analytical skills.

It tests your ability to understand complex sentences.

Answering questions based on the provided information.
How to prepare for Reading Comprehension?
Read carefully and thoroughly.

Answer to the point.

Don't confuse yourself with partially correct meanings of words.

Pick answers of absolute correctness.

Understand the passage.

Increase your reading speed.
Sample Question:
Reviving the practice of using elements of popular music in classical composition, an approach that had been in hibernation in the United States during the 1960s, composer Philip Glass (born 1937) embraced the ethos of popular music in his compositions. Glass based two symphonies on music by rock musicians David Bowie and Brian Eno, but the symphonies' sound is distinctively his. Popular elements do not appear out of place in Glass's classical music, which from its early days has shared certain harmonies and rhythms with rock music. Yet this use of popular elements has not made Glass a composer of popular music. His music is not a version of popular music packaged to attract classical listeners; it is high art for listeners steeped in rock rather than the classics.
Select only one answer choice.
The passage addresses which of the following issues related to Glass's use of popular elements in his classical compositions?

How it is regarded by listeners who prefer rock to the classics

How it has affected the commercial success of Glass's music

Whether it has contributed to a revival of interest among other composers in using popular elements in their compositions

Whether it has had a detrimental effect on Glass's reputation as a composer of classical music

Whether it has caused certain of Glass's works to be derivative in quality.
Answer: A and C
2. Text Completion: Emphasises the importance of mindful reading and sentence formation.
What does Text Completion test?
Evaluating and completing phrases that make complete sense. It checks your sentence formation and strong vocabulary skills.
How to prepare for Text Completion?
Download the Yocket Flashcards app for vocabulary building exercises.

Read newspapers, magazines, blogs etc.

Sign up for vocabulary improving exercises and activities.

Learn synonyms of as many words as possible.
Sample Question:
Vain and prone to violence, Caravaggio could not handle success: the more his (i)__________ as an artist increased, the more (ii)__________ his life became.
| Blank (i) | Blank (ii) |
| --- | --- |
| (A) temperance | (D) tumultuous |
| (B) notoriety | (E) providential |
| (C) eminence | (F) dispassionate |
Answer: C and D
3. Sentence Equivalence: Tests your ability to draw conclusions.
What does Sentence Equivalence test?
Sentence Equivalence questions need you to complete passages with only partial information in hand. Although, to a greater extent they focus on the meaning of the completed whole passage.
Sentence equivalence consists of one single sentence and a blank along with six answer choices to choose from.

You are supposed to check on any of the two answer choices.

No credits for partially correct answers.

Ensure that you use coherent meaningful words.

Both the words/sentences should ultimately mean the same.
How to prepare for Sentence Equivalence?
To prepare for sentence equivalence questions you must learn new words, their meanings as well as their synonyms. Learn situation based words and their application.
Go through the previous years sentence equivalence questions to get a hang of the words and their usages.

Learn the absolute meanings of words.
Sample Question:
Although it does contain some pioneering ideas, one would hardly characterize the work as __________.
orthodox

eccentric

original

trifling

conventional

innovative
Answer: C and F
How to prepare for Verbal Reasoning section of GRE?
Build foundational vocabulary on a daily, weekly and monthly basis.

Pace up reading speed without losing your ability to understand.

Refer to the official ETS Verbal Reasoning reference book.

Use the GRE Flashcards by Yocket for daily language improvement.

Practise reading passages to understand and learn to draw passage structures and conclusions.

Books to refer for Verbal Reasoning: Barron's High Frequency 333, Magoosh 1000 words, Word Smart I & II, Word Power Made Easy, GRE Word List, ETS official books, Verbal grail, Manhattan Series (1-6) and Big Book series.
Tips for Verbal Reasoning Section:
1. Read complete passages
2. Attend whichever blanks you are confident about rather than focusing on the hierarchy of answering questions
3. Focus on words that make the passage - whole and coherent
Analytical Writing section of GRE:
Analytical writing test is an essay writing test. The two essays you will be writing reflect your organization of thoughts, perspectives and fineness of language. It is an important section in the paper for the Universities that admit students with good communication skills.
What is tested under the Analytical Writing section of GRE?
Students are given an issue resolving essay and an argumentative essay, both of which must be written within 30 mins each. The AWA section checks upon the candidates logical reasoning capacity, style of writing as well as their sound knowledge of current affairs. Organised factual presentation and argumentative writing can help one score good marks.
How to prepare for the Analytical Writing section of GRE?
Preparing for the essay demands practice and needs polishing of your language skills.
Keep a tab on current events.

Go through sample GRE topics and formulate arguments.

Amplify your vocabulary using the Yocket Flashcard app.

Time your essay planning, composition and writing speed.

Research topics thoroughly to gather facts, logical explanations and arguments to strengthen your essays.

Practice persuasive writing.

Compose arguments on various 'for' and 'against' situations.

Practise writing as many essays as you can before your final test.

Books to refer for Analytical Writing: Solutions to the Real Essay Topics by Vibrant Publishers and The Official Guide to the GRE General Test by ETS to prepare for AWA.
Sample Question:
In surveys Mason City residents rank water sports (swimming, boating and fishing) among their favorite recreational activities. The Mason River flowing through the city is rarely used for these pursuits, however, and the city park department devotes little of its budget to maintaining riverside recreational facilities. For years there have been complaints from residents about the quality of the river's water and the river's smell. In response, the state has recently announced plans to clean up Mason River. Use of the river for water sports is therefore sure to increase. The city government should for that reason devote more money in this year's budget to riverside recreational facilities.
Write a response in which you examine the stated and/or unstated assumptions of the argument. Be sure to explain how the argument depends on the assumptions and what the implications are if the assumptions prove unwarranted.
Quantitative Reasoning section of GRE:
The Quantitative Reasoning section of the paper focuses on mathematical questions to assess the students' problem solving abilities.
What is tested under the Quantitative Reasoning section of GRE?
The fairly difficult Quantitative Reasoning section tests your Arithmetic, Algebra, Geometry and Data Analysis skill set. Candidates' are tested on their problem solving capability within the stipulated time. You can hone this section of the paper with sound logical reasoning and a strong foundation of mathematical formulas.
How to prepare for the Quantitative Reasoning section of GRE?
Thorough yourself with all the math formulas.

Use a calculator only when it's absolutely necessary.

Understand the problem and strategize your answer.

Expose yourself to different varieties of questions.

Re-check your answer thoroughly.

It's recommended to always apply logic rather than jumping into complex mathematical procedures.

Books to refer for Quantitative Reasoning: Manhattan Prep: GRE Math Strategies, Princeton Review: Math Workout for GRE and Official GRE Quantitative Reasoning Practice Questions by ETS for your GRE Quantitative study.

Practice, practice, practice and self evaluate.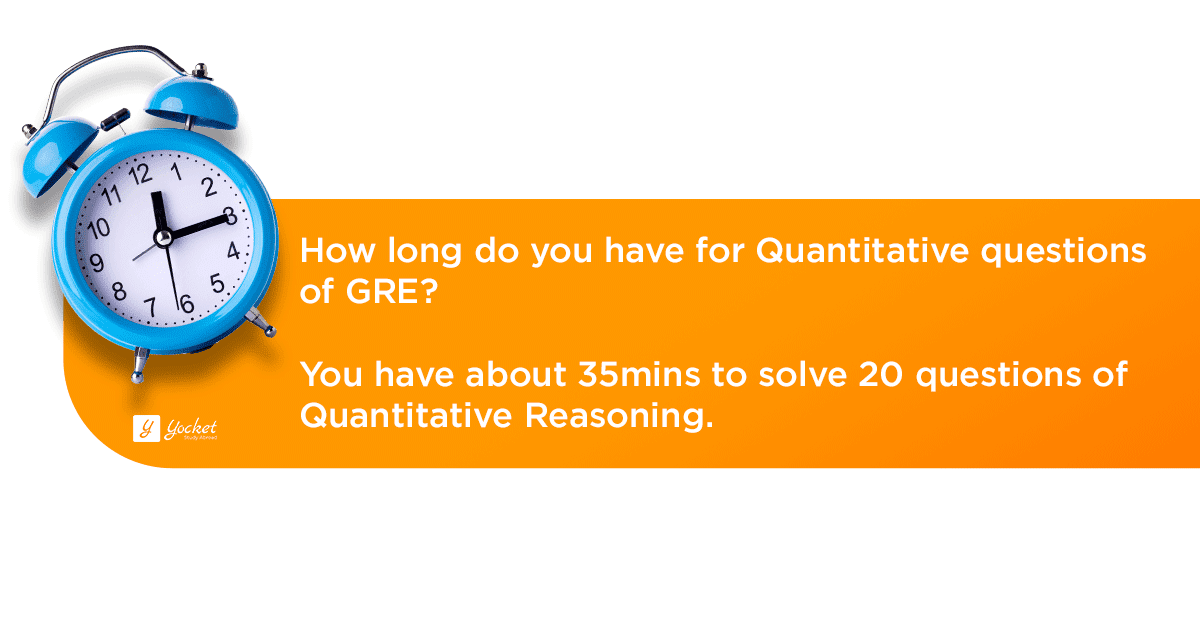 Sample Questions:
1. Analyze the 2 quantities mentioned below:
Quantity A: 54% of 360
Quantity B: 150
A. Quantity A is greater.
B. Quantity B is greater.
C. The two quantities are equal.
D. The relationship cannot be determined from the information given.
Answer: A
2. Which of the following numbers is farthest from the number 1 on the number line?
A. -10
B. -5
C. 0
D. 5
E. 10
Answer: A
3. Wich of the following integers are multiples of both 2 and 3? Indicate all such integers.
A. 8
B. 9
C. 12
D. 18
E. 21
F. 36
Answer: C (12) , D (18) and F (36)
Preparing for GRE as a Working Professional:
Clubbing work and study can be an extremely stressful task. Hence, to study for GRE as a working professional, these are some things you can do:
Start your day early and spare two hours before work to study.

Take mini-work-breaks throughout the day to engage in reading news snippets and quizzes.

Engage in Vocabulary based activities along with friends to keep learning while you're having fun.

Use flashcards by Yocket to polish your language skills.

Take practice tests at the end of the week.
It is possible for students to achieve a good score in the GRE test. However, it takes practice and perseverance. Dedicate yourself in preparing for each subsection thoroughly. Catalogue your preparation plan, GRE syllabus and paper pattern to organise your preparation and study. Invest in books that help you understand concepts easily. Also, use mobile apps dedicated to train you for the test. Focus on your overall language development and math preparation. You can get assured results by preparing yourself with an effective study plan. Best of luck!