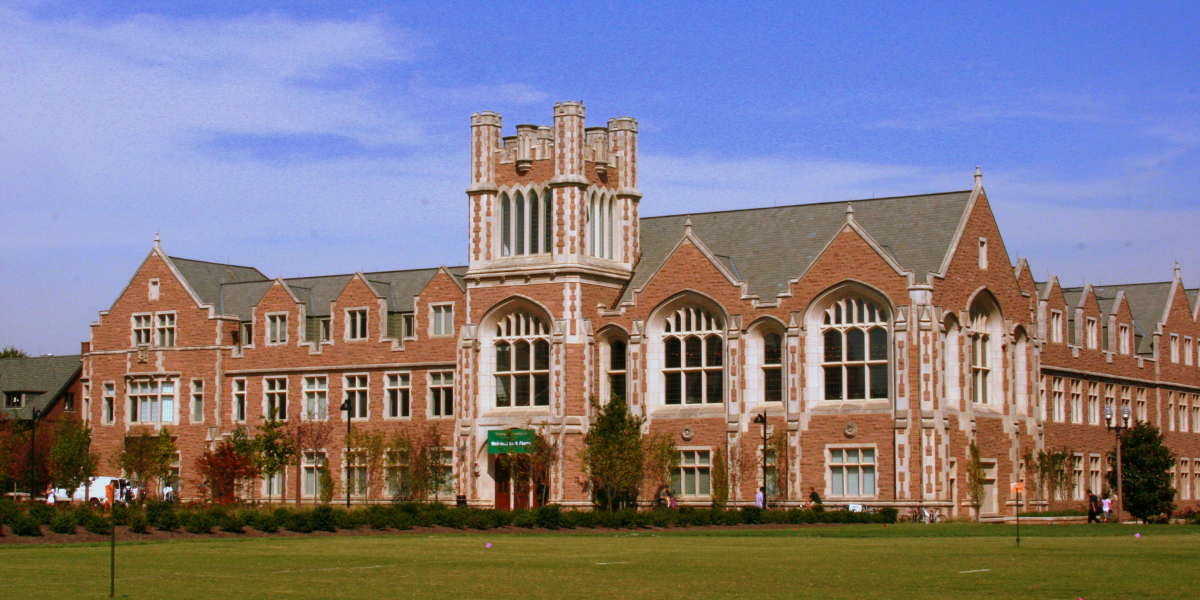 Washington University in St. Louis
Washington, United States
| Private
Private University
About
Washington University in St. Louis (Wash. U, or WUSTL) is a private research university located in St. Louis, Missouri, United States. Founded in 1853, and named after George Washington, the university has students and faculty from all 50 U.S. states and more than 120 countries. To sell its seats for admission, just the name is enough. University has been a dream college for every student and the graduates from here are preferred all over the United States. With an enrollment of 14,000 students the university keeps its originality by conducting an entrance which is not everyone's piece of work to complete and get passing marks in it.
Cost
$22,724
Average Living Expenses (Bachelors)
$22,724
Average Living Expenses (Masters)
Rankings
#33
#105
#50
Admissions
15%
Avg acceptance rate (Bachelors)
$25 - $140
Application Fee
Scholarships
Washington University in St Louis: Need Blind

View Details
No courses found! Try other school
Campus
Location
Hometown of various MNCs and hub for the most important businesses in the US, St. Louis stands on the banks of Mississippi river and has been one of the most prominent ports for business since 16th century. This is the highest populated area in vicinity of Washington and holds great importance for USA's economy. Due to its historic importance the city has attracted a lot of tourists, but someone seeking a job has never been disappointed in St. Louis. With a lot of parks and bars to visit this place has a lively vibe and one would never feel alone in this city of happening waves.
Campus
With a total of 2,500 acres of massive campus, the university is divided in to 4 different campuses namely Danforth Campus, Medical Campus, North and West Campuses and Tyson Research Center. Over 8 grounds and 9 parks the campus is more like a sanctuary than university. The metro's disturbance cannot be felt within the campus. Established in 1853, the university has few heritage buildings and one of the best libraries of U.S is present within the campus.
Residing Options
The on-campus housing cost for a student would cost $9,222 as per 2014 – 2015 rates and the cost for a typical meal plan would cost $4,666. These rates are high, approximately your yearly expense for living can go up till 16,000 US$ which does not include your tuition fees. On the other hand living off campus is 100 to 200$ more expensive than this, but the factor of your distance from college matters. If you are living off campus and stay a bit away then you'd be paying for travelling so instead why not stay in the campus itself? But if this seems expensive, eventually if you consider the kind of name this university has, then you'd be willing to spend even more than that.
Faculty
Once you decide to take admissions in WUSTL then you should be aware of the fact that the best in class professors are about to conduct your class. Undoubtedly the professors of engineering college are the best as they are awarded at various annual functions on regular basis. The problem is with the arts department of the university. The university does not pay much attention to its arts department as they do not have abundance of students there. Professors for arts at WUSTL are remarked as lazy and they do not pay much attention on solving a student's doubt. Else, the university has great faculty excluding few sections of the departments.
Jobs and placements
Even though the university is one of the most renowned, people are unaware about its name. The university has good contacts within the state of Washington and tries its best to communicate with those MNCs for recruiting students from the university. An average salary of a graduate from WUSTL can be $61,967 as starting annual salary and $251,923 annual salary after 10 years of experience. These figures are enough to talk about the after-life of a graduate from WUSTL.